Dodgers open Day 2 haul with Arizona 3B Dixon
Dodgers open Day 2 haul with Arizona 3B Dixon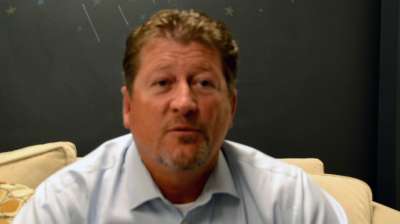 The Dodgers selected Arizona third baseman Brandon Dixon with the 92nd pick of the 2013 First-Year Player Draft on Friday.
Though he delivered the game-winning hit in Arizona's 2012 College World Series triumph, Dixon was primarily a defensive replacement in the Wildcats' championship run.
That has all changed this season. Dixon underwent LASIK eye surgery in the offseason and broke out at the plate. He took over as the Wildcats' starting third baseman and became just the fourth player in program history to score 40 runs, collect 40 RBIs and steal 30 bases in one season.
"He's a really quality athlete," said Dodgers vice president of scouting Logan White, who thinks Dixon can also play second. "The kid can fly. He should be able to steal 20-30 bases in the big leagues and play a quality infield position."
Dixon has a good approach at the plate and a compact swing that allows him to spray line drives from gap to gap. He is a steady defender with an average arm. The biggest question mark in Dixon's game is his power. He will need to add more loft to his swing to add power, but if he does, Dixon could be an everyday third baseman.
"We think he's going to hit for average and have some power potential," White said. "He uses the whole field."
With their remaining seven picks on Day 2 of the Draft, the Dodgers selected first baseman Cody Bellinger, shortstop Brandon Trinkwon, catcher Kyle Farmer, outfielder Henry Yates and right-handers J.D. Underwood, Jacob Rhame and Nick Keener.
Day 3 of the Draft continues with Rounds 11-40 streamed live on MLB.com on Saturday, starting at 10 a.m. PT.
MLB.com's coverage includes Draft Central, the Top 100 Draft Prospects list and Draft Tracker, a live interactive application that includes a searchable database of Draft-eligible players. You can also keep up to date by following @MLBDraft on Twitter. And get into the Draft conversation by tagging your tweets with #mlbdraft.
In the pipeline
The Dodgers have used five of their first 10 selections on pitchers, filling an organizational need. Last year, the club traded away top pitching prospects Rubby De La Rosa, Allen Webster, Nathan Eovaldi, Josh Lindblom and Ethan Martin.
The Dodgers went with a pair of college starters on Day 1, drafting right-hander Chris Anderson from Jacksonville University with the No. 18 overall pick and left-hander Tom Windle from the University of Minnesota with the No. 56 overall selection.
Still, six of the Dodgers' top 10 prospects are hurlers, including right-handers Zack Lee, Matt Magill, Angel Sanchez and Chris Withrow, in addition to lefties Chris Reed and Onelki Garcia. That will give this year's draft class more time to develop in the Minor Leagues.
Austin Laymance is an associate reporter for MLB.com. This story was not subject to the approval of Major League Baseball or its clubs.