Lineup falls quiet after Medlen's shortened outing
Braves' bats shut down by Blue Jays behind clutch depleted bullpen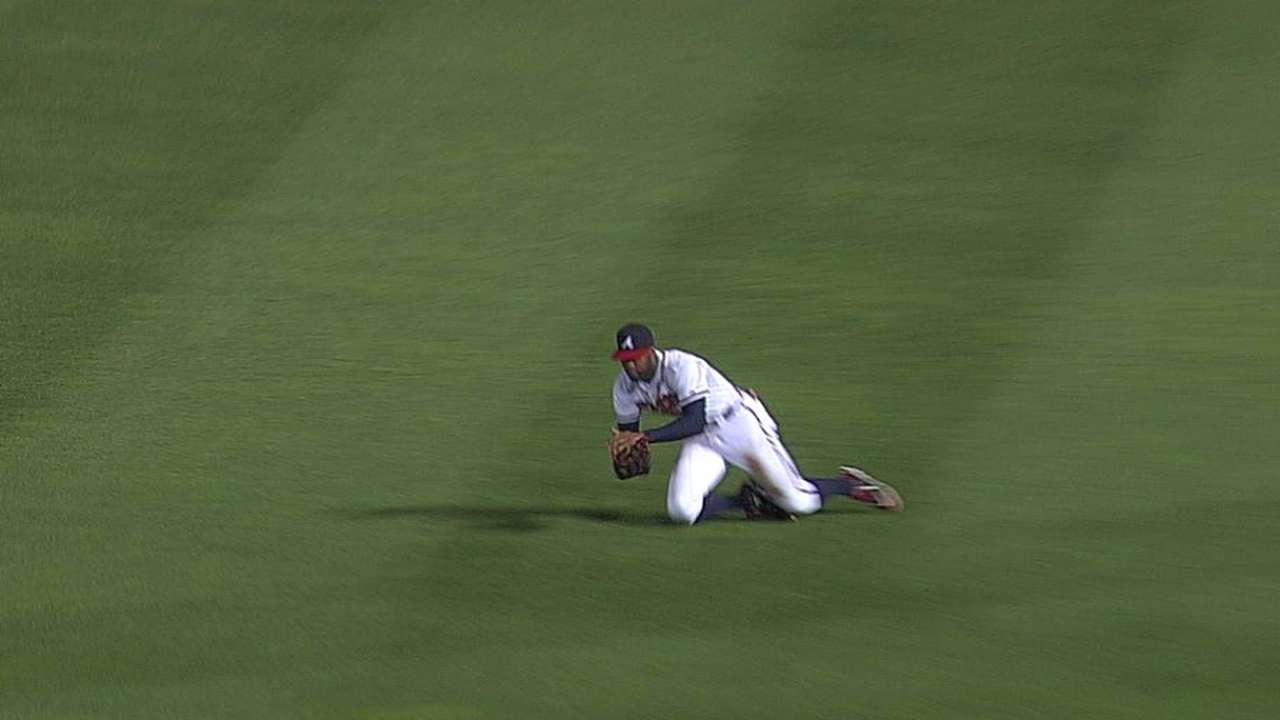 ATLANTA -- An undermanned, injury-depleted bullpen did more than expected after an injury forced Kris Medlen to make a premature exit. But instead of rewarding the effort, the Braves' offense endured another frustration-filled night against a group of Blue Jays pitchers with which they were unfamiliar.
As the Braves attempted to separate themselves from the frustration they endured during Wednesday night's 3-0 loss to the Blue Jays at Turner Field, they could at least take solace in the fact that Kris Medlen seemingly did not suffer a severe injury when he was hit with a comebacker in Toronto's two-run second inning.
Medlen completed the second inning after getting hit on the upper portion of his left calf by Emilio Bonifacio's line drive. But his inability to come back out to begin the third inning seemed to set the tone of the night for the Braves, who stranded five runners through the first four innings and then produced just one baserunner against the three Toronto relievers who combined to work 5 2/3 innings.
"You felt like you had a really good opportunity," Braves manager Fredi Gonzalez said. "We just didn't get good at-bats against the three guys they ran out of the bullpen."
Along with suffering their seventh shutout, the Braves notched their 24th double-digit strikeout total (10) in what was their 52nd game. They have gone 29-6 when they have homered this year and 2-15 when they have gone homerless.
After getting hit with Bonifacio's comebacker, Medlen limped around the mound and convinced the Braves medical staff he could continue. He issued a four-pitch walk to the next batter he faced and then allowed Melky Cabrera's two-run single before escaping the inning without any further damage.
Medlen was diagnosed with a bruised left calf and the Braves announced he will likely make his next start. The Braves did not take any chances by having him go back out to pitch after the second inning. The two-inning effort was the shortest start of Medlen's career.
"He tried to stay in there," Gonzalez said. "When you get hit in the muscle that high up, you start stiffening up a little bit. There was no sense running him out there any longer than that."
David Carpenter and Anthony Varvaro combined to keep the Blue Jays scoreless over the next five innings after Medlen's exit. Jordan Walden made a successful return from the disabled list with a scoreless eighth inning. But the bullpen's contributions went unrewarded as Jordan Schafer's eighth-inning single accounted for Atlanta's only baserunner after the fourth inning.
"They kept us in the ballgame the whole night," Freeman said. "We just weren't able to get the big hit tonight."
Blue Jays starter Esmil Rogers, who was making his first start since 2011, exited when his 62nd pitch of the night hit Dan Uggla on the left arm. This prompted the entry of hard-throwing left-handed reliever Juan Perez to enter with two on and one out in the fourth inning.
Instead of inserting Chris Johnson, who leads the National League with a .420 batting average against left-handed pitchers, Gonzalez stuck with Juan Franicsco, who has hit .175 (14-for-80) against southpaws in his career. This decision proved costly when Francisco quieted the threat with a harmless pop fly gloved by third baseman Maicer Izturis.
"When you play Interleague, you haven't faced a lot of these guys," Braves first baseman Freddie Freeman said. "[Rogers] didn't stay in the game for us to see him a couple more times. Then they bring in a nasty left-hander throwing 93 or 94 with sink. It was just one of those nights."
Perez was also fortunate when the Braves were unable to take advantage of Freeman's leadoff triple in the second inning. Freeman was caught too far off third base when he broke for the plate on Francisco's weak dribbler back to the mound.
The second-inning threat ended with the first of two strikeouts recorded by B.J. Upton, who went hitless in three at-bats after being held out of the lineup the previous two days to work on his mounting offensive struggles.
"I'm just at a loss for words," said Upton, whose .148 batting average ranks last among all qualified players in the Majors.
Mark Bowman is a reporter for MLB.com. This story was not subject to the approval of Major League Baseball or its clubs.