Rogers, 'pen newcomers shine in shutout of Braves
Melky provides the offense with three hits against former team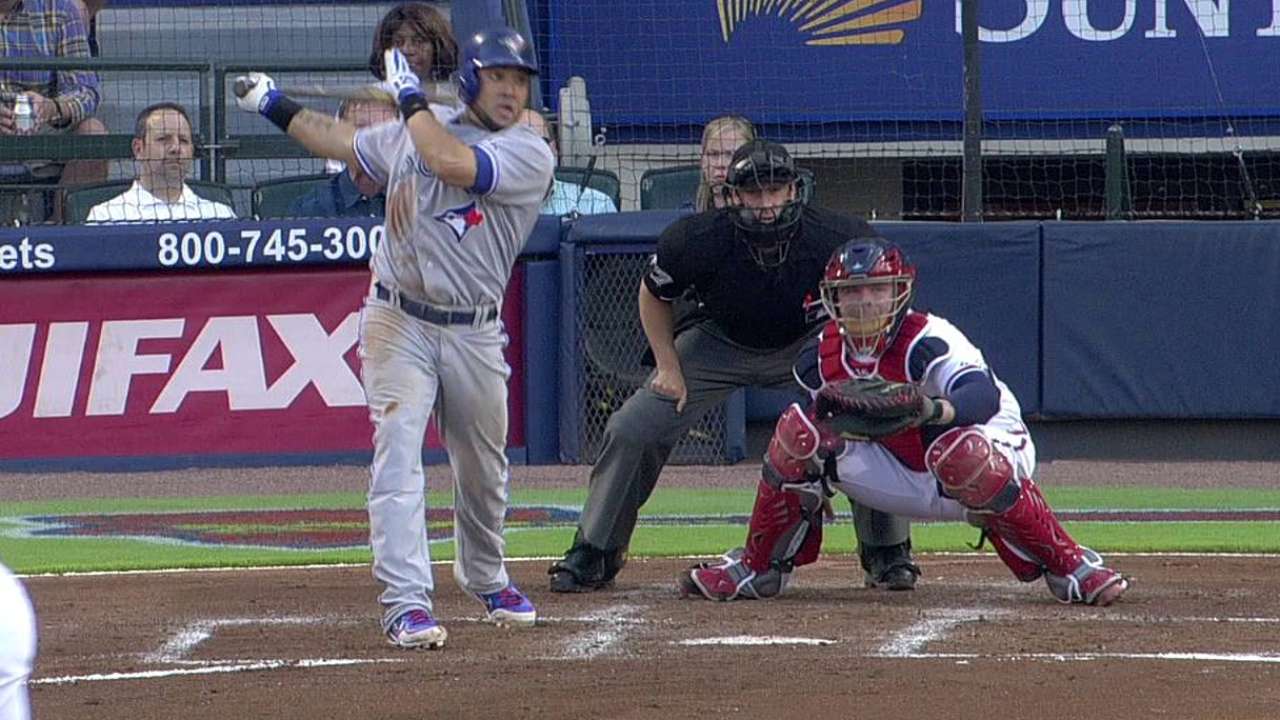 ATLANTA -- Heading into Wednesday night's series opener against the Atlanta Braves at Turner Field, Blue Jays manager John Gibbons hoped his team would simply survive.
The Blue Jays did more than that.
Former Brave Melky Cabrera had three hits, including a two-run single in the second inning, and scored a run, and four pitchers combined for a 3-0 win.
"You tip your hat to those guys. [Esmil] Rogers, [Juan] Perez, [Neil] Wagner. That was some kind of performance," Gibbons said. "They all stepped up and did a great job. Going in you don't really know what you're going to get out of Rogers or how many innings, and then Perez comes in and throws his three, shuts them down, then Wagner, against a really good hitting team. I tip my hat to those guys. They did an outstanding job. We put up a couple of runs early and then we made that stand. That's not easy to do against that team."
First-time starter Rogers and Wednesday morning callups Perez and Wagner combined to blank Atlanta on four hits over eight innings, as the Blue Jays earned their third win in four games and started their eight-day, seven-game, three-city road trip in style.
Rogers walked the tightrope in each of the first two innings, allowing a leadoff single in the first and a leadoff triple in the second, but he made big pitches in both innings, inducing a double play in the first then striking out two hitters, with a key fielding play that resulted in a fielder's choice in between.
"He got in a little jam there early and then he pitched his way out of it," Gibbons said. "But he's got that knack of doing that. He's been doing that all year."
Rogers hadn't started since Sept. 18, 2011 as a member of the Colorado Rockies and was 0-1 with a 36.00 ERA in two appearances against Atlanta. Wednesday night none of that mattered.
"There was nothing different. I tried to do the same thing I do coming out of the bullpen," he said. "I just came in and threw a little bit before the game. I just tried to do the same thing I do every game."
Rogers' fielding prowess should come as no surprise, as he was drafted as a shortstop. His skill with the bat also was not surprising. He laid down a pair of sacrifice bunts that proved important, especially the first one. It came in the second inning, advancing runners to second and third. They would both score when Cabrera lined his second hit of the day to left.
"I did that before," said Rogers of the sacrifices. "I've been in the National League. That was a big bunt right there then Melky came up with a base hit."
Offense was at a premium all night, as the Blue Jays managed eight hits, provided by three players, Cabrera and first baseman Edwin Encarnacion, who each had three, and Emilio Bonifacio, who had the other two. Encarnacion extended his hitting streak to four games, three of them multi-hit games. He has nine multi-hit games in May.
This night belonged to the pitchers. Rogers held Atlanta to three hits over 3 1/3 innings, striking out four, throwing 62 pitches, 39 of them for strikes. As was the plan, he went as long as he could then gave way to lefty Juan Perez with one out in the fourth.
The 34-year-old lefty Perez, who entered the game with a 1-2 career record and a 4.88 ERA in 42 career games with Pittsburgh, Philadelphia and Milwaukee, retired all eight hitters he faced, striking out four of them. Wagner, also called up from Triple-A Buffalo on Wednesday morning, struck out two, pitching shutout ball from the sixth through the eighth.
Perez may have caught the Braves off-guard but not Bonifacio.
"I know Perez from Winter Ball and he's good," the Blue Jays' second baseman said. "We needed those games from those guys. We needed them to give some rest to our guys in the bullpen. That's great."
Wagner followed and, delivering gas that hit 98 mph, along with a devastating slider, kept the Braves at bay.
Together, Perez and Wagner combined to retire 11 in a row and would face the minimum 14 batters. The only Brave to reach was pinch-hitter Jordan Schafer, whose flair to left opened the eighth. He would be erased three pitches later on a 1-6-3 double play.
"Throwing strikes has really been a big thing," said Wagner, who threw 19 of his 29 pitches for strikes and had first-pitch strikes to four of the six Braves he faced. "Just get ahead, let the weight of the count work in your favor and get some swings on favorable pitcher's pitches has been a big thing."
Pitching as they did when opportunity knocked may prove to be even bigger.
"They've been pitching great down in Triple-A," said Gibbons. "They really deserve an opportunity to come here and get that chance. The roles we've been looking at as the season's gone on is more of that long guy, so that's why those two weren't included early on."
They'll be included now.
The shutout was the second of the year for Toronto and the first since April 6 against Boston and provided a much-needed opportunity to rest the bullpen.
Cabrera returned to Turner Field, where he played in 2010, and tormented his former team. He was involved in all three runs, leading off the game with a solid single to center off Atlanta starter Kris Medlen (1-6). After Encarnacion singled to right-center, J.P. Arencibia scored Cabrera on a fielder's choice.
The Blue Jays added on in the second inning, as Bonifacio reached after lining a single off Medlen's calf. The hit would force Medlen to leave after the inning.
Following a walk to Munenori Kawasaki and the sacrifice by Rogers, Cabrera lined a 1-0 pitch the other way to left, scoring Bonifacio and Kawasaki.
Casey Janssen pitched a scoreless ninth to earn his 11th save. He is now 11-for-11 in save opportunities for the season.
"The name of the game was pitching on both sides today," Gibbons said. "We scored those three early and they shut us down the rest of the way, we shut them down all night."
Jon Cooper is a contributor to MLB.com. This story was not subject to the approval of Major League Baseball or its clubs.