Blitzed by Mets, Yanks see skid continue
Phelps chased after recording one out as losing streak hits four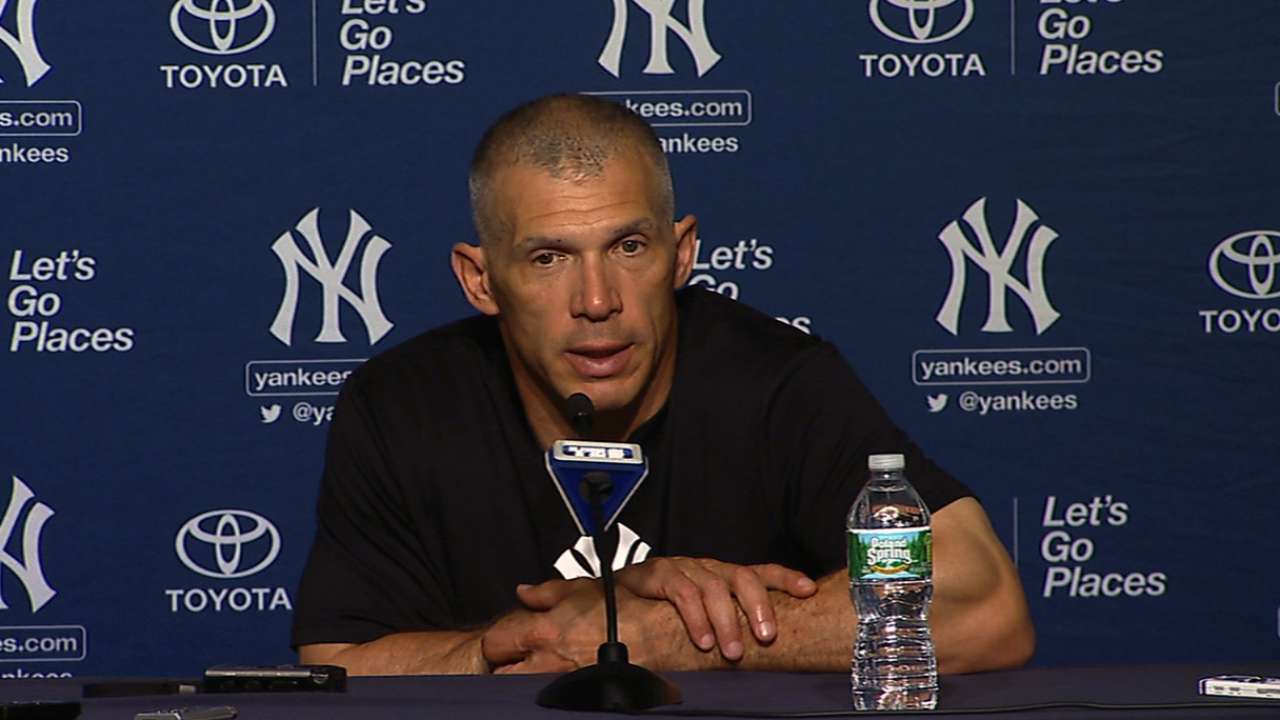 NEW YORK -- There were five runs and one out on the scoreboard when David Phelps handed the ball over in the top of the first inning, meaning the Yankees right-hander was going to have plenty of time to think about what had just happened.
As Phelps waited by his locker to dissect his forgettable Subway Series debut, he could only conclude that it had been an ugly night -- short and definitely not sweet. The Yankees lost their season-high fourth straight game on Wednesday, dropping a 9-4 decision to the Mets at Yankee Stadium.
"I got one out," Phelps said. "Regardless of if it's one out or all outs, I hate losing ballgames. That's what it all boils down to. I went out and didn't really even give our team a chance tonight."
The loss guaranteed the Mets of winning this year's Subway Series, marking just the third time in the history of Interleague Play -- joining 2003 and '08 -- that the Yankees have dropped the season set to their crosstown rivals.
"We got beat tonight in all aspects of the game," Yankees first baseman Lyle Overbay said. "We've got to get back tomorrow and salvage one day at least to get us back on a roll."
The Yankees have never been swept by the Mets in the season series, something that rookie left-hander Vidal Nuno and the suddenly skidding Bombers -- losers in six of their last eight contests -- will try to avoid on Thursday in the Bronx.
"Every team's going to go through it," Yankees manager Joe Girardi said. "You've got to bounce back and win a game tomorrow, that's the bottom line. You're going to have your ups and downs, and you've just got to put an end to it."
The home crowd was taken out of the game early by the Mets' first-inning barrage, as chants from the Flushing faithful drowned out those of their Bronx counterparts.
Seven of the eight batters Phelps faced reached base, but Girardi and Phelps both said that the poor outing had nothing to do with the line drive that Phelps took off his right forearm in the eighth inning of his last start, on Friday against the Rays.
"He was fine," Girardi said. "He felt great. He just had a stinker."
Daniel Murphy stroked a run-scoring double, John Buck added a run-scoring single and third baseman Jayson Nix booted a potential double-play ball to prolong the inning, permitting David Wright to score the Mets' third run.
Slumping first baseman Ike Davis, batting under .200 and fighting for his big league job, cashed a two-run single to left field to end Phelps' 31-pitch outing.
"I mean, it stinks," Phelps said. "Obviously, it's one of the worst outings you can have, but I'm not going to let it kill me. I'm going to go out in five days, just pitch my game -- I know I'm capable of it. I've just got to go out and do it."
One bright spot for the Yankees was a valuable long-relief performance from Ivan Nova, who has been hoping to reclaim his rotation spot and recapture some rhythm after a stint on the disabled list.
Nova held the Mets to one run over the final five innings and in the eighth became the first Yankees pitcher since A.J. Burnett in 2009 to strike out the side on nine pitches.
"I'm really, really excited about the way I'm pitching," Nova said. "With the way I pitched today, I'm really happy with myself. That's all I can say."
Jeremy Hefner limited the Yankees to three runs and nine hits over six innings as the Mets posted a victory for the first time in any of his 10 starts this season, and the right-hander said he savored the spotlight.
"It's a lot of fun," Hefner said. "Playing the Yankees, it doesn't matter who's over there, it's a lot of fun. It's fun for the city. It's fun for the fans. Pitching here -- I don't want to say it's a dream come true, but it's cool. It's really cool."
Brennan Boesch connected for a fourth-inning homer, his third, and picked up a run-scoring infield single in the sixth inning. Nix also logged a run-scoring hit off Hefner, who walked none and struck out five.
Marlon Byrd extended the Mets' advantage in the third inning with a solo homer off Adam Warren, Byrd's fifth of the year, and Lucas Duda stroked a two-run double off Warren in the fourth for the Mets, who have won a season-high four straight games.
"You don't want to get caught up into it and try and take too much, but those guys are a good team over there," Overbay said. "They just haven't hit their stride. It seems like they've done that right now, so we've got to find a way to put a stop to it."
Bryan Hoch is a reporter for MLB.com. Follow him on Twitter @bryanhoch and read his MLBlog, Bombers Beat. This story was not subject to the approval of Major League Baseball or its clubs.