Facing pressure, Ike helps Mets down Yanks
First baseman's two-run hit in five-run first fuels fourth straight win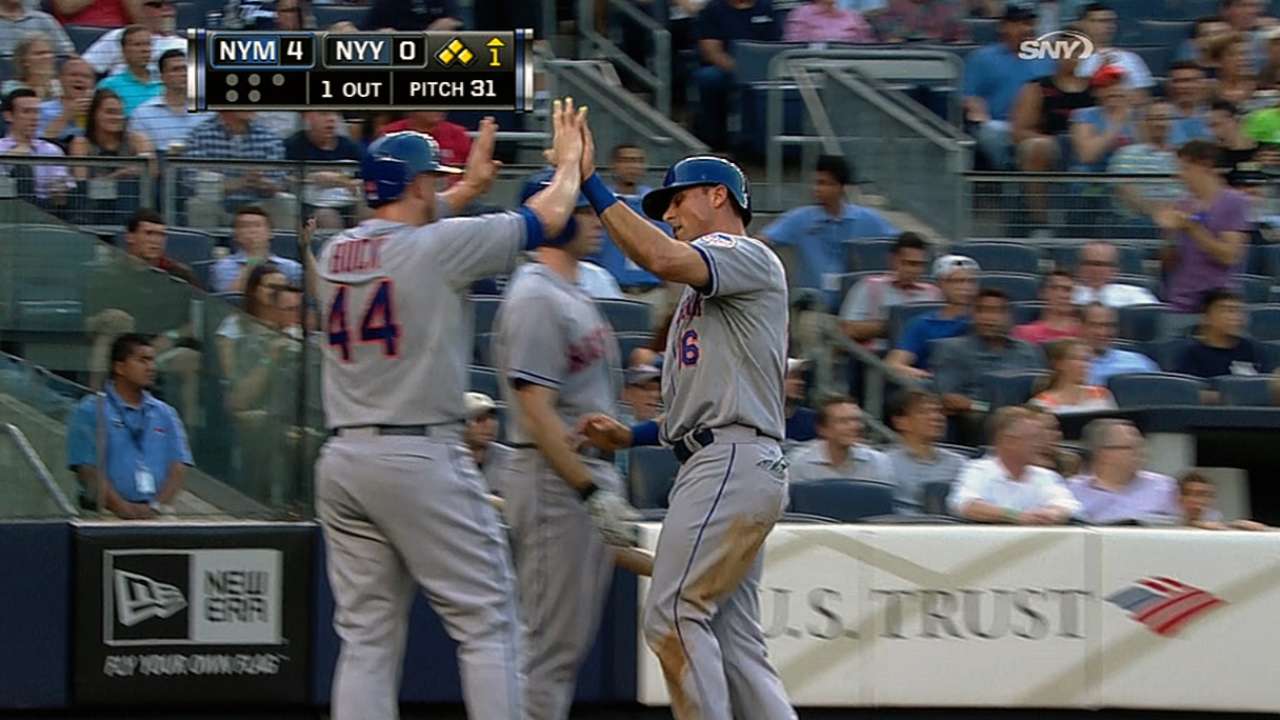 NEW YORK -- Critical eyes are everywhere these days, scanning every corner of the Mets' clubhouse, evaluating everything. The Mets have reached a crucial juncture of their season and are finally starting to win -- Wednesday's 9-4 victory over the Yankees, their season-high fourth straight, was merely the latest example.
Now, they are trying to determine the roster composition that will best help them continue.
"Winning's fun," manager Terry Collins said after his team clinched a home-and-away Subway Series victory for the first time in five years. "That's why we show up. When you start winning games … a lot of things happen."
So the Mets evaluated Jeremy Hefner, whose six solid innings at Yankee Stadium kept him ahead of Dillon Gee on the organizational depth chart -- significant, considering one of those two is ticketed for Triple-A Las Vegas once uber-prospect Zack Wheeler arrives. And of course they evaluated first baseman Ike Davis and shortstop Ruben Tejada, who responded with mixed results.
It was Tejada's leadoff single that sparked a five-run rally in the first inning against starting pitcher David Phelps, who faced eight batters and recorded only one out. Daniel Murphy followed Tejada's hit with an RBI double, which John Buck followed with a run-scoring single, which Marlon Byrd followed with an RBI fielder's choice. Though Byrd's ball might have resulted in an inning-ending double play, third baseman Jayson Nix's fielding error allowed the carousel to continue.
Next up was Davis, whose massive slump has consumed the Mets for the better part of May. Fresh off a late-night meeting with team officials, in which Collins and general manager Sandy Alderson gave him and Tejada ultimatums to produce, Davis lashed a two-run single into left-center field to chase Phelps from the game.
"I don't like playing bad, so the fire's been lit for a while," said Davis, who worked earlier this week on standing taller in the batter's box to increase his athleticism. "I know I'm a better player. I get really frustrated when I don't play good."
From there, the rout was on. Byrd's opposite-field homer off Adam Warren gave the Mets a six-run lead, which they extended to eight on Lucas Duda's two-run double in the fourth. Davis added a second opposite-field single in the fifth inning, finishing 2-for-5, while Tejada mustered a 1-for-5 night.
All told, it was the Mets' finest offensive output in more than six weeks, allowing them to win a game that Hefner pitched for the first time all season.
"Those guys are a good team over there," Yankees first baseman Lyle Overbay said. "They just haven't hit their stride. It seems like they've done that right now."
To pin Hefner's winless record solely on his own shoulders would not have been fair, considering the right-hander's 3.89 ERA in a half-dozen outings leading up to Wednesday's start. The six innings of three-run ball that Hefner gave the Mets at Yankee Stadium were actually quite typical for the right-hander, who moved to 1-5.
His stat line might have been even better if not for a poor play from Tejada, who double-clutched his throw on Brennan Boesch's ground ball in the sixth, turning a potential RBI groundout into a run-scoring, rally-extending single. Tejada later left the game with a right quadriceps injury that could land him on the disabled list.
All the while, critical eyes were watching.
"I feel like every guy that's trying to establish himself is always being evaluated," Hefner said. "If you're too comfortable, then you might be humbled. So I try not to be too comfortable. I try to keep an edge. I know I work as hard as I possibly can in between starts, and I know I give the best effort I can on days that I start. Those are the things I can control."
Davis and Tejada offered similar statements. And so the evaluation process continued at Yankee Stadium, where orange-clad Mets supporters seemed to outnumber the home crowd at times. The Mets have no firm timetable for this evaluation process, despite the cries of fans clamoring for wins, clamoring for Wheeler, clamoring for anyone but Tejada and Davis.
The Mets know that only one thing can quiet those calls: winning. Suddenly, they are doing so in excess.
"Winning cures a lot of those things," Hefner said. "Which it should. If you're winning, there shouldn't be any rumors."
Anthony DiComo is a reporter for MLB.com. Follow him on Twitter @AnthonyDicomo. This story was not subject to the approval of Major League Baseball or its clubs.