Giants' miscues open door for A's in San Francisco
Lincecum gives up six runs, while defense commits three errors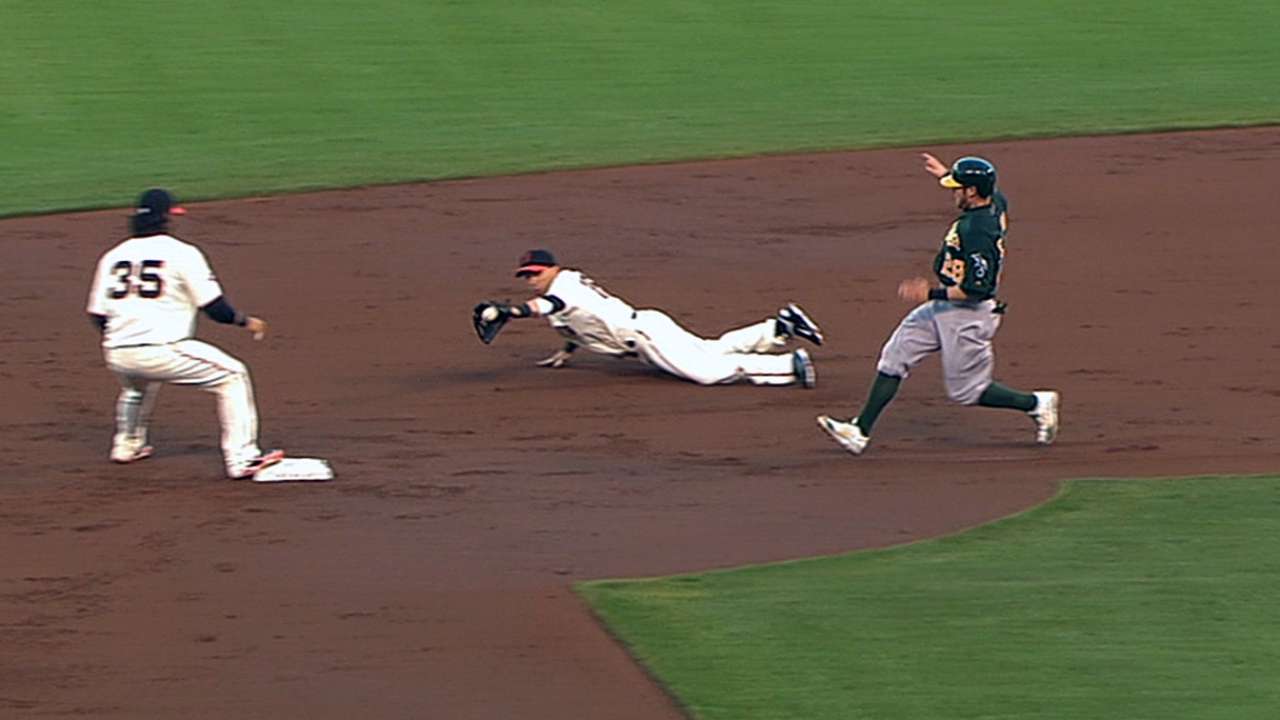 SAN FRANCISCO -- The Giants displayed their best and worst on Wednesday night.
Considering that they were facing the Oakland A's, it was easy to figure out which extreme influenced their fate the most.
Enduring the lapses that have become familiar, the Giants lost their third consecutive game to the A's, who maintained their mastery over the reigning World Series champions with a 9-6 triumph. Oakland stands just one Thursday matinee away from sweeping the four-game, two-city Interleague series.
Having come from behind in 15 victories, including several in stirring fashion, the Giants erased most of a 6-1 deficit with a three-run, sixth-inning surge. They added two runs in the eighth and briefly narrowed the difference to 7-6, but couldn't overcome their transgressions.
"There's no sugarcoating this thing," Giants manager Bruce Bochy said. "We pretty much covered all facets, as far as not playing well."
San Francisco regressed defensively, committing three errors to hike its May total to a Major League-high 23. Second baseman Marco Scutaro mishandled a popup that right fielder Hunter Pence probably could have caught, giving Oakland its second of two first-inning runs. But Scutaro, who briefly got tangled with Pence, said that his teammate never called him off.
"He just told me that he should have said something. That happens," Scutaro said.
Giants starter Tim Lincecum absolved Scutaro and Pence from blame.
"Those are tough plays to make, those balls kind of falling in Nowhereland," Lincecum said, citing the Giants' apparent destination.
This mistake was bookended by left fielder Andres Torres' inability to come up with Josh Donaldson's ninth-inning single. That error helped Oakland score twice and drained the momentum the Giants built while trimming their deficit to one run.
In between, Lincecum failed to cover first base on Donaldson's fifth-inning grounder that first baseman Brett Pill backhanded but dropped. Pill might not have had a play at first base, but Lincecum's stillness didn't look good.
"I could have been there on that play," Lincecum said. "I didn't read the situation well."
The Giants' starting pitching remained lacking. Lincecum's 4 1/3-inning stint perpetuated the dullness of San Francisco's rotation, which has recorded two quality starts (outings of at least six innings with three earned runs or fewer allowed) over the past 15 games.
Lincecum, who has lost five of his last six decisions, recovered from the first-inning defensive blunder to pitch three scoreless innings. But he retired only one of six batters he faced in the fifth inning as Oakland scored four runs.
"I left too many pitches up in the zone [and didn't throw] very many pitches down in the zone with runners on," said Lincecum, who complained of faulty timing with his delivery. "I just didn't execute all that well with the fastball."
Lincecum courted trouble immediately by walking Coco Crisp to open the game. Yoenis Cespedes tripled home Crisp one out later. This, too, continued a faulty Giants pattern. Their pitchers have issued 25 walks in the last four games. Nine have scored.
Leading, 6-4, Oakland added an eighth-inning run as Eric Sogard doubled and came home on Crisp's sacrifice fly against Ramon Ramirez, who made his 2013 debut after having his contract purchased from Triple-A Fresno earlier Wednesday.
That run proved essential, as the Giants scored twice in their half of the inning on Scutaro's RBI double and Sandoval's run-scoring single, which interrupted a 7-for-44 (.159) skid.
"They're a great team, especially at home and in the later innings," Donaldson said. "You know they're going to come back and put forth a great effort, which they did."
But the Giants' rallies masked their flaws.
"Generally we're just not playing well, all in all," catcher Buster Posey said. "We're not pitching well [or] playing good defense and when we're scoring, it's when we're far back in the game."
Chris Haft is a reporter for MLB.com. This story was not subject to the approval of Major League Baseball or its clubs.