A's withstand Giants for sixth straight win
Five-run lead holds up thanks to San Francisco's miscues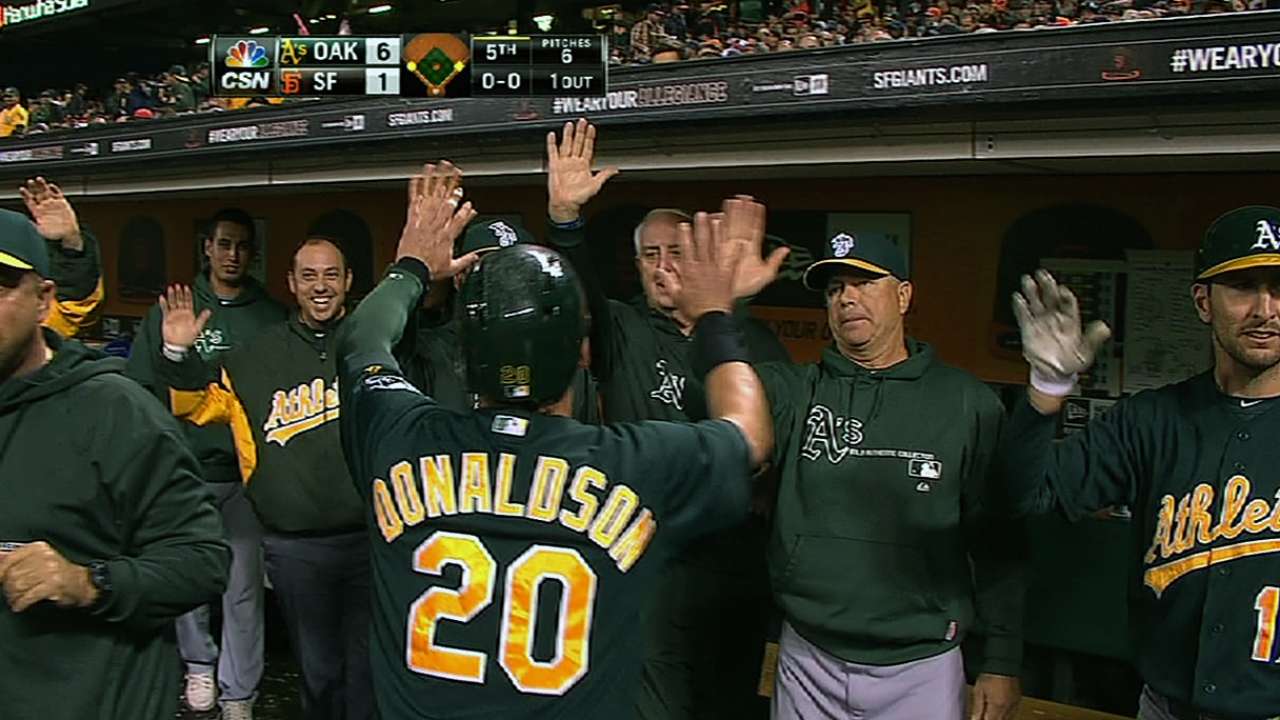 SAN FRANCISCO -- Recent history suggested the A's weren't supposed to win at AT&T Park on Wednesday night. But they're feeling greedy these days, so they did anyway.
After dropping 10 of their last 12 games inside San Francisco's cozy confines, the A's survived a comeback attempt by their cross-Bay rivals and took advantage of a handful of defensive miscues to edge the Giants, 9-6.
It was their third straight win over the Giants, which secured their first season series win against them since 2008, and 11th win overall in their last 12 tries. That puts them a season-high-tying eight games over .500 and just two behind the first-place Rangers.
But this wasn't just any win.
"That's probably the most fun I've had maybe in a long time," said A's third baseman Josh Donaldson, "besides maybe the playoffs."
More emotions, mostly built on frustration, fueled this game than seemingly any other played by the A's this year. And it all started with an Andres Torres grounder down the third-base line in the sixth inning, with Oakland leading, 6-3, behind starter Tommy Milone.
Torres' ball went through the legs of third-base umpire Gerry Davis, who ruled it fair, prompting manager Bob Melvin to jump out of the A's dugout and argue the call.
All the while, Davis had also ruled fan interference on the play and allowed Gregor Blanco to score from first base. Melvin, who was making his way back to the dugout after giving up the fair/foul argument, turned back to continue bantering with Davis when he realized the run counted, maintaining that Blanco should be standing at third.
Melvin avoided getting tossed. Instead, his bench coach didn't. Chip Hale, barking from the top step of the visitors' dugout, was ejected by home-plate umpire Brian Knight.
"I argued everything I could argue," Melvin said. "I was told it was fair and that, in their judgment, they should score."
When approached by a pool reporter, crew chief Davis explained, "The ball went over the bag, I called it fair, there was spectator interference, whenever there is spectator interference you award the runners the bases you feel they would have had had there not been interference.
"Brian basically made the decision because he's the home-plate ump, and he has the whole field in his perspective, so he made the decision as to whether the runners would score. And if any of the other umpires have anything different on the field, then we would get together if we need to. But we were all pretty sure that was the case."
Of opting to eject Hale, Knight said, "I warned him a couple times to stop yelling at me, and he did not heed my warning and he was ejected."
After Hale's exit, the drama only escalated.
Southpaw Jerry Blevins walked the next batter, but he got Pablo Sandoval to ground into a double-play started by Donaldson, whose aggressiveness was on display all night. The A's went back to the dugout with their lead still intact.
"Josh was competing like you wouldn't believe," Melvin said.
Oakland added a run in the eighth to again spread its lead to three runs, but the Giants, who have come from behind in 15 victories this year, fought back for two rums of their own in the bottom half of the inning, marking the first runs allowed by lefty Sean Doolittle since April 28.
The A's, having already used a first-inning error by second baseman Marco Scutaro to tally two runs against Tim Lincecum, scored two more times in the ninth, much thanks to a Donaldson single that Torres badly misplayed in left field, allowing Seth Smith to advance from first to home. Nate Freiman followed with a single and his third RBI of the game.
"You have to pick it up and fight, because it's easy to get caught up in the emotion of that game," Melvin said. "You have to find another gear, and almost every one of the guys did. It was a hard-fought game."
"Everybody's on their feet, everyone is yelling and screaming in the dugout, even over the littlest things we're going crazy," said Freiman. "We're going nuts.
"That was fun. That was a lot of fun."
Jane Lee is a reporter for MLB.com. This story was not subject to the approval of Major League Baseball or its clubs.