Weaver reclaims leading role to give Halos lift
Righty strikes out seven over six innings in return from disabled list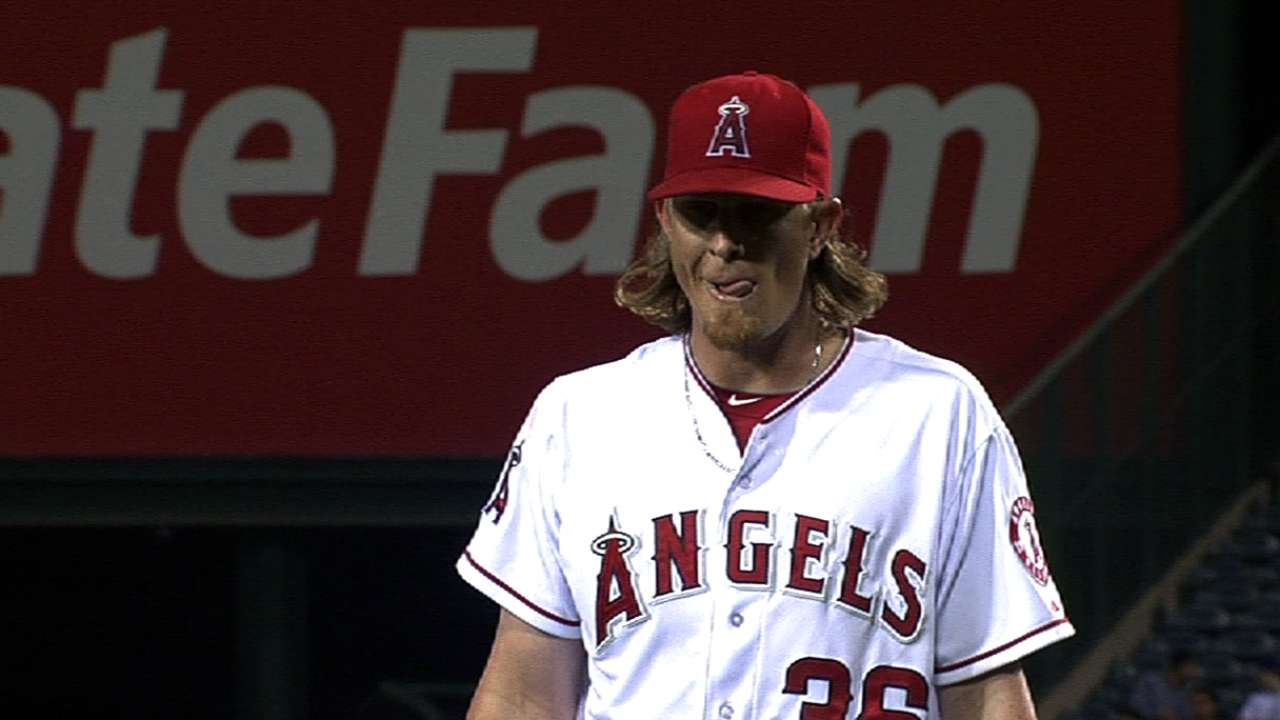 ANAHEIM -- When his left elbow broke while bracing his fall on the Rangers Ballpark mound on April 7, he was furious. As the idle weeks continued to mount and the Angels' deficit expanded, he grew impatient. Upon being cleared to return after one simulated game and 7 1/2 weeks of stewing, he beamed.
And then, when he finally took the mound at Angel Stadium again, with 39,172 fans settling in for Freeway Series action on a warm Wednesday night, Jered Weaver -- alpha dog in this staff, established ace in this game -- felt self-doubt, even if for only a brief moment.
"When you haven't been out there for a while, you kind of ask yourself, 'Can I still do this?'" he said. "But as soon as you get that first out, you get the confidence back and try to get in a groove from there. I was able to do that."
The first Major League hitter Weaver faced in nearly two months, Carl Crawford, struck out on a 91 mph fastball. He didn't throw that hard the rest of the night, sitting mostly in the 86 to 88 mph range, but he retired the first 12 batters in order, completed six innings of one-run ball and led the Angels to a 4-3 victory over the Dodgers.
While Weaver sat, the Angels -- now 24-29 and 8 1/2 games back of the first-place Rangers in the American League West -- dug themselves quite the hole.
But now that their ace is back, the next 109 games feel a lot more promising.
"Jered's obviously proven he's top of the rotation, among the best in baseball, and we have no choice but to have some confidence with him going out there," said Mark Trumbo, who hit a two-run homer off Dodgers starter Chris Capuano in the fifth, giving him a team-leading 12 on the year, and added a sac fly in the seventh.
"I'm one of those guys that wants to be out there every fifth day, but there's some things you can't really do anything about -- you just have to sit back and let things heal," said Weaver, who carved the initials of the late Dr. Lewis Yocum on the mound before firing the first pitch. "It made it even more frustrating that obviously we didn't start out to expectations. You just have to sit out, and you really can't do much about it. I thought that was pretty frustrating, but it made it all worthwhile coming back out there tonight."
Weaver scattered five hits -- three of which weren't hit very hard -- while striking out seven and walking none. His fastball was a tick or two faster than it was before he got hurt, his slider was sharp and his changeup came on late.
The Dodgers (22-29) made it close off closer Ernesto Frieri in the ninth, getting a leadoff homer by Adrian Gonzalez and a two-out solo shot by Scott Van Slyke. But Skip Schumaker flied out to end the game -- and the Angels moved to 73-27 all-time when Weaver starts at Angel Stadium.
"Weaver is a professional," said Dodgers center fielder Matt Kemp, who exited in the seventh with a mild strain in his right hamstring. "He's a great pitcher. He's had a lot of success. You know he's going to come after you and he did a great job today."
Weaver, making his third start of the season and first at home, improved to 6-2 with a 2.52 ERA for his career against the Dodgers, helping the Angels avoid three straight losses to their crosstown rivals for the first time since 2006.
The arm, he said, "hasn't felt this good in a while." The fastball, he believes, "was coming out a lot better than the radar gun was saying." And the location was, in his words, "uplifting."
The Dodgers only made noise against Weaver in the fifth, when Andre Ethier broke up a perfect game with a leadoff double and Schumaker dropped a two-out bloop single into shallow center field. They loaded the bases later that inning, on a flare J.B. Shuck had a chance to catch and an infield single fielded deep in the hole by Erick Aybar, but Weaver got Crawford to ground out and limit the damage.
Then, on his 86th pitch, with one on and two outs in the sixth, Weaver struck out Kemp on an 81 mph slider. At that point, after missing so much time, Angels manager Mike Scioscia figured he was "about done." There will be other nights, as his length increases and the freshness subsides, when Weaver will go longer, deeper.
Most important right now, though, is that the Angels have their ace back.
"There's no doubt when your lead dog's out there, there's definitely a different presence," Scioscia said. "It's going to take five of those guys throwing the way they can for us to get out goal, but you need that lead dog, and Weave's the dog."
Alden Gonzalez is a reporter for MLB.com. Read his blog, Gonzo and "The Show", and follow him on Twitter @Alden_Gonzalez. This story was not subject to the approval of Major League Baseball or its clubs.