Injury to Kemp compounds loss for Dodgers
Center fielder exits with strained right hamstring in seventh inning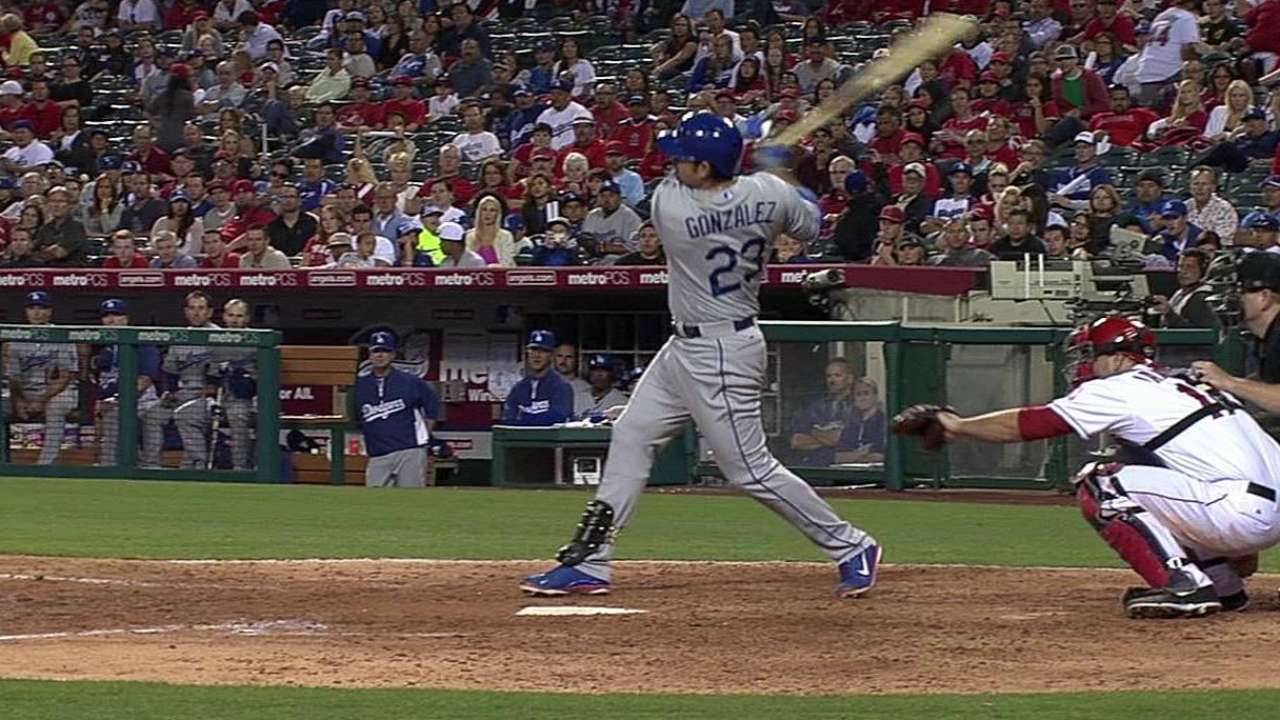 ANAHEIM -- The Dodgers' loss to the Angels on Wednesday looked small in comparison to the potential loss of center fielder Matt Kemp.
Kemp sustained a mild right hamstring strain in the bottom of the seventh inning, and the Dodgers fell to the Angels, 4-3, as the Freeway Series shifted to Angel Stadium.
For the second straight season, Kemp is dealing with a hamstring issue in May. Last year, he missed more than two months with a strained left hamstring. But he believes this injury to his other leg is not as severe, though he did not offer a timetable for his return.
"It's not as bad as last year," said Kemp, who will undergo an MRI exam on Thursday and is considered day to day. "But when you feel it grab and it feels like that, you've got to take it easy and make sure you're careful with it because it can get worse."
By the time Kemp injured his hamstring chasing a double into the gap in right-center by Angels outfielder Mike Trout, the Dodgers were trailing, 3-1. After a brief conversation with assistant athletic trainer Nancy Patterson, Kemp was removed from the game.
Before the injury, Kemp and the Dodgers were unable to get much going against Angels ace Jered Weaver in his return from a broken left elbow.
Weaver was perfect through four innings, as the Dodgers struck out three times and were unable to make solid contact against the right-hander in his first start since April 7.
"I was just worried about getting that first out," said Weaver, who struck out seven over six innings and was charged with one run on five hits. "That's the most nerve-wracking part. When you haven't been out there for a while, you kind of ask yourself, 'Can I still do this?' As soon as you get that first out, you kind of get the confidence back and try to get in a groove from there. I was able to do that."
Andre Ethier broke up Weaver's perfect game with a double off the right-field wall to lead off the fifth.
The Dodgers tied the game at 1 when Skip Schumaker scored Ethier with a two-out single up the middle. A.J. Ellis and Luis Cruz each singled to load the bases, but Carl Crawford grounded out to first to end the rally.
"It started to look like we got to him a little bit there and he gets that big out with the bases loaded," Dodgers manager Don Mattingly said of Weaver, who improved to 13-3 in Interleague play.
The Dodgers made things interesting in the ninth, when Adrian Gonzalez and Scott Van Slyke homered off Ernesto Frieri. But Schumaker flied out to left and Frieri was able to close the door for his 11th save.
"That's a guy that usually takes a lot of pitches to close out a game, so he's a guy that you're just kind of looking for that tying run to get to the plate," Mattingly said. "What you're really trying to do in that inning is put ourselves in position where with one swing you can get back in it. Obviously Adrian's at-bat and Scottie's, those are good to see. Obviously, it doesn't change anything. But it was good to see us continue on."
In contrast to Weaver, Dodgers starter Chris Capuano pitched out of trouble for much of his outing.
The Angels loaded the bases against the left-hander in the first inning, but Capuano stuck out Howie Kendrick looking to end the threat and avoid an early deficit.
Capuano allowed doubles to Chris Iannetta and Erick Aybar in the second as the Angels took the lead, 1-0.
After two scoreless frames, Capuano seemed to have found a groove. But he encountered trouble again in the fifth.
Aybar singled to begin the frame, though Ellis caught him attempting to steal second. The catcher has thrown out 12 of 25 runners this season, the most in the Major Leagues.
With two out, Capuano walked slugger Albert Pujols on four pitches to get to Mark Trumbo. Pujols entered the game 21-for-38 (.553) in his career against Capuano. But Trumbo proved to be just as dangerous, and launched a two-run shot into left-center to give the Angels the lead, 3-1.
"I was thinking Albert might be a little aggressive that at-bat and threw him a couple of changeups to start and he didn't bite," said Capuano (1-4), who allowed three runs on six hits in 5 2/3 innings. "I was trying to go after Trumbo and just really made a bad pitch there on a fastball in."
The Dodgers, who took both games of a two-game series against the Angels at Dodger Stadium on Monday and Tuesday, have yet to win three straight games since a sweep of the Pirates April 5-7 at Dodger Stadium. They are 18-52 in American League ballparks since 2005, the second worst Interleague road record in the Majors during that span.
Austin Laymance is an associate reporter for MLB.com. This story was not subject to the approval of Major League Baseball or its clubs.