Late run against bullpen sinks Rockies
Tulo's three RBIs all offense can muster vs. Astros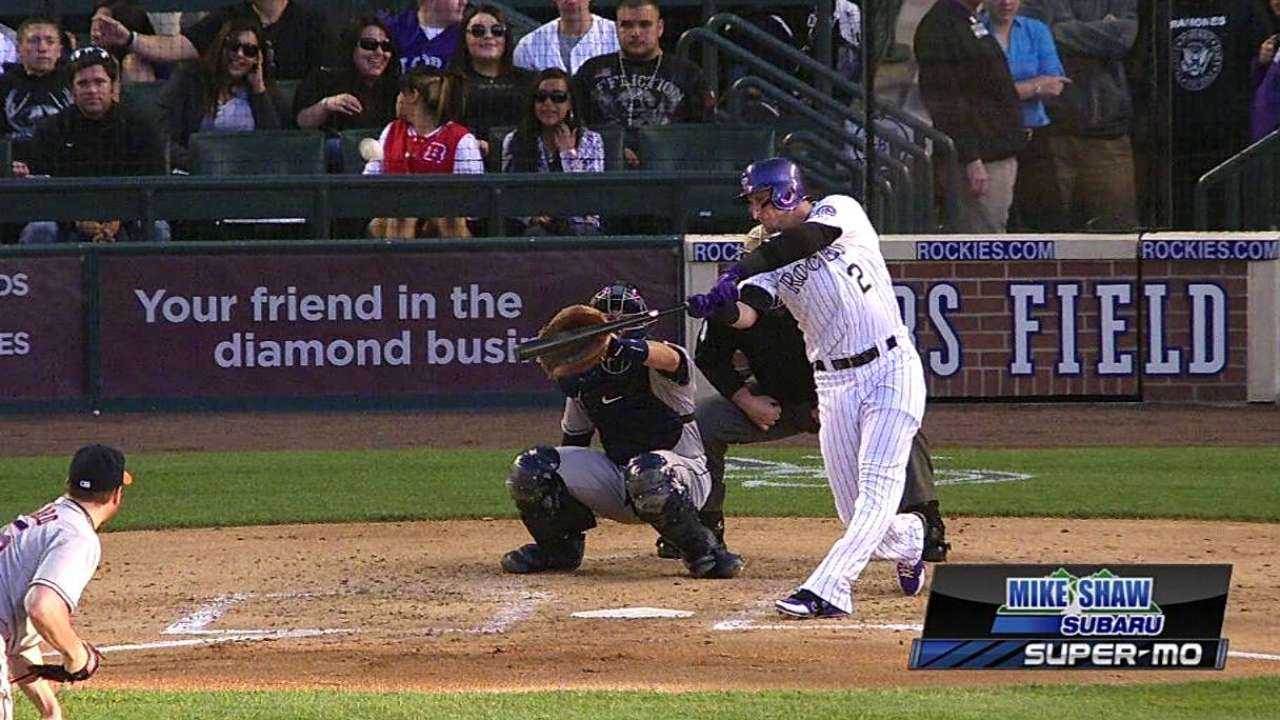 DENVER -- Starting pitcher Tyler Chatwood struck out 10 in six innings and Troy Tulowitzki homered twice Wednesday night, but the Rockies' chances of parlaying that success into victory disappeared into the glove of Astros first baseman Carlos Pena.
Trailing by one run, the Rockies had two on and two out in the eighth when Pena made a tumbling catch of Jordan Pacheco's line drive. The Astros added three ninth-inning runs and ended up with a 6-3 victory at Coors Field in front of 26,887.
The game fit into a troubling pattern that has emerged as the Rockies have lost five of their last six, including two of the first three games of a four-game, home-and-road with the Astros. On Wednesday, the Rockies went 1-for-8 with runners in scoring position.
Pacheco's liner against Astros reliever Hector Ambriz, with the Rockies trailing, 3-2, should have driven in a run and could have sparked one of the rallies the Rockies have come up with more often than not at Coors, where they are 16-10.
But Pacheco's hard-hit ball ended up in Pena's glove. The Rockies had several such hard-luck liners in their 3-2 loss to the Astros in Houston on Monday. Frankly, Tuesday's game was frustrating until Tulowitzki's RBI double in the ninth gave the Rockies a 2-1 victory over the Astros, who have struggled this season but have been scrappy against the Rockies, who are tied for second in the National League West.
"Obviously, you want to come through in those situations, and anything's positive," Pacheco said. "You can get a broken bat blooper and get the job done. But sometimes you hit the ball right at somebody."
The Rockies entered with a .275 batting average with runners in scoring position.
"Lately we've struggled, but as a whole we've been good in those situations," Rockies manager Walt Weiss said.
Usually, an effort as strong as Chatwood's is rewarded. Chatwood has been impressive in two call-ups from Triple-A Colorado Springs, and he could get even better if his slider continues to develop. He found his form during a bullpen session with pitching coach Jim Wright, and used the pitch with stunning effectiveness Wednesday night.
The Astros managed four hits off him, and sacrifice flies by Matt Dominguez in the second inning and Jason Castro in the sixth kept Chatwood from winning.
"It just felt like I was making pitches when I needed to," Chatwood said. "I left two pitches over the middle of the plate and they ended up being sac flies. But other than that, I thought I made some good pitches.
"It's frustrating, you always want to win games and it's frustrating for me, we had the lead going into the sixth and I gave it up, kind of put us in that situation."
With much less strikeout fanfare, Astros lefty starter Erik Bedard matched Chatwood, with two runs on seven hits in six innings. His biggest problem was Rockies shortstop Troy Tulowitzki, who led off the fourth with his 11th homer of the season -- an opposite-field shot to right -- and doubled in a run in the fifth.
Tulowitzki would add another solo home run off Jose Veras in the bottom of the ninth. It was his seventh career multi-homer game and first since Aug. 27, 2011 on the road against the Dodgers.
But the Rockies were otherwise punchless, possibly because they were punched out by the oddity of the schedule.
This is the Astros' first season in the American League. During this portion, all games are Interleague "rivalry" games. It works in the cases of Mets-Yankees, Athletics-Giants and Dodgers-Angeles, as well as matchups involving minimal travel. But the Rockies came from a three-game set at San Francisco, went to Houston for two and now are home for two. Not only that, but the last two games at San Francisco and the two at Houston were day games.
"It seems like some of the guys are a little bit tired. We still have to go out there and do our best," Carlos Gonzalez said.
J.D. Martinez broke a 2-2 tie in the eighth with an RBI single to center against Rex Brothers. The rally started with Marwin Gonzalez's single to lead off the inning against Edgmer Escalona. The rally made a winner of Paul Clemens, who threw 1 2/3 scoreless innings.
"These guys take pride in each and every day coming to the ballpark and playing the game hard, playing the game the right way, and today was a great example of playing the game the way it's supposed to be played and executing and doing all the things we talk about," Astros manager Bo Porter said. "The result, a majority of the time, is you're going to be in the win column."
Rockies reliever Rob Scahill, called up for the third time this year, gave up his first Major League run this season on Pena's ninth-inning leadoff homer, and Marwin Gonzalez pushed another run home on a squeeze bunt to make it a 6-2 lead.
Thomas Harding is a reporter for MLB.com. Read his blog, Hardball in the Rockies, and follow him on Twitter @harding_at_mlb. This story was not subject to the approval of Major League Baseball or its clubs.