Martinez's clutch eighth-inning single leads Astros
Bedard solid, allowing just two earned runs over six innings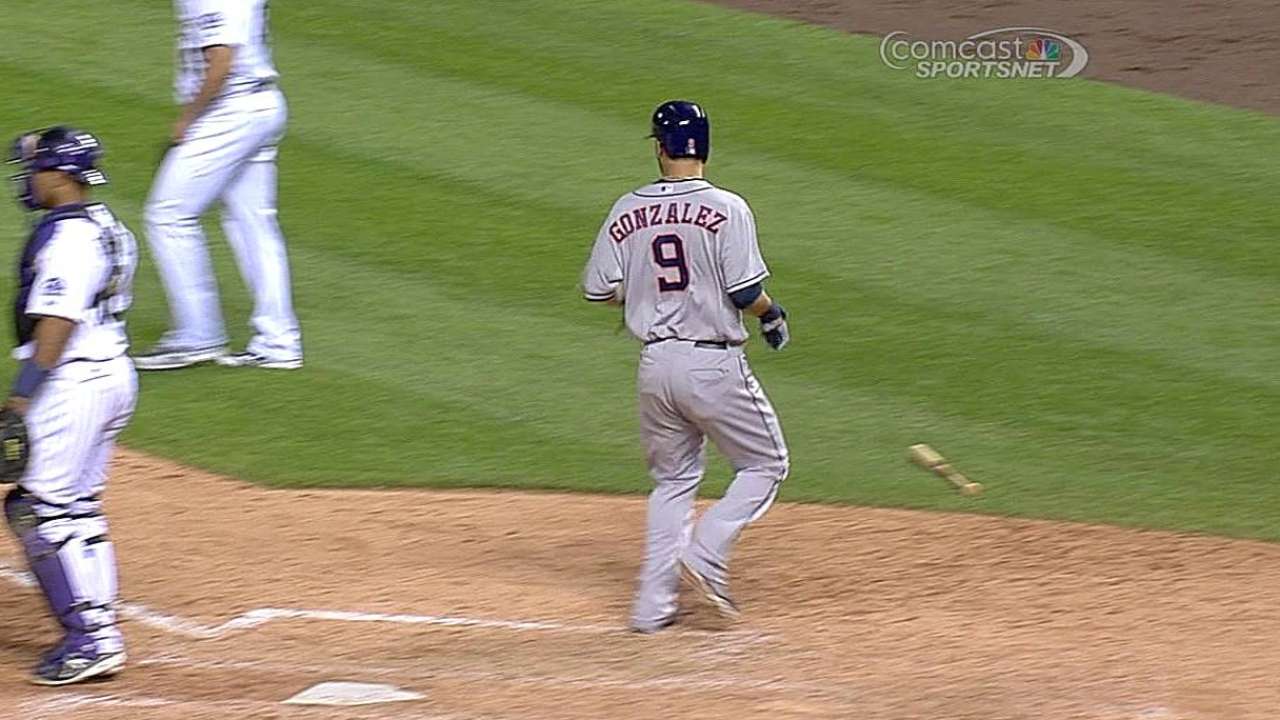 DENVER -- They got some big outs from relief pitchers Paul Clemens and Hector Ambriz to strand runners on base, they ran the bases aggressively and executed a safety squeeze bunt with perfection. And there were clutch hits up and down the lineup.
The final three innings of the Astros' 6-3 win over the Rockies at Coors Field on Wednesday night were a thing of beauty for manager Bo Porter, who watched his team execute masterfully on the mound and in the batter's box to win for the second time in three games.
J.D. Martinez put the Astros ahead with an RBI single in the eighth to break a 2-2 tie, and the Astros pushed three more runs across in the ninth to give themselves enough cushion to allow Jose Veras to surrender a homer to Troy Tulowitzki without it really mattering.
"That was good baseball there," Porter said. "Obviously, the three runs in the ninth there were huge, especially in this ballpark. Guys did a great job tonight, collectively, the whole group."
The ninth inning was nothing short of a baseball clinic by the young Astros, who have won two of three from the sliding Rockies.
Carlos Pena began the ninth by blasting a solo homer over the wall in right field to make it 4-2, and Trevor Crowe followed with a bunt single. Crowe went from first base to third base on a Jimmy Paredes single to left, putting him in position to score on a safety squeeze bunt by Marwin Gonzalez.
"Our pitching did an outstanding job to put us in that position," Crowe said. "Especially at a park like Coors Field with their lineup, it's important to add on in the late innings. Carlos got us started with that big home run and I just felt like their defensive energy let down and it was a good time for me to use my speed and that part of my game. If you want to be a good team and win consistently at this level, you have to do things like that on a consistent basis."
When Brandon Barnes dropped a single into center field to score Paredes, the Astros led, 6-2, and could breathe easier heading into a ninth inning in which the Rockies had Carlos Gonzalez, Tulowitzki and Michael Cuddyer due up against Veras.
"In this ballpark, a four-run lead is really like a two-run lead," Porter said.
The manager was concerned enough to bring in Veras, his closer, to pitch the ninth and he was able to get the job done despite giving up a homer to Tulowitzki. He went 3-for-4 with a double, two homers and three RBIs.
"You want to give our pitchers a little bit of comfort," Pena said. "They don't have to feel like they have the ropes around their necks all the time, so it definitely felt good to score more runs, so Veras could come in and relax and just throw his pitches and make his pitches and come up with a win. It definitely feels good to pile up those extra runs that give us some breathing room."
The biggest outs were recorded in relief. Clemens worked 1 2/3 scoreless innings, striking out Wilin Rosario to end the seventh and strand two runners. Ambriz got Jordan Pacheco to line out to Pena at first for the final out of the eighth to strand a pair and keep Gonzalez on deck.
The Rockies are 7-for-36 with runners in scoring position in their last three games against Houston, including 1-for-8 on Wednesday, and have stranded 34 on base in those three games.
"It's difficult to win that way," Carlos Gonzalez said. "We've been playing like that for the past week. That's why we're in trouble, that's why we can't win."
The game was tied at 2 in the eighth when Marwin Gonzalez led off the inning with a single and went to second on a Barnes bunt. The Rockies walked Jose Altuve intentionally and brought in lefty Rex Brothers to face Jason Castro, a left-handed hitter.
Brothers struck out Castro before Martinez hit a single up the middle to score Marwin Gonzalez from second and put the Astros ahead, 3-2.
"It allowed everybody to kind of relax a little bit going into that last inning," Martinez said. "We knew we were ahead and we didn't have to press for [an] extra run. It's a common thing with us. When we're ahead, I feel like our at-bats are better. Guys are more free at the plate."
Astros starter Erik Bedard held the Rockies to two runs and seven hits in six innings to match Rockies starter Tyler Chatwood, who allowed two runs and four hits in six innings and struck out a career-high 10 batters.
"Bedard did a great job," Porter said. "To pitch the way he pitched and be as efficient as he was against that lineup is pretty impressive. Clemens did a great job to hold it right there, and I thought Ambriz getting that last out in the eighth, just to keep it right there and not let Cargo come up with multiple guys on base, was huge."
Brian McTaggart is a reporter for MLB.com and writes an MLBlog, Tag's Lines. Follow @brianmctaggart on Twitter. This story was not subject to the approval of Major League Baseball or its clubs.