Giambi's big day fuels victory in Showdown of Ohio
Masterson strikes out seven as Indians snap five-game skid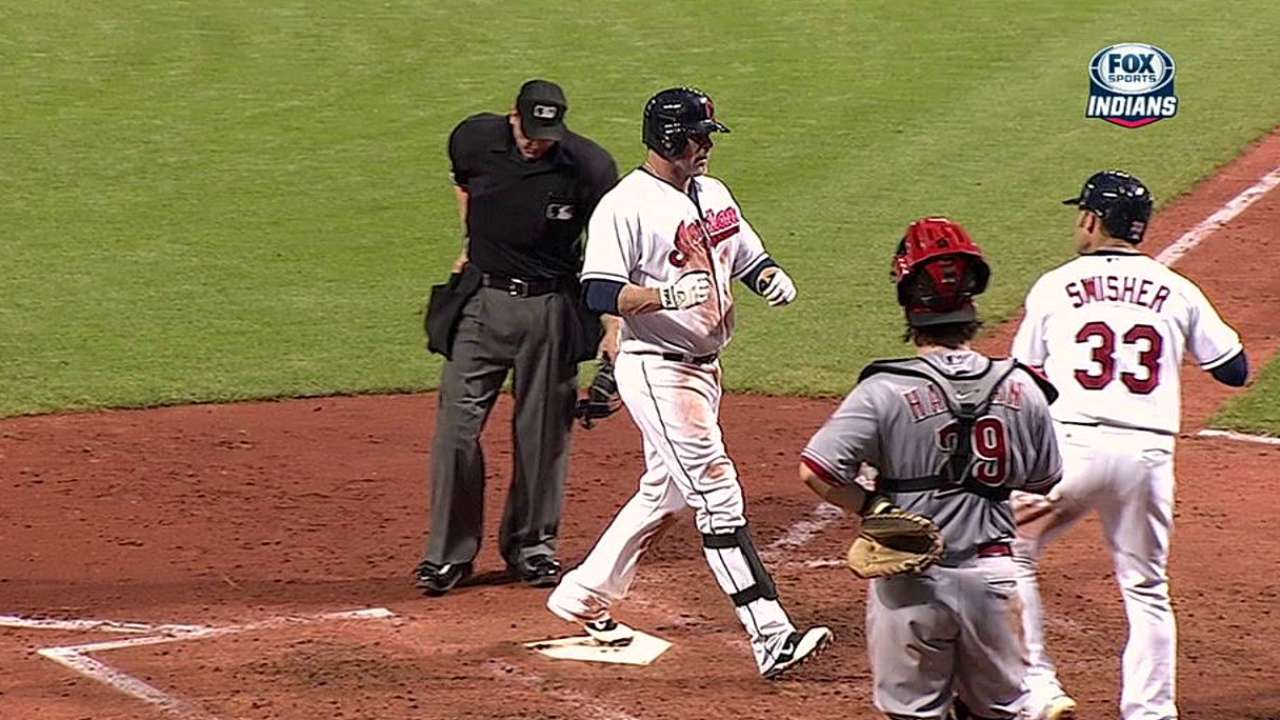 CLEVELAND -- Jason Giambi had been beating himself up over his woes in the batter's box in recent games. On Wednesday night, the Indians slugger took out some frustration on a baseball, then bruised one of his teammates in celebration.
Giambi drilled a critical three-run home run in the sixth inning, supporting a strong effort from Justin Masterson and helping power the Indians to a 5-2 victory over the Reds at Progressive Field. As the veteran crossed home plate, he slammed forearms with Nick Swisher in a moment reminiscent of Oakland's Bash Brothers in the '90s.
"Greatest bash of my life," Swisher said with a wide grin. "But you've got to come ready. That's a big man right there."
Giambi is a big man with broad shoulders, which he used to carry Cleveland to a win after the club's five-game losing streak. The Indians signed the 42-year-old Giambi -- a managerial candidate with the Rockies over the offseason -- with the idea that he could provide a wealth of experience and wisdom in the clubhouse, plus some power off the bench.
Spend five minutes with Giambi and you will gain a week's worth of baseball knowledge.
"Why do you think I put my locker next to his?" Swisher said.
At the plate, however, Giambi had been in a deep slump prior to his bat getting jolted back to life over his past two games. Even after his momentum-swinging blast and two-hit showing in Wednesday's win, Giambi's batting average only sat at .185 for Cleveland. That is one statistic Indians manager Terry Francona throws out the window when considering Giambi's contributions this year.
"That's not why he's here," Francona said. "And he's smart enough to know that."
Giambi's teammates know it, too.
"It's hard for anyone else to truly understand outside of this clubhouse," Masterson said, "just how great we enjoy him. I mean, whether you're a pitcher, position player, it doesn't matter. His knowledge of the game is incredible. He does a great job of imparting it. The hard part is, as a player, he wants to continue to go out there and help the team."
The Indians dropped a pair of games in Cincinnati earlier this week, but Giambi delivered a game-tying, pinch-hit home run in the eighth inning of Monday's 4-2 loss at Great American Ball Park. That pulled the designated hitter out of an 0-for-24 slump that represented the third-longest drought of a career that spans nearly two decades.
To be helping on the field again has come as a relief for Giambi.
"I love it," Giambi said. "There's no greater feeling in the world than to be able to help contribute and help the ballclub out. It's exciting. That's what brings me back. Sometimes I wish I was still 25 or 26 years old."
In the fourth inning on Wednesday, Giambi sent a pitch from Reds right-hander Bronson Arroyo to the wall in center for the third consecutive double for the Indians in the frame. The second in that string came off the bat of Swisher, scoring catcher Carlos Santana to push the Tribe in front, 2-1.
Swisher was thrown out at home plate on Giambi's two-base hit and Giambi was later caught stealing to end the inning.
"I was trying to give him a running start so he could score," Francona said of Giambi's sprint to third. "You can put that one on me."
The blunders on the basepaths were eventually rendered moot.
Giambi made sure of that with his big swat in the sixth.
With two outs, Arroyo surrendered back-to-back singles to Asdrubal Cabrera and Swisher, setting the stage for the man affectionately referred to as "Big G" by his teammates. Arroyo spun a 78-mph slider on a 2-1 count and Giambi licked his chops as the pitch hung over the plate. Giambi showed he still has his famous bat speed, yanking the pitch down the right-field line for a laser of a three-run home run.
He saw 17 pitches through three at-bats before launching the homer.
"Giambi had already ground me down," Arroyo said.
It was a glimpse of the Giambi who, in his prime, toyed with pitchers with his patience and power.
"He's still every bit as intelligent a hitter," Francona said. "He has that presence when he's in the batter's box."
Arroyo bowed out of the ballgame after being charged with five runs on eight hits in 5 2/3 innings.
The blast -- Giambi's fourth of the season -- gave Cleveland a 5-1 advantage, providing an ample cushion to back Masterson's sound effort. The big sinkerballer limited the red-hot Reds to four hits over six innings, during which he struck out seven and walked four. Masterson (8-3) allowed just one run -- courtesy of a first-inning home run from mistake-specialist Joey Votto.
Indians third baseman Mark Reynolds effectively canceled out Votto's blast with a shot of his own in the third inning. Reynolds drilled the first pitch he received from Arroyo (5-5) into the left-field bleacher seats for a leadoff home run, marking his team-leading 13th long ball of the season.
In the ninth, recently-anointed closer Vinnie Pestano -- filling in for injured stopper Chris Perez (right shoulder) -- surrendered a leadoff home run to Xavier Paul to trim the Tribe's lead to 5-2. Following the blast, Pestano recovered and retired the next three batters in order to preserve the win.
Cincinnati had a prime scoring chance in the sixth inning, when Masterson slipped into a bases-loaded jam with no outs. The right-hander locked in, inducing a comebacker from Paul that was gloved by Masterson, who then relayed the ball to Santana to initiate a crucial double play. Ryan Hanigan followed with a flyout to left field to end the inning.
Giambi called it the turning point of the game.
"That's unbelievable. That's all on Masty," Giambi said. "He changed the whole momentum of the game."
Giambi's home run certainly did not hurt.
The same can't be said for his forearm slam.
"I hope they get used to that," Francona said with a smile.
Jordan Bastian is a reporter for MLB.com. Read his blog, Major League Bastian, and follow him on Twitter @MLBastian. This story was not subject to the approval of Major League Baseball or its clubs.