Arroyo starts solid, but Reds fall after big home run
Solo shots from Votto, Paul represent Cincinnati's offensive output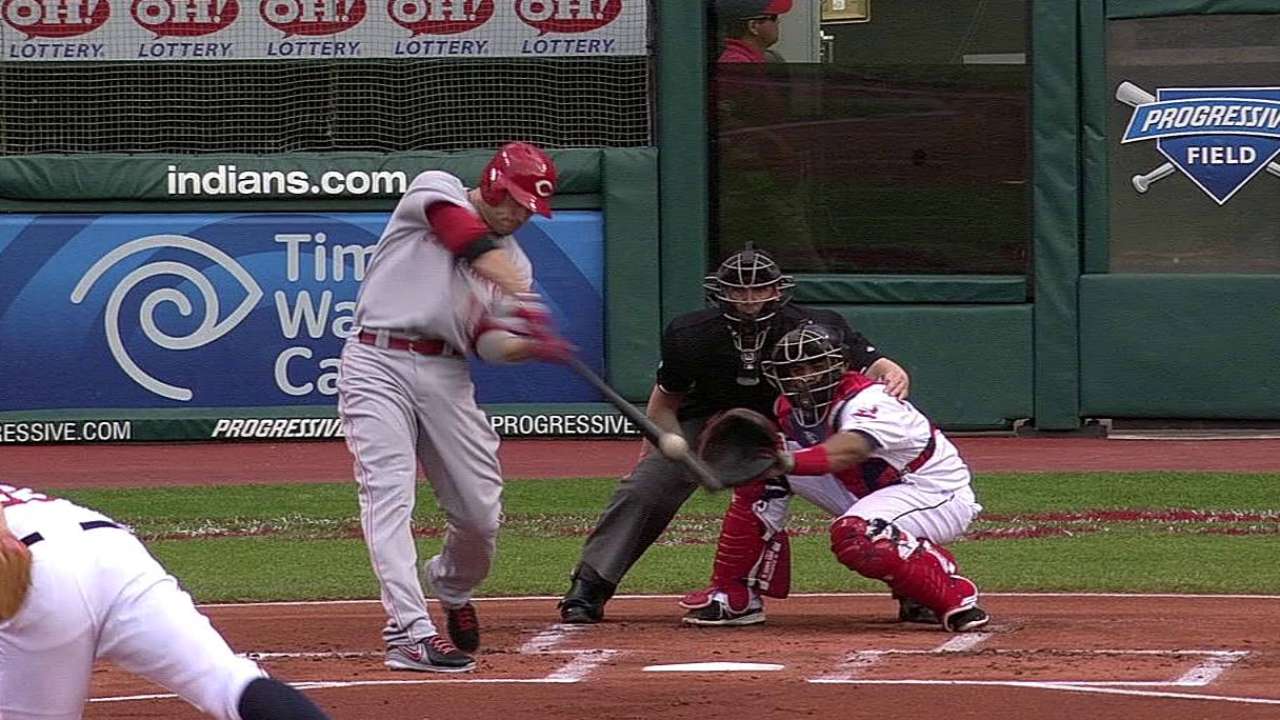 CLEVELAND -- Reds pitcher Bronson Arroyo came to Progressive Field on Wednesday wearing the same plaid suit he was wearing when he departed Great American Ball Park Tuesday on the team bus to the airport.
That's because Arroyo did something he's never done as a player. He accidentally left his luggage behind.
"I was hoping the suit would bring me some luck," Arroyo said, before making a buzzer sound that indicated it did anything but.
Although the bag and all of his street clothes were retrieved and brought to Cleveland by a club employee on Wednesday afternoon, Arroyo's good breaking ball was not among the contents. That, and some timely Reds hitting against Justin Masterson, were also missing during a 5-2 loss to the Indians, which snapped the Tribe's five-game losing streak.
"It was one of those days I knew I didn't have a whole lot of weapons going into the game, especially a sharp breaking ball. I didn't have it," Arroyo said. "It forced me to kind of tip my hand early in the ballgame to get through those first two innings. When you do that, sometimes you're risking pigeonholing yourself with it late in the ballgame and not having something to go to in a situation."
The Indians stacked their lineup with seven hitters from the left side. Arroyo was already vulnerable, considering lefties hit nearly 50 points better against him than right-handers over his career. Not having the full arsenal made it an uphill battle all the way.
The big blow came in the sixth inning with two out, when Jason Giambi crushed a three-run homer to make it a 5-1 game.
Arroyo finished with five earned runs and eight hits allowed over 5 2/3 innings with one walk and three strikeouts. He was the first Reds starter to take a loss since May 8. The rotation came in 9-0 with a 1.95 ERA over its last 15 games.
"Bronson has been outstanding," Reds manager Dusty Baker said. "Just tonight, they had too many left-handed bats over there."
With two outs in the first inning against Masterson, Joey Votto sent a 0-1 pitch over the left field fence for his 10th homer and a 1-0 Reds lead. Cincinnati could do little else vs. Masterson, including during one golden opportunity.
In the sixth, Brandon Phillips hit a chopper for a leadoff infield single before Jay Bruce reached on an error by first baseman Nick Swisher. Masterson hit Todd Frazier with a pitch to load the bases with no outs. Xavier Paul hit a check-swing bouncer back to the mound that began a 1-2-3 double play. The rally died altogether when Ryan Hanigan flied out to left field.
"He threw me two back-to-back changeups. He completely caught me off guard," Paul said. "I've faced him a number of times. I've never seen him throw a changeup. I've seen a lot of video and he's basically to me a two-pitch guy, a fastball and slider. He fooled me pretty good with the bases loaded."
Paul later hit a leadoff homer in the ninth inning against Vinnie Pestano to make it a three-run game. It was too little, too late by then for Cincinnati.
"I was telling one of my teammates, 'Man, I wish I hit that home run with the bases loaded instead of with nobody on,'" Paul said. It's part of the game. I picked the wrong time to hit it."
Cleveland, which made it a 1-1 game in the third inning on Mark Reynolds' leadoff homer to left field, hit three straight one-out doubles in the fourth inning and came away with only one run. But the Indians took control in the sixth.
After back-to-back two-out singles against Arroyo, the 42-year-old Giambi yanked a 1-2 breaking ball into right field for a three-run homer.
"I just tried to sweep it inside," Arroyo said. "It just kind of spun straight on the middle of the plate. That being said, he didn't get all of it. It jammed him a pinch, which tells you if you get the ball another four inches going in towards the bat, you probably pop him out to right. He's a big, strong guy. He's seen me a lot over my career."
Giambi, who hit one of the doubles in the fourth inning, now has four homers in 21 career at-bats vs. Arroyo.
"He's actually an exhausting at-bat, to be honest with you," Giambi said. "You really can't look for anything off him, because he throws so many of his pitches for strikes. It's tough to really have a game plan. I just tried to go up there and tried to square it up."
Once Carlos Santana followed with a single on Arroyo's 87th pitch, the righty was lifted for Logan Ondrusek to finish the sixth.
It only took eight pitches for Cleveland to set it up for Giambi's at-bat, which Baker felt wasn't enough time for him to scramble his bullpen.
"How long do you think it takes for somebody to get loose? You don't know when Bronson will give it up," Baker said. "You can't keep somebody ready all the time. You'll wear out your whole bullpen trying to keep them ready. It usually takes at least 20 pitches to get a guy loose."
Mark Sheldon is a reporter for MLB.com. Read his blog, Mark My Word, and follow him on Twitter @m_sheldon This story was not subject to the approval of Major League Baseball or its clubs.