Royals detoured late in I-70 loss to Cardinals
Mendoza logs first career hit, but Crow labors in four-run eighth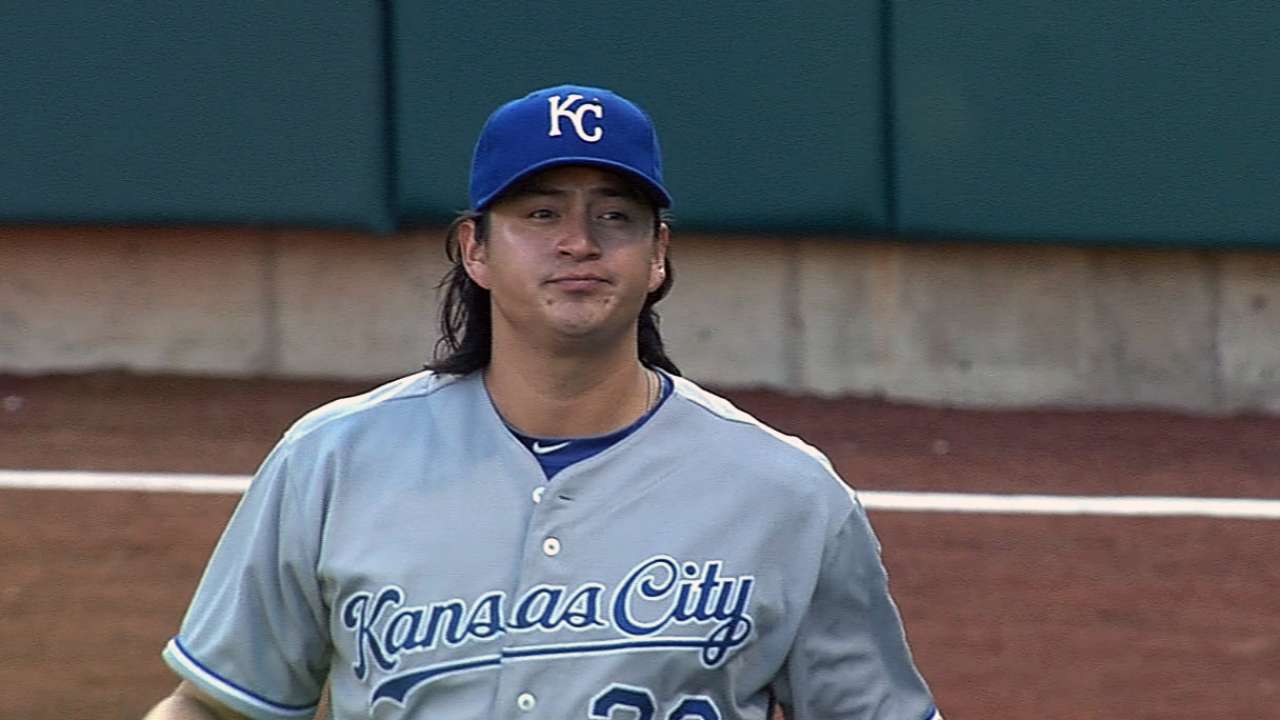 ST. LOUIS -- You'd think when Luis Mendoza, Kansas City's starting pitcher, socked a run-scoring single that it was going to be the Royals' night. Good things were happening.
"We felt like we were in a really good position to win that game," manager Ned Yost said, "but ..."
But they didn't. St. Louis rallied for four runs in the eighth inning for a 5-3 victory as a sellout crowd of 43,477 roared on Wednesday night at Busch Stadium. For the Cardinals, it was a fourth straight victory and their seventh in eight games. For the Royals, it was their eighth loss in a row.
To compound the indignity, the Royals also slipped into last place in the American League Central behind Minnesota.
"It's hard, it's a bad moment for the team," shortstop Alcides Escobar said.
Just one of many bad moments that have included 19 losses in the last 23 games. But the pleasant 84-degree evening looked promising for a long time.
Who knew that Mendoza, the pitcher, was also a hitter? Why would anyone even suspect such a thing? After all, before this, his total experience at the plate had been five at-bats in Interleague games -- all of them strikeouts.
Maybe Mendoza was encouraged by his first at-bat against Cardinals right-hander Lance Lynn. He tapped out to the mound, but at least got his bat on the ball. When his next at-bat came around in the fifth inning, he was the Royals' last hope. David Lough had tripled to right-center field, but Lynn retired George Kottaras and Chris Getz on popups.
But not slugger Mendoza. He lined a first-pitch fastball over the second baseman for an RBI single. At first base, he raised his hands in celebration, or was it shock?
When was the last time that Mendoza got a hit?
"When I was 10 years old, probably," he said.
That put the Royals ahead, 2-0.
"That was a big run. Lough hits the triple with nobody out and we can't hardly get the ball out of the infield," Yost said. "And then Mendy gets up and smokes the ball to get the big run. It was just one of those games where, 'We're going to break through today.'"
Mendoza's shutout ended when Matt Holliday led off the Cardinals' sixth with a long home run to left. The 2-1 lead was entrusted to the Royals' bullpen.
There was another hopeful moment against Lynn in the seventh with two out and runners at second and third, Cain hit a fast-sinking liner down the right-field line. Carlos Beltran was in pursuit.
"I thought Cain had a hit a double to right field and I thought we had two more runs," said Escobar, who was on base. "But Beltran made a great diving catch. Right now, everything is going good for the other team."
Even so, the Royals managed a third run in the eighth inning on hits by Mike Moustakas and Lough and Kottaras' RBI groundout. So it was 3-1 and Yost had his pitching set up perfectly -- Aaron Crow would pitch the eighth and turn the lead over to closer Greg Holland. But the best-laid plans ...
Beltran said hello to Crow with a leadoff home run and it was 3-2.
"That was just a real bad pitch. He's a great hitter," Crow said. "There's a lot of guys who would've hit that pitch, but you can't make a mistake to a hitter as good as he is. And he just hammered it."
Then came one-out hits by Allen Craig, Yadier Molina and David Freese and the score was tied. After an intentional walk to load the bases, Crow got the second out, but pinch-hitter Daniel Descalso singled for two more runs.
"I'm just trying to be ready to hit the first good one. He came at me with a fastball and I hit it up the middle," Descalso said.
Crow, in two-thirds of an inning, had given up four runs on five hits. Luke Hochevar had to come in and get the third out on a brilliant play by Escobar.
"I think that's by far the worst I've pitched my entire career," Crow said. "I was leaving the ball up, giving them good pitches to hit and in that situation, it's not going to get the job done. You can't let it happen again."
Cardinals closer Edward Mujica got three quick outs and it was over. Again.
"I feel like I let everyone in this clubhouse down tonight," Crow said.
Dick Kaegel is a reporter for MLB.com. This story was not subject to the approval of Major League Baseball or its clubs.