Cards' four-run eighth derails KC in I-70 tilt
Beltran's homer precedes Descalso's clutch two-run go-ahead hit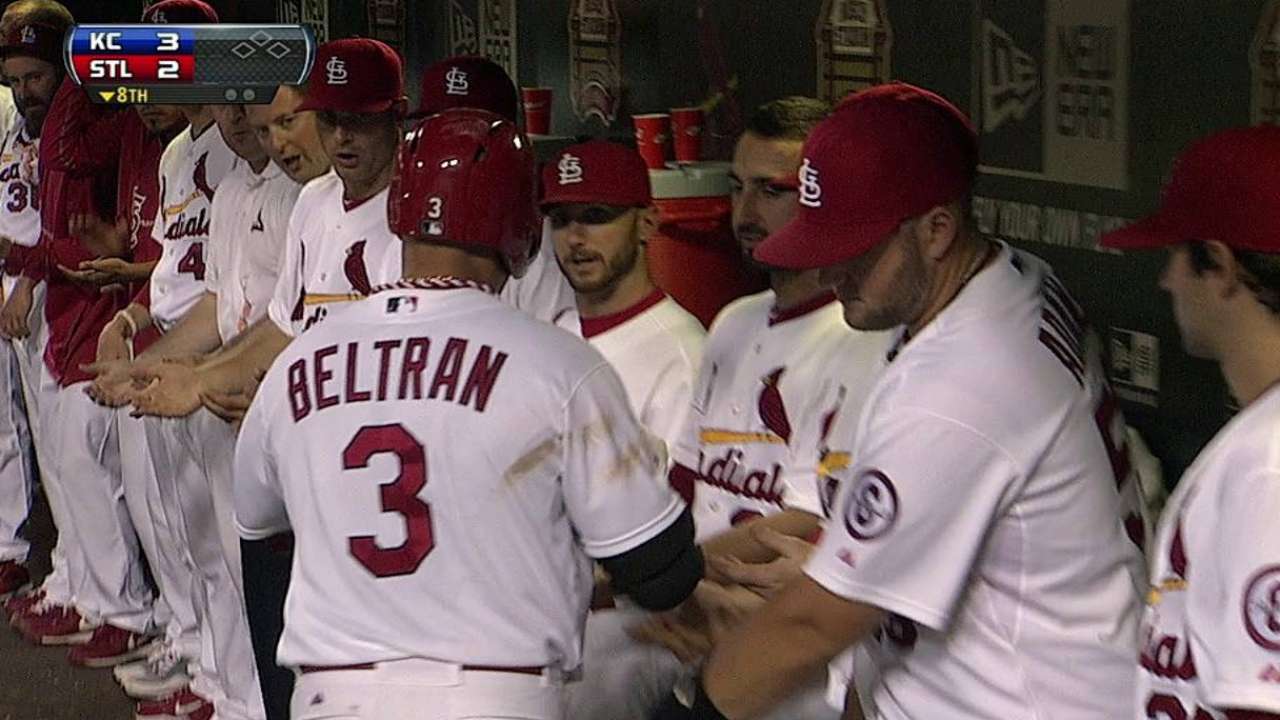 ST. LOUIS -- Two Missouri teams headed in opposing directions continued their respective trajectories on Wednesday.
For the third straight game -- but this time in front of 43,477 home fans at Busch Stadium -- the Cardinals flexed their state supremacy over the reeling Royals, using a four-run eighth to nab a 5-3 victory. It extends their I-70 Series winning streak to six games, the second longest streak in series history.
After winning consecutive games in Kansas City with the aid of early-inning scoring, the Cardinals saved the dramatics for late in the first game of a nine-game homestand. Held to one run by Royals starter Luis Mendoza, the Cardinals jumped all over University of Missouri product Aaron Crow in the eighth to finish their climb out of a two-run hole.
It marked the first time this season that the Cardinals won a game when trailing after seven innings.
"We come to work every day knowing you've got a really good chance to win," said Lance Lynn, who pitched seven innings in a no-decision. "We've got an offense coming through when we need them to. The pitchers are doing their job. And we're playing some great defense. When you have all those things clicking, it's definitely fun to play the game."
The win improves the Cardinals to 20-6 this month. The Royals, in contrast, have won just four of their last 23 games. They've lost eight straight.
The Cardinals' last at-bat rally was sparked by Carlos Beltran's leadoff blast in the eighth. It was his 12th home run of the season and second in as many days against his former team. The homer was also the second solo shot of the night for the Cardinals, who got on the scoreboard with Matt Holliday's homer off Mendoza in the sixth.
From Beltan, the momentum only built.
Allen Craig and Yadier Molina capped three-hit nights with consecutive singles, setting up David Freese to tie the game with an RBI single.
"Matt really gave us a jolt with that home run," Craig said. "And, obviously, Carlos [did so] late in the game. When one guy gets a big hit like that, all of us kind of feed of that."
Crow struck out Pete Kozma with the bases loaded to briefly deflate the excitement, only to watch pinch-hitter Daniel Descalso follow by swinging at a first-pitch fastball. Two runs scored.
"The guy just plays the game right. He prepares right. And when he gets the opportunity, he's ready," manager Mike Matheny said of Descalso, who has 12 hits in his last 27 at-bats. "He has been a nice spark for us, for sure. He just needs to keep doing what he's been doing and things will work out."
All five hits and four runs in the inning came off Crow, who had given up four total runs in his previous 17 appearances.
"I think that's by far the worst I've pitched my entire career," Crow said. "I was leaving the ball up, giving them good pitches to hit, and in that situation, it's not going to get the job done. You can't let it happen again."
The Royals had no chance to rebound, either. Closer Edward Mujica hushed any attempt to make the ninth interesting by retiring the side in order. Mujica, who did not slide into the closer's role until the April 18, improved to 17-for-17 in save situations. Only one National League closer -- Pittsburgh's Jason Grilli -- has saved more games.
The win went to Randy Choate, his first as a Cardinal and his first decision in a span of 103 appearances.
"It's always nice to get the comeback win," Descalso said. "Those guys are tough over there. They always play us tough. It's nice to come back. We haven't had to do that a lot this year, but a win is a win for us."
Though the deluge of scoring did not come in enough time to directly benefit Lynn, the right-hander kept the Cardinals close by allowing two runs over seven innings. Forced out of his last start after 77 pitches due to lower back tightness, Lynn pitched unimpeded, too.
A two-base hit that scooted under the glove of first baseman Craig and subsequent sacrifice fly led to the Royals' first-inning run. An inning later, a two-out single by Mendoza -- the first hit of the American League pitcher's career -- drove home another. In his five at-bats entering the night, Mendoza had never previously put a ball in play.
Lynn finished that inning by stranding two. He'd do the same in the sixth. Another two baserunners reached with two out in the seventh, prompting Matheny to head toward the mound. He had Seth Maness ready in relief, but en route made up his mind to stick with his starter.
"I could see his face and I knew he was good to go," Matheny said. "I already caught Yadi's eye and they had faith in his stuff at that point. ... We believe that can be that kind of pitcher that can just get better in big situations."
Lynn escaped the inning with the help of a sliding catch from Beltran near the right-field line.
"[Matheny] has a confidence in me right there, that's a good thing," said Lynn, who has allowed three or fewer runs in eight of his 11 starts. "That's what you strive for during the season, throughout your career, is for your manager to know you have the guts to get it done when you think you can, and when you tell him you can. He gave me that opportunity tonight."
Though Lynn was unable to join Jordan Zimmermann and Patrick Corbin as the NL's first eight-game winners, the Cardinals improved to 30-12 in his 42 career starts.
Jenifer Langosch is a reporter for MLB.com. Read her blog, By Gosh, It's Langosch, and follow her on Twitter @LangoschMLB. This story was not subject to the approval of Major League Baseball or its clubs.