Hernandez dominant as Rays win fourth straight
Right-hander came in struggling, but has longest outing since '10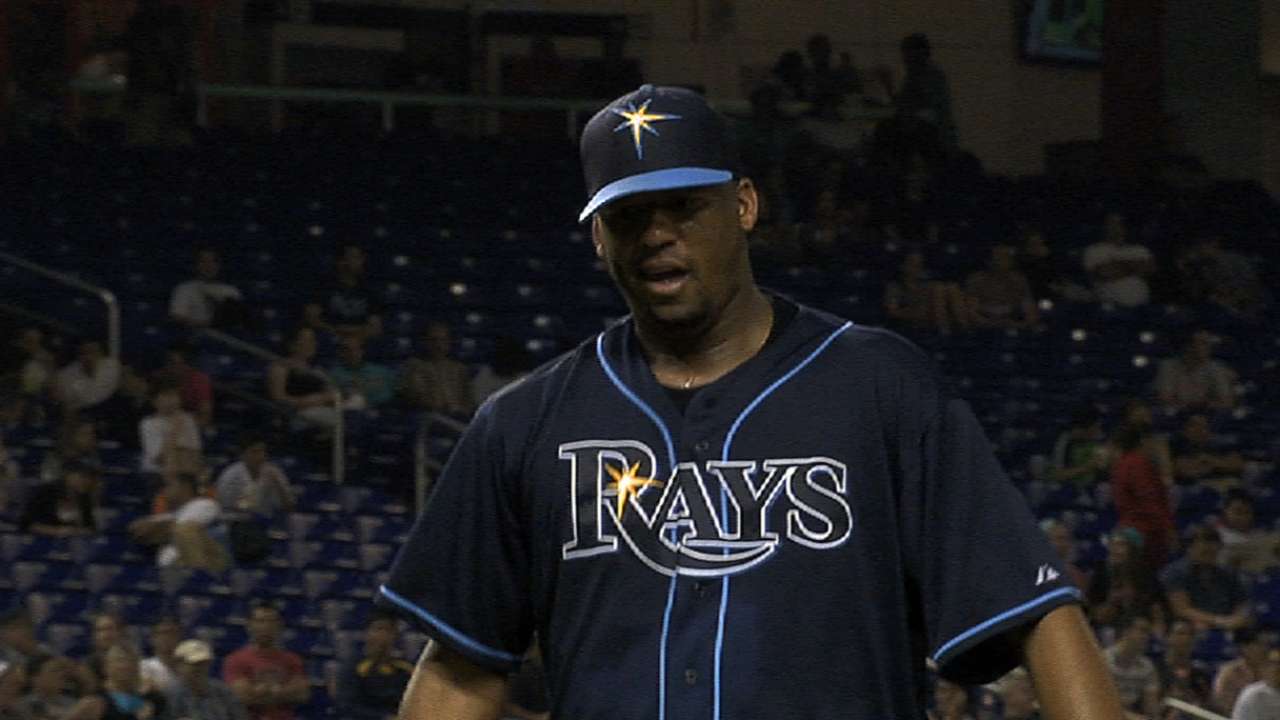 MIAMI -- Nobody saw this one coming.
Tampa Bay received a major boost from one of the least likely sources Wednesday night when Roberto Hernandez put forth an inspired pitching performance to lead the Rays to a 3-1 win over the Marlins at Marlins Park.
The Rays claimed their fourth consecutive win and improved their Interleague record to 8-1.
Hernandez came into the game in the midst of a tailspin that had seen him pitch a combined six innings his last two starts, allowing 10 earned runs. On top of that, the bullpen was running on fumes based on their recent usage. Given Hernandez's previous outings, the forecast did not look promising.
But the veteran right-hander put on a pitching clinic. His specialty: how to get the ground ball.
Through 8 2/3 innings (his longest outing since Sept. 2010), 12 of the 26 outs Hernandez got came on grounders and another five on strikeouts. He did not issue a walk en route to his third win of the season.
"Hernandez he had a lot of movement on his sinker tonight," said Marlins second baseman Derek Dietrich. "We hit the ball hard a few times, and they made plays. We've got to keep grinding. He pitched a good game for them. We had a couple of opportunities. Unfortunately, we didn't put enough across to win tonight."
Rays catcher Jose Molina described Hernandez as being "really calm."
"He was not as hyper as in other outings," Molina said. "That helped him throw strikes a little bit more, probably helped everything."
Hernandez effectively mixed up his sinker, changeup and slider throughout.
"He threw all his pitches for strikes in the zone and keep them off balance," Molina said. "That's what you want in a pitcher."
Marlins manager Mike Redmond noted that Hernandez threw a lot of strikes and that his team was "aggressive in the strike zone."
"We just weren't able to get hits," Redmond said. "We were hitting the ball hard. It seemed like we put a lot of balls in play. We just hit them right to guys, a lot of ground balls. That's what Hernandez has done over the course of his career, he's a sinker-ball guy. He gets contact. We just offensively couldn't get anything going like we did the last two games."
Rays manager Joe Maddon noticed that Hernandez seemed to be laboring quite a bit heading into the ninth, so he made a decision to allow Hernandez to pitch until the Marlins got a baserunner. Staying true to himself, Maddon yanked Hernandez after Placido Polanco singled through the left side with two outs in the ninth.
With the Marlins' No. 3 hitter Dietrich stepping to the plate, Maddon called to the bullpen to bring in closer Fernando Rodney, who is looking to regain his mojo after suffering five blown saves already this season. Rodney got Dietrich to fly out to right to earn his 10th save of the year.
Maddon felt the night brought feel-good moments for Hernandez and Rodney.
"I think all emotional benefits were met tonight," Maddon said.
Tampa Bay gave Hernandez a lead in the first on Kelly Johnson's RBI single, the last of three straight hits to start the game off Marlins starter Tom Koehler. Matt Joyce scored later in the inning on a double play to make it 2-0.
Miami got one back in the bottom half of the first when Chris Coghlan doubled off Hernandez to lead off the inning. He tagged and went to third on Polanco's fly out, and when Joyce's throw from right field went wild, he scored.
Neither team got anything more until Yunel Escobar broke the dry spell with a sacrifice fly in the seventh that scored James Loney to put the Rays up 3-1.
Koehler matched Hernandez most of the game. Despite taking his third loss of the season, he set a career high with eight innings, and made an impression on Maddon.
"He got better as the game was in progress," Maddon said. "He's got good stuff, he knows how to pitch. A really nice breaking ball. A nice feel for what he's doing out there. He's going to be very good."
But clearly the night belonged to Hernandez, who, despite Maddon's claims that his position in the rotation was not in jeopardy, desperately needed a good outing.
"I'm very happy," Hernandez said. "I say thank you, God."
Bill Chastain is a reporter for MLB.com. This story was not subject to the approval of Major League Baseball or its clubs.