Pirates rise up for late rally in win over Tigers
A.J. gets little support before four-run seventh; Grilli saves No. 22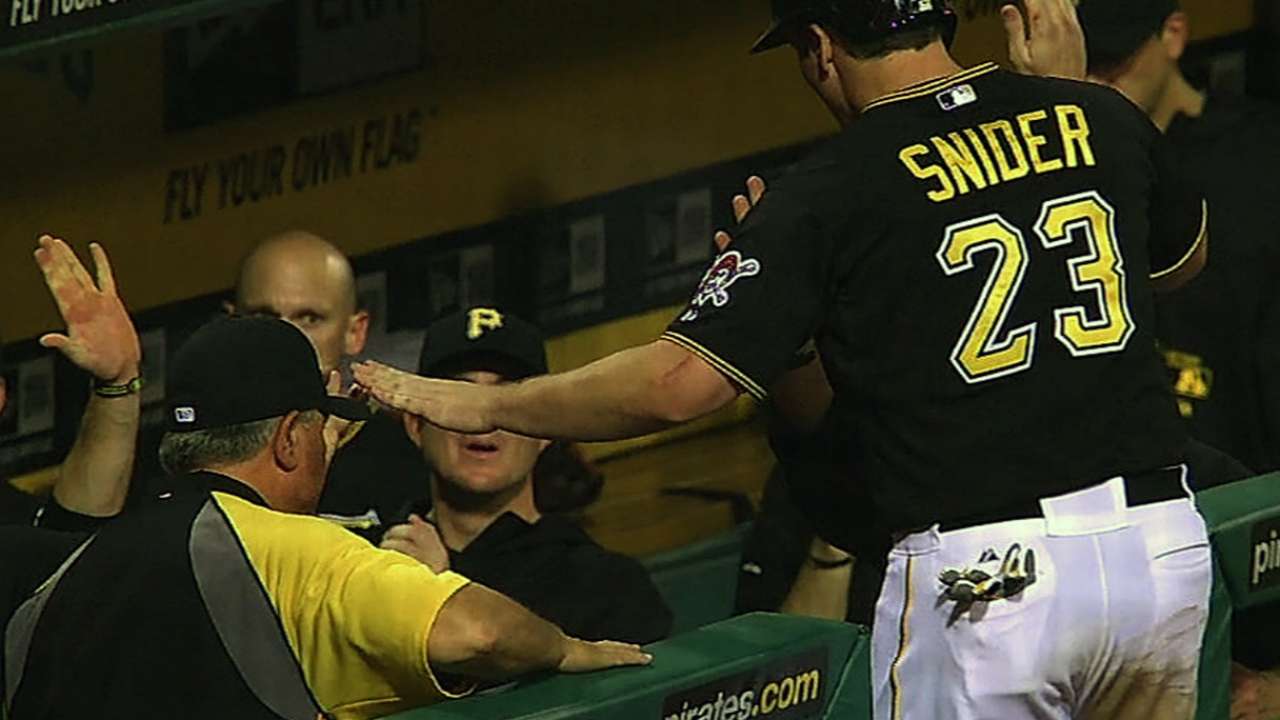 PITTSBURGH -- Baseball bats know nothing. They don't know the situation, or even that there's a game being played. All they know is leather meeting wood.
But there's something about A.J. Burnett starts that the Pirates' bats must know. And it's to go silent.
Burnett has given Pittsburgh quality start after quality start this season, and the Pirates had scored just five total runs in his last four outings. But as soon as the 36-year-old righty exited the game Wednesday, alive came the Pirates' offense. The bats just knew.
Pedro Alvarez hit a game-tying, two-run double in the seventh, and Travis Snider knocked him in as part of a four-run inning that vaulted the Pirates past the Tigers, 5-3, at PNC Park.
"You look in this clubhouse, and once again you're proud. These boys never gave up," said Burnett, who tossed six innings. "They were shut down for how many innings, then you see them come out and grind and grind and get going. It shows you what kind of heart this team has."
Burnett didn't last seven innings for the first time in six starts and left the game in line for his sixth loss, despite entering Wednesday's game with a 2.57 ERA. He allowed three runs on five hits and four walks while striking out four. The Pirates had just two hits while Burnett was in the game.
Burnett, who is 3-5, hasn't had fewer than four wins after 12 starts since 2004, when he was 2-5 with the Marlins. But he continues to keep the Pirates in games, even if he doesn't get the offensive support he needs to turn those into personal victories.
"He's a pro," Pirates manager Clint Hurdle said. "His responsibility is to set the tone for that entire rotation, regardless of what goes on around him."
Anibal Sanchez, fresh off a one-hitter on Friday, surrendered each of Pittsburgh's five runs after cruising through six innings. He allowed seven hits while striking out nine in 6 2/3 innings. Outside of the seventh, he gave up just two hits and a run -- a homer by Neil Walker in the fourth.
Sanchez said he started to overthrow his pitches late in the seventh, and Alvarez, who had struck out in his first two at-bats against the Tigers righty, took advantage.
"I just got two pitches that made four runs," said Sanchez, who gave up an 0-2 single to Garrett Jones, then walked Russell Martin before giving up back-to-back doubles to Alvarez and Snider.
The Tigers got all of their offensive production in a single inning. Andy Dirks doubled home Don Kelly in the fifth, then Miguel Cabrera drove a two-run home run to right field -- his 15th of the season but just his second hit in three games against the Pirates. Cabrera is now 2-for-14 in the home-and-home series after grounding into a double play in the seventh and flying out to end the game.
"You attack him like he's any other hitter. Names don't matter," Burnett said. "They're good hitters, but we're good pitchers, too. So you make your pitch. I didn't make my pitch."
Jordy Mercer gave the bullpen some breathing room in the seventh, when he laid down a perfect bunt single on a squeeze play to score Snider, Pittsburgh's fifth run. It's a call Hurdle hasn't made much in his time with the Pirates. But the manager said he "thought it was time."
Bryan Morris, who was sent down to Triple-A on Monday then recalled just a day later, pitched a scoreless seventh to get his second win of the season. Tony Watson allowed a hit in the eighth but kept the Tigers off the board, and Jason Grilli nailed down his 22nd save in 22 opportunities. Grilli played for Detroit from 2005-08 and solidified himself as a big league reliever in his time there.
"He's done a terrific job," Tigers manager Jim Leyland said of Grilli. "He found a little niche here, and he's been absolutely terrific."
The Pirates, behind timely hitting and strong pitching from the rotation and bullpen, have now won 18 games in a month for the first time since September 1992.
"They're the real deal, there's no question about that," said Leyland, who managed the Pirates from 1986-96. "They'll be like anybody else. They'll go as far as their pitching takes them."
Steven Petrella is an associate reporter for MLB.com. This story was not subject to the approval of Major League Baseball or its clubs.