Danks done early as White Sox fall at Wrigley
Lefty lasts four frames in second start, allows two of Navarro's homers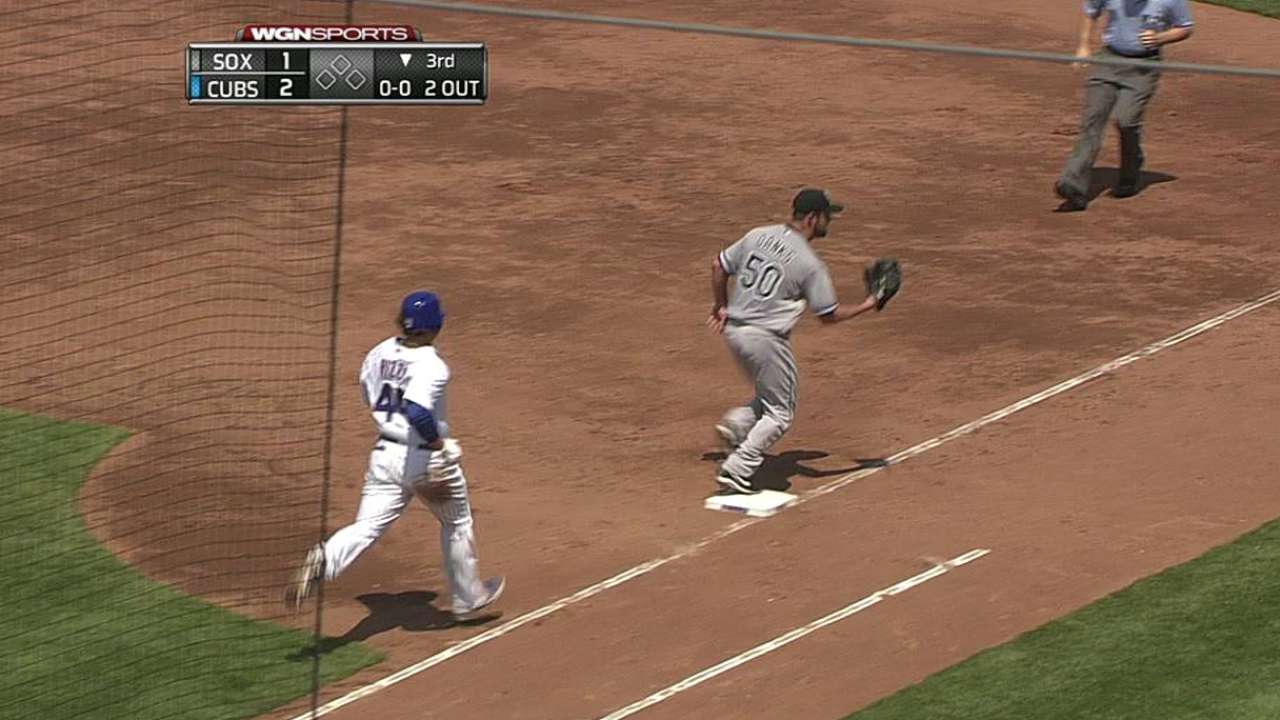 CHICAGO -- The hope for all involved with the White Sox is that the 9-3 loss to the Cubs before 31,297 on Wednesday afternoon at Wrigley Field represents just one of those days.
After all, it was as recent as this past Sunday when the White Sox (24-26) had moved back to .500 via a three-game home sweep of the Marlins and looked as if they had put behind them a rough six-week start to the 2013 season.
Then the Cubs (21-30) came calling, first for two scheduled at U.S. Cellular Field and now two on the North Side. Suddenly, the White Sox don't look so much like that same rejuvenated weekend group following two big losses.
"Not a good day," White Sox manager Robin Ventura said. "But it's just one of those that you have to stick with it and find a way to keep them in the yard."
Cubs reserve catcher Dioner Navarro accounted for all the baseballs that left the yard on Wednesday, not to mention six of the Cubs' nine runs. Navarro homered with one out in the second off John Danks (0-1) to give the Cubs a 2-1 lead they would not relinquish, and then hit a two-run shot that hugged the left-field line but stayed fair in the fourth for his first career multi-homer game.
Navarro launched homer No. 3 on the breezy afternoon, a 420-foot, three-run blast to right off reliever Brian Omogrosso in the seventh. The two early homers basically did in Danks, who allowed four runs -- three earned -- on five hits over four innings, while fanning two and walking one.
Danks' second start back with the White Sox this season wasn't quite as good as his 2013 debut against the Marlins on Friday, with his velocity topping out at 90 mph, according to MLB.com's Gameday. It was the location on his changeup that got him in trouble with Navarro, who connected on 0-2 and 1-1 pitches, respectively, but Danks also wasn't satisfied with his fastball.
"Those were two pitches I'd love to have back," Danks said of the hanging changes to Navarro. "But more than that, my fastball command wasn't anywhere near where I'd like it to be. I'm going to chalk it up to one of those days; I hope so at least. All the way around it just wasn't nearly as sharp as I'd like to be."
"You're surprised when anyone hits three home runs in a game," said White Sox catcher Tyler Flowers of the power display from his Cubs' counterpart, giving Navarro six homers for the season. "I've played against him. He's a solid player. He got three mistakes and did the most with all three of them."
Those long balls from Navarro stood as the first time a Cubs catcher has accomplished such a feat since George Mitterwald on April 17, 1974, against the Pirates. Navarro enjoyed the Cubs' first three-homer game since Aramis Ramirez on July 20, 2010, against the Astros, and raised his career average to .412 (7-for-17) against Danks.
Scott Feldman (5-4) earned the victory, keeping the White Sox off balance for six innings. He yielded two runs on six hits, striking out seven and not issuing a walk in capturing the mound battle between two friends who were part of the Rangers' 2003 First-Year Player Draft class. Wednesday's start represented Danks' first career loss at Wrigley, and his return after making his last start of 2012 here on May 19.
At this point, though, Danks simply is focused on being a productive pitcher and not on the recovery process from arthroscopic shoulder surgery last August.
"My game against the Marlins last week was my comeback," Danks said. "Now it's time to go out and win ballgames. I didn't do the job today, and that's what's burning me now."
"It was great," Feldman said of Danks' comeback. "When I saw him come back last week, I was really happy for him. Those shoulder injuries are tough, and I'm sure he worked his butt off. It was really good to see him out there and throwing good stuff."
Three of Feldman's strikeouts came against Adam Dunn, who worked the count full in all three at-bats, but still has multi-strikeout efforts in nine of his last 10 games. He struck out on two curves and one cutter, leaving Dunn 1-for-25 in his last seven games and with 20 strikeouts in his last 10 games. The slugger did, however, add an eighth-inning sacrifice fly off Carlos Marmol.
Leadoff hitter Alejandro De Aza finished 0-for-3 with a strikeout, dropping his average to .239 and raising his strikeout total to 55. Ventura said postgame that a change could come at the top of the lineup, with one possibility being Alexei Ramirez, whose two stolen bases Wednesday give him 10 for the season.
"Anything's possible," said Ventura of the lineup change. "You just have to keep working at it and we have to find it within our guys, because you aren't going to get any help anywhere else. ... Unless you have a 40-man [active] roster."
That leadoff change won't come Thursday afternoon in the series finale, according to Ventura. But more games such as Monday or Wednesday eventually could shake the White Sox confidence enough when "one of those days" becomes a couple of weeks' worth of them.
"We are going to keep battling," said White Sox hitting coach Jeff Manto of his group that has produced just three runs total in two official games against their crosstown rival. "Quality of at-bats are getting better. We just hope for a little bit more results obviously."
Scott Merkin is a reporter for MLB.com. Read his blog, Merk's Works, and follow him on Twitter @scottmerkin. This story was not subject to the approval of Major League Baseball or its clubs.