Tale of two Zims: Homers not enough for Nats
Third baseman belts three home runs, but starter falters against O's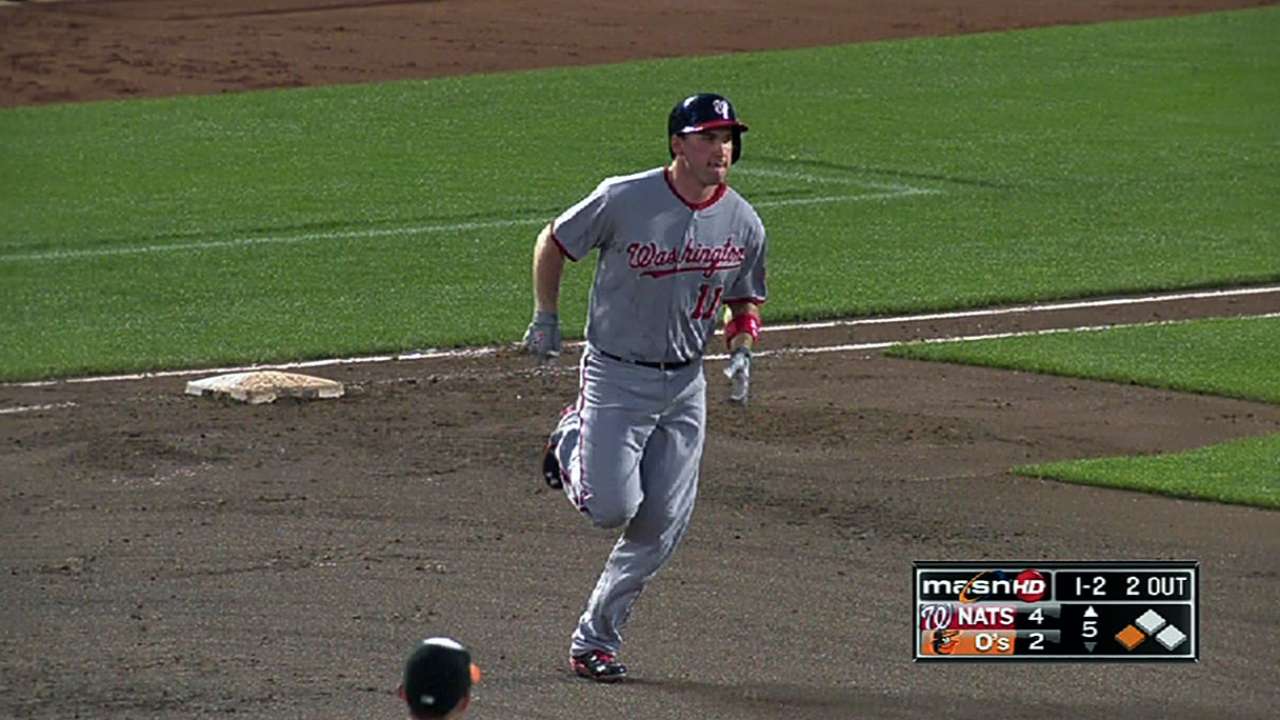 BALTIMORE -- Nationals third baseman Ryan Zimmerman had three home runs on Wednesday night, and Roger Bernadina hit another literally out of the park. But after the last pitch had been thrown and the last out recorded, there was no celebrating in the visitors' clubhouse at Camden Yards.
The Nationals took a three-run lead into the bottom of the seventh inning with their most consistent starter, Jordan Zimmermann, on the mound. They left it with a three-run deficit courtesy of Chris Davis, who homered for a second time to help lift the Orioles past the Nationals, 9-6, before a noisy crowd of 39,129 fans.
"That one hurt," Nationals manager Davey Johnson said.
In the third game of a four-game, home-and-home series between Washington and Baltimore, the two teams combined for eight homers in the first seven innings. Zimmerman went deep in the first, fourth and fifth innings to cap the first three-homer game of his career and the third such game in Nationals history. But a six-run seventh inning by the relentless Orioles spoiled all of that.
"It's tough to have a night like that and not be able to kinda celebrate it and have fun because we lost," said Zimmerman, who doubled his season home run total on Wednesday. "Hopefully we can keep swinging the bat like we have the last few days. We know our pitching is good enough. If we score that many runs, we're going to win more than we lose."
Zimmermann, Washington's reliable right-hander, entered Wednesday night's game as one of three starters in the Major Leagues with eight wins, but he fell far short of picking up his ninth. Zimmermann allowed seven earned runs -- more than his past three starts combined -- on 10 hits over six-plus innings. He also walked a batter for the first time since May 8.
Zimmermann gave up a fourth-inning homer to Davis, his first of the night, but then settled down and struck out three of his next six batters. The wheels didn't fall off until the seventh, when Zimmermann gave up a single to Orioles second baseman Ryan Flaherty, a two-run homer to designated hitter Steve Pearce and an RBI double to Manny Machado.
"I look up, and we're losing," Zimmermann said. "Those guys give me six runs like that, I've got to do a better job and we should win this ballgame. It's solely on me [with] this one."
Tyler Clippard entered the game in relief, looking to control the damage, but he didn't fare much better. Nick Markakis singled to plate Machado before Davis hit his decisive second home run.
"We're resilient. That's one of the things about us," Davis said. "We don't go away."
Camden Yards always has been a hitters' park, but both offenses seemed particularly comfortable on Wednesday. Zimmerman hit his first homer to left-center field, his second to straightaway center and his third to right. All three home runs came on fastballs by Orioles starter Chris Tillman, who was chased after allowing six earned runs in 4 2/3 innings.
Nationals reserve outfielder Roger Bernadina, who was filling in for the injured Bryce Harper, also homered. He demolished a 1-0 changeup in the fourth inning, sending the ball over the right-field fence and onto Eutaw Street. It was the 68th home run to land on Eutaw Street in the history of Camden Yards.
"It's always a good place to hit," Zimmerman said. "It's got a great batter's eye. You can see the ball well. Really, there's not a bad place in the park to hit it."
On Wednesday night, Washington was reminded that those advantages go both ways. While the Nationals' banged-up lineup benefited, one of their most consistent pitchers -- Zimmermann -- had to pay the price.
"I thought Zim had pretty good stuff," Johnson said, "but this ballpark can eat you alive."
Tom Schad is an associate reporter for MLB.com. This story was not subject to the approval of Major League Baseball or its clubs.