Phils swat four homers, move within game of .500
Brown hits pair, while Howard, Kratz also go deep to back Kendrick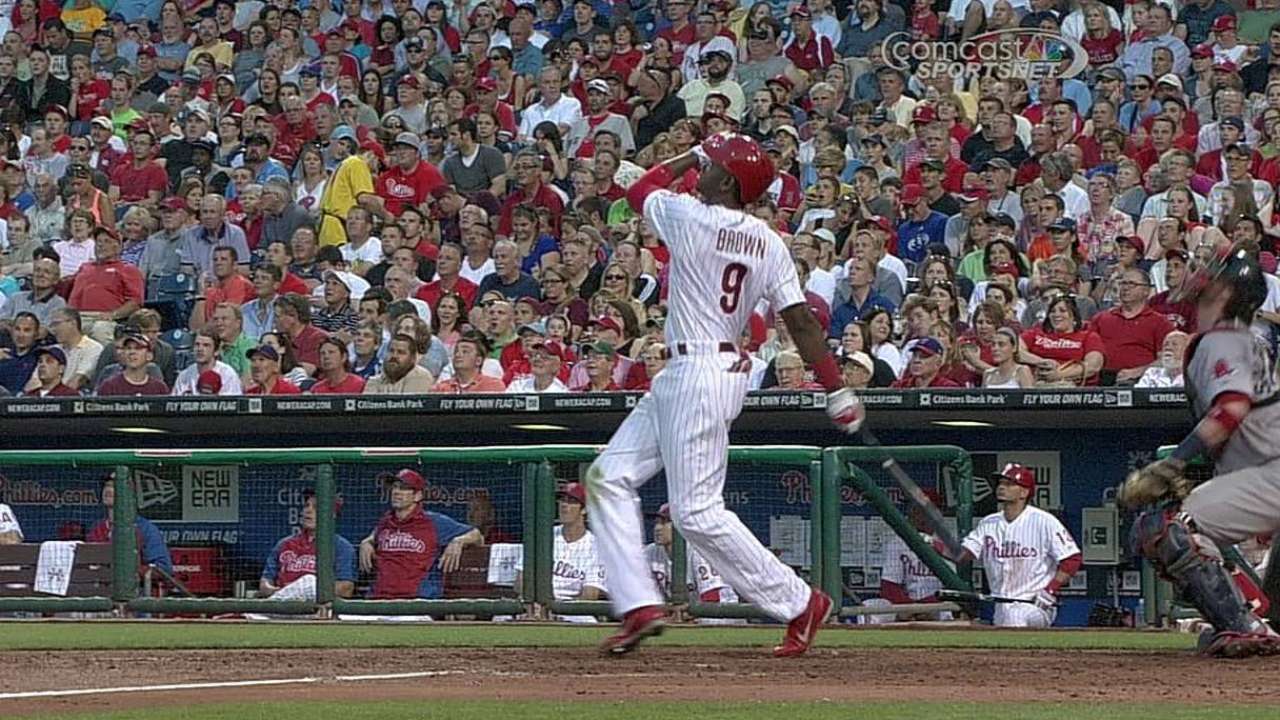 PHILADELPHIA -- Eventually, the Phillies say it will happen.
They will reach .500, they will get past it and they will make a run at the postseason. But for that to happen, they will need to play consistently sound baseball for an extended period of time. That has been a remarkable challenge for nearly two months, although following Wednesday's 4-3 victory over the Red Sox at Citizens Bank Park, they have a chance Thursday to hit the .500 mark for the first time since April 14.
They can thank four solo home runs -- including two from Domonic Brown -- and a splendid bounce-back performance from Kyle Kendrick for that.
"When you can hit, that really erases a whole lot of mistakes," Phillies manager Charlie Manuel said. "And also when you win the game, the mistakes don't get exposed as much, people don't talk about them as much. But they're still there. I like to say when you win, mistakes are easier to correct, easier to talk about and easier to work on. That's kind of the way it goes. When you do things wrong and lose, it's more likely to get exposed. Even sometimes when you win, it gets exposed."
The Phillies have won 10 of their past 16 games to improve to 26-27, but Wednesday's victory showed some of the reasons why they could get on a run and some of the roadblocks they will continue to face in that pursuit.
Kendrick pitched well after struggling in his previous two starts, allowing two runs in six innings to improve to 5-3 with a 3.27 ERA. Brown continues to emerge as the team's most dangerous hitter. His first home run gave the Phils their first lead of the night. His second proved to be the game-winner as closer Jonathan Papelbon allowed a run in the ninth, despite picking up his 11th save.
Ryan Howard and Erik Kratz also homered.
Kendrick posted a 1.84 ERA (10 earned runs in 49 innings) in seven consecutive starts before he posted a 7.36 ERA (nine earned runs in 11 innings) in his past two. He had trouble with his command in those starts.
But he allowed four hits, two runs, three walks, one home run and struck out three in six innings Wednesday. In his 11 starts this season, he has pitched six or more innings and allowed two or fewer runs in eight starts.
He got out of a huge jam in the sixth. The Red Sox had runners on first and second with one out when Mike Carp stepped to the plate. He thought he had Carp on a 1-2 pitch, but home-plate umpire Dale Scott called it a ball. Kendrick stared down Scott, an unusual move for the mild-mannered right-hander. But he threw a 2-2 sinker and got Carp to bounce into an inning-ending double play to kill the rally.
"You can't let the inning unravel there for yourself and your team," Kendrick said. "Yeah, I was hot, but I had to make another pitch and I was able to do that and get the double play."
Hot? Nobody is hotter than Brown. He hit a solo home run to right field with one out in the fourth to hand the Phillies a 2-1 lead and a solo homer to right in the eighth to make it 4-2. Brown, who earned National League Player of the Week honors Tuesday, has homered in three consecutive games and has five homers in the last five.
It was the second multihomer game of his career.
Brown is the first Phillies player to hit 10 home runs in a month since Howard hit 11 in August 2009.
"I ain't worried about that," said Brown, when asked about moving up in the lineup. "We've got Ryan and these other guys who can do more things than I can. I'm just trying to do my little part, whatever that may be."
Thirty of Philadelphia's past 32 home runs have been solo shots, a byproduct of a .303 on-base percentage entering the night, which was the sixth-lowest in baseball. The Phils also were 0-for-6 with runners in scoring position, dropping them to .231 this season. They are 1-for-22 with runners in scoring position in their last four games.
Those numbers will have to improve dramatically if they expect to be a winning team. But on this night, four solo home runs and a fine effort by Kendrick proved to be enough.
"It would be great," Howard said about reaching .500. "It would be great. It's one of those things where we've been fighting, grinding. It's a good position to be in. so if we can get there and get over it, it's great."
Todd Zolecki is a reporter for MLB.com. This story was not subject to the approval of Major League Baseball or its clubs.