Giants fall to A's in Kickham's brief debut
Rookie allows four runs, departs with one out in third inning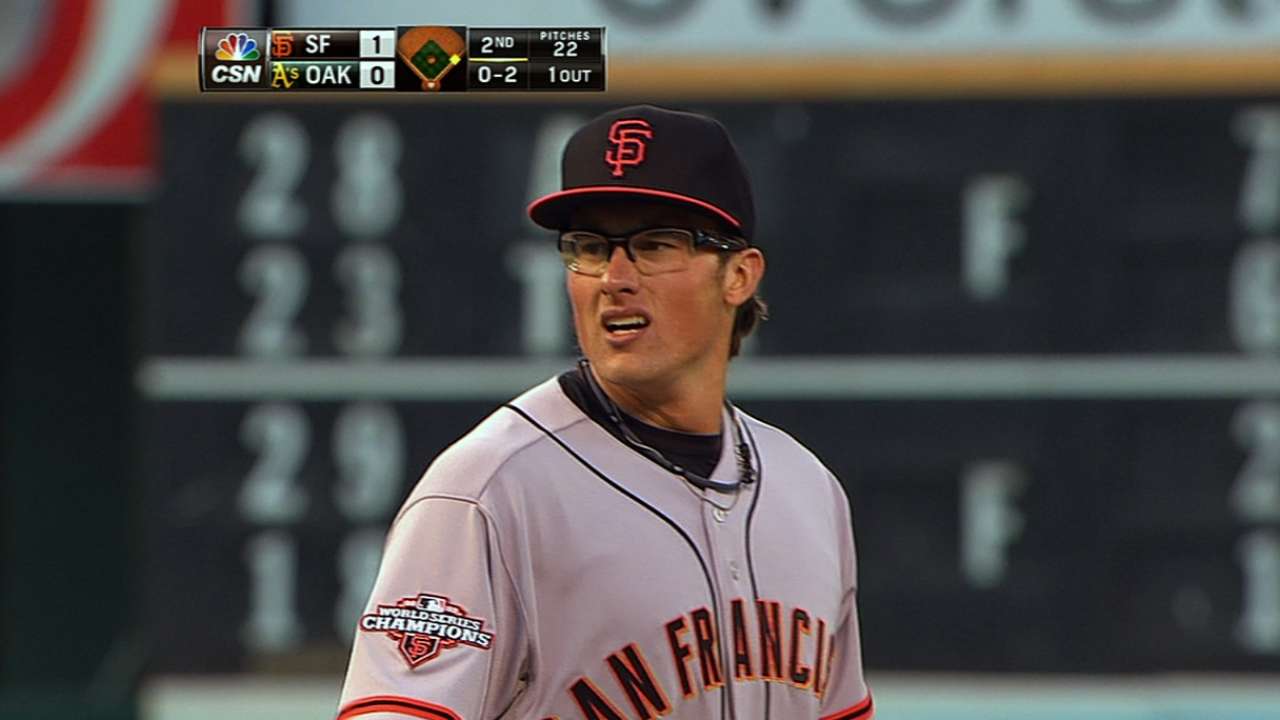 OAKLAND -- The Mike Kickham era lasted less than an hour before being put on hold.
Still, Giants manager Bruce Bochy said there's a lot to like about the kid who went 2 1/3 innings in his Major League debut, a 6-3 loss to the Oakland Athletics in front of a sellout crowd Tuesday night.
"He showed good stuff early," Bochy said. "I'm sure he was amped up and then he got behind hitters, but I liked what he showed."
Kickham is not alone, though, in having problems in Oakland. The Giants have lost nine of the last 11 games they've played there, and with Jarrod Parker showing signs he's fully recovered from his poor start, it was going to be a long night for the Giants.
"The first inning went well," Kickham said. "I was able to stay ahead of batters and attack the zone. After that I was falling behind. I thought the home run was a decent pitch but again, it was a hitter's count and he was able to jump on it."
Kickham struck out two of the first four batters he faced and then things sort of fell apart. Derek Norris hit a two-run home run on a 3-1 count in the second to erase a 1-0 Giants lead.
"I thought he had tremendous stuff," Norris said. "Sometimes the adrenaline of your first Major League start can get the best of you, but I thought he threw the ball pretty well. He didn't look like he was just slinging stuff up there. He had good action on his stuff. I just got fortunate enough to get a pitch out and over."
Hunter Pence drove in two runs, one a long home run in the ninth, and Buster Posey had an RBI for San Francisco.
Pence and Marco Scutaro were a combined 4-for-8. The rest of the team was a combined 2-for-25 (.080).
"Everyone's first time is exciting," Pence said of Kickham. "We were excited to see him out there. He gained some pretty valuable experience. He competed. Sometimes the game can speed up. I thought his stuff was great. Just missed some pitches."
Brandon Crawford beat out an infield hit and has hit safely in 17 of his last 20 games, hitting .352 during that span.
"We've been shut down by their starters," Bochy said. "We've got some guys struggling, I think that's fair to say. We have to get some guys going, but give their starters credit, they've pitched well."
Among the struggling: Gregor Blanco is hitless in his last 17 at-bats, and Pablo Sandoval has two hits in his last 21 at-bats. Pence had four hits in 33 previous at-bats before going 2-for-4.
The Giants fell to 0-4 in Interleague Play this season and are 19-29 overall in Oakland.
In the third, Kickham walked Chris Young, gave up a double to Yoenis Cespedes and intentionally walked Josh Donaldson to load the bases before unintentionally walking Jed Lowrie and giving up an RBI single to Nate Freiman.
"Obviously I came into it expecting a little heightened emotions, but I was able to do a better job than I thought I would," Kickham said. "After that first pitch it was like any other game. But mistakes here are magnified. I don't get away with what I do in Triple-A."
George Kontos, Javier Lopez, Chad Gaudin and Jose Mijares took it from there.
"Their guy looked good early on. We put a little pressure on him by taking some pitches and putting him in some bad counts," A's manager Bob Melvin said. "Obviously D-No's home run was big. But pretty much the same as last night: Starting pitching was terrific, the bullpen came in and did its job and we got some hits."
Kickham will likely stay in the rotation, at least for one more start. He'll be looking for a better result.
"It was awesome just to get the opportunity to put on the jersey and come out here and try to help the team win," Kickham said. "Hopefully it goes better next time. It's something I can learn from. That's all I can do and move on."
Rick Eymer is a contributor to MLB.com. This story was not subject to the approval of Major League Baseball or its clubs.