A's back Parker to win fifth straight game
Norris homers as Oakland beats Bay Bridge Series rivals again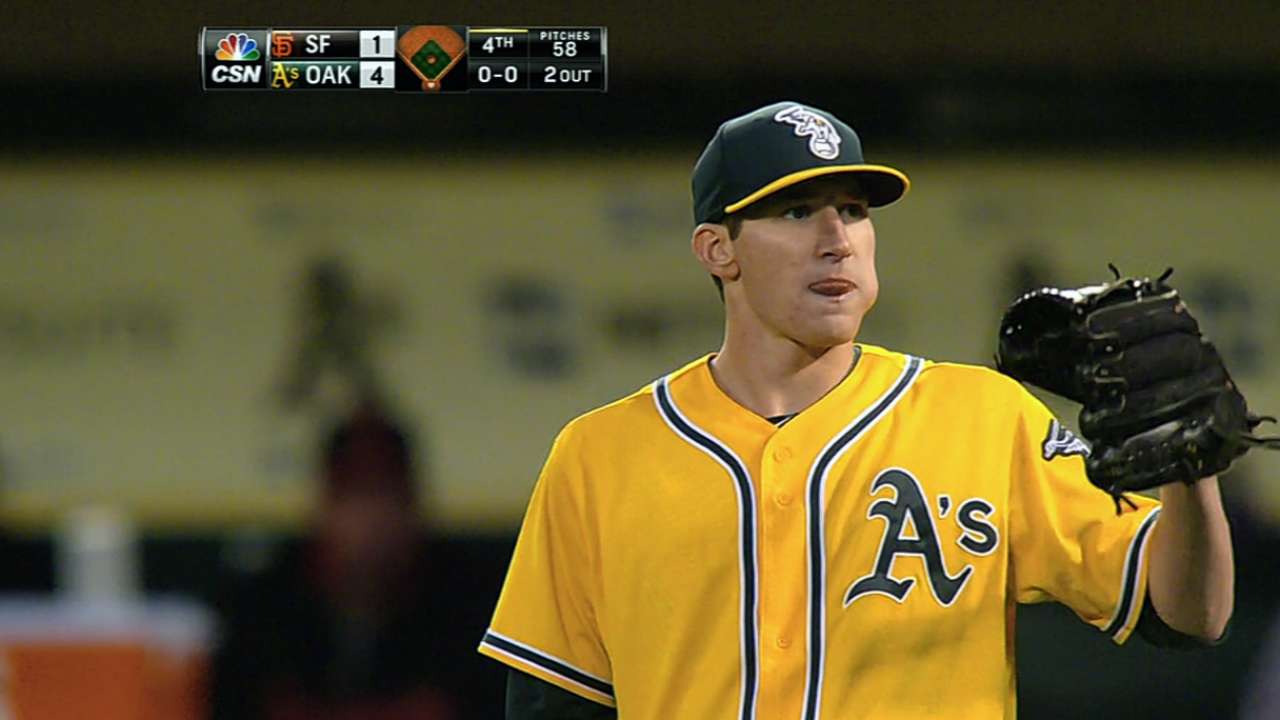 OAKLAND -- Again the A's received a dominant performance from their starter. Again their offense did plenty to help him out. Again they won.
That this victory, a 6-3 decision, came in front of a sold-out home crowd, against the cross-Bay rival Giants with a hint of pride involved, well, that just made it even sweeter.
Bob Melvin must be smiling.
Oakland's manager, a Bay Area native, is never shy about his love for the annual Bay Bridge Series, an affair that brings together fans from both sides of the water to watch a pair of Northern California teams engage in Interleague Play in a postseason-like environment.
Melvin's lone issue with the season series, to be continued in San Francisco on Wednesday night, is that it's been reduced from six games to four this year, as part of a home-and-home setup.
His A's got the job done in their home confines, taking the first two from the Giants to give them their fifth straight win and 10th in the last 11 tries, pushing them to seven games over .500 for the first time since April 19.
"I take a tremendous amount of pride in getting a 'W,' because we work so hard and we have so many talented players, and any time you can take a victory against the defending World Series champs, two in a row, it's definitely satisfying," said catcher Derek Norris, whose second-inning two-run homer gave the A's a lead they would never relinquish.
The A's also got an eighth-inning home run from Adam Rosales, who snapped an 0-for-24 skid, and they are now within 2 1/2 games of the first-place Rangers, after being 7 1/2 back just 12 days ago.
In that time, Oakland pitchers have allowed three runs or fewer in nine of the last 11 games, with righty Jarrod Parker leading the way Tuesday and Ryan Cook and Grant Balfour lending a hand in the eighth and ninth.
After the Giants touched Parker for one run on two hits and a walk in the first inning, Parker settled down nicely and didn't allow another run until the sixth.
The righty, despite using 26 pitches in the first, ultimately got through seven innings, marking the third straight outing he's done so after failing to reach that mark in any of his first eight starts. Parker was responsible for only five hits in that span, to go along with four strikeouts next to one walk.
"I thought he threw the ball extremely well," said Norris. "He was commanding all of his pitches, very aggressive and did a great job. He's a horse for us. He's a guy that has the capability of throwing complete games every time out. He's that talented.
"I think everyone knew it at the beginning of the year, which is why there were so many question marks about what was going on. But he's the same guy. He's pitching aggressive, pitching down in the zone and keeping them off the scoreboard."
Of finding some consistency, Parker said, "It's not something I'm going to get too excited about, but it's something we've worked on, a combination of getting mechanical stuff down and feeling good. It's great to continue doing this."
Parker's teammates, meanwhile, weren't too kind to lefty Mike Kickham, who allowed four runs on four hits and four walks in just 2 1/3 innings in his Major League debut.
The southpaw, pitching in place of the injured Ryan Vogelsong, retired the first four batters he faced but only three of the next 11, with Norris going deep off him on a 3-1 pitch to left field.
The A's then sent eight men to the plate in the third, loading the bases with one out against Kickham, who issued a bases-loaded walk to Jed Lowrie and an ensuing RBI knock to Nate Freiman that led to his departure.
Oakland forced the Giants to use four pitchers by the time the fourth inning ended, tacking on a run in the fifth off former A's hurler Chad Gaudin, who allowed back-to-back hits to Josh Donaldson and Lowrie before getting an out and walking two in a row.
The A's now have 219 walks on the year, most in the Majors.
"You can talk about big hits, but you can also talk about big walks," said Melvin. "They're not as sexy as big hits, but you start putting a little bit of pressure on pitchers and make them throw a lot of pitches and make them work hard and all of a sudden they have nowhere to go.
"It's been a big weapon for us this year. The amount of walks we've had has been a big part of our game."
"We're doing a lot of things right," Norris said. "We're keeping it simple. Everybody is doing their part, and everyone knows their role. No one is trying to do anything more than they're capable of doing."
Jane Lee is a reporter for MLB.com. This story was not subject to the approval of Major League Baseball or its clubs.