Gyorko smacks sixth homer of May to back Volquez
Right-hander works 7 2/3 innings for win; Grandal singles in return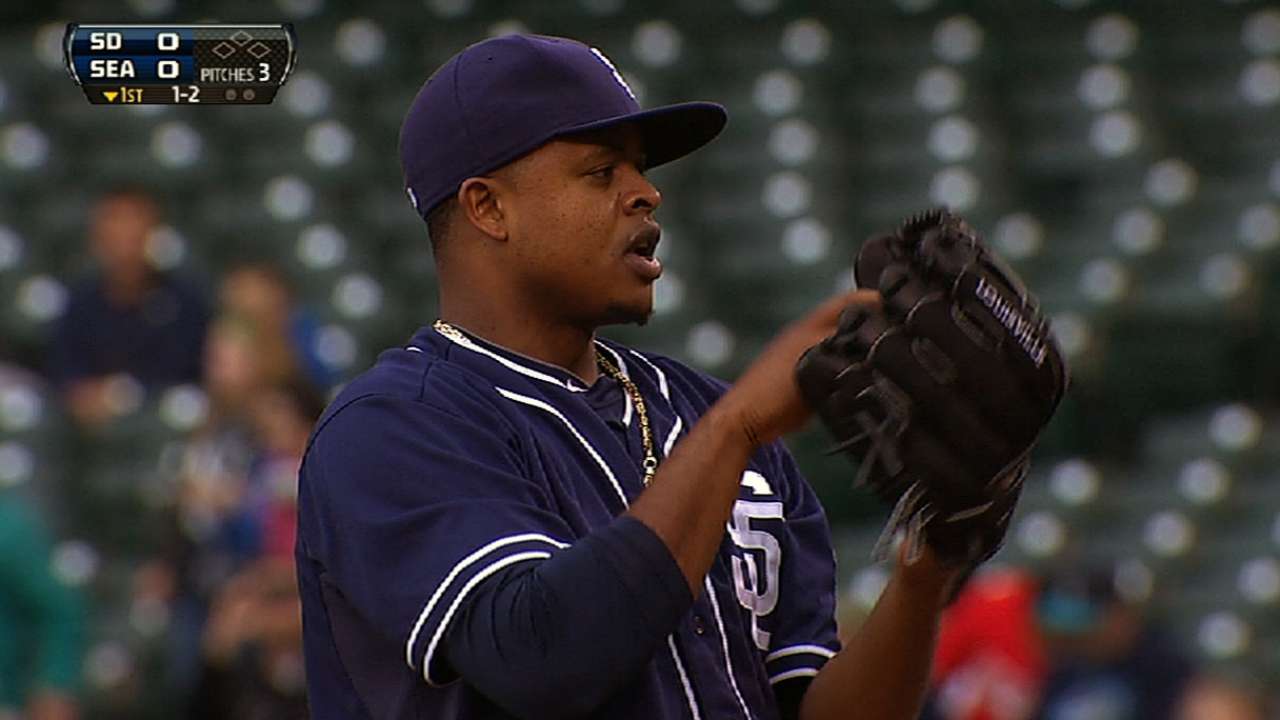 SEATTLE -- At some point following Sunday's loss to the D-backs, Padres manager Bud Black pulled aside Jedd Gyorko to tell him he wouldn't be starting Monday against the Mariners.
Gyorko's response?
"He shot me a look," Black said. "I told him that he wasn't going to start and he looked at me funny. I liked it."
Back in the lineup on Tuesday, Gyorko continued his torrid month of May, hitting a two-run home run to get the Padres on their way to a 6-1 victory over the Mariners before a crowd of 11,911 at Safeco Field.
Gyorko's home run in the third inning was his sixth of the season, all coming in the month of May. Better still, he tied the club rookie record for most home runs in any month.
"I want to be out there," Gyorko said.
Gyorko and Alexi Amarista hit home runs and Mark Kotsay delivered a two-run single in the sixth inning off Mariners pitcher Brandon Maurer (2-7) as the Padres (23-28) earned a split of this two-game series.
San Diego pitcher Edinson Volquez (4-5) did his part, winning for the first time since May 5. Volquez got plenty of mileage out of his curveball as he worked deeper into a game (7 2/3 innings) than he had this season. He allowed four hits with three walks and five strikeouts.
"Tonight, the efficiency stood out," Black said. "I thought the breaking ball came into play today. It was as good of a hook as he's had."
Volquez was reunited with catcher Yasmani Grandal, who appeared in his first game of the season. The two worked together when they were in the Reds' organization and again last season after both were a part of the five-player trade that saw the Padres send pitcher Mat Latos to Cincinnati in December 2011.
Grandal, who was suspended for the first 50 games of the season, mentioned before the game that he was looking forward to catching Volquez and how he wanted to help him after what has been a mostly uneven start to the season.
"He's a very smart guy," Volquez said of Grandal. "He called the game like he'd been here forever."
Grandal went 1-for-4 in his first game and scored a run. He was also on the receiving end of a big play early in the game, one that allowed the Padres to maintain a one-run lead over the Mariners (22-30).
With the Padres leading 2-1 in the fourth inning, Michael Morse singled and Michael Saunders drove a ball to deep center field. Amarista grabbed the ball and hit the cutoff man, shortstop Everth Cabrera, with a strike before Cabrera threw home. The ball was just up the first-base line but Grandal lunged to get Morse out at the plate. Morse later left the game with a right quad strain.
"That was a big momentum swing for us," Black said.
The same could be said for a different swing earlier in the game, the one Gyorko took against Maurer on a 2-1 slider up in the strike zone.
That swing and that home run came a day after Gyorko didn't play a single inning in a 9-0 loss to Seattle on Monday, as Black gave him a rare day off. And as Black has come to expect from his players, he heard about it -- or in Gyorko's case, he saw the look that he wanted to see: that Gyorko would rather undergo a root canal than take a day off.
"That's why managers and teams do it to players," Black said. "Not that they [players] want it. But it's such a grind on players, both mentally and physically, especially on rookies."
Even though he didn't play Monday, Gyorko found a way to pass the time smartly.
"You sit back and watch it ... there's so much you can learn and you can pick up on things," Gyorko said.
Still, he said, nothing beats or even comes close to being in the lineup, on the field, getting your at-bats.
"It's going to be hard to help the team when you're on the bench," he said.
Corey Brock is a reporter for MLB.com. Keep track of @FollowThePadres on Twitter. This story was not subject to the approval of Major League Baseball or its clubs.