Morse exits, Maurer struggles against Padres
Slugger day to day with quad strain after rookie's shaky outing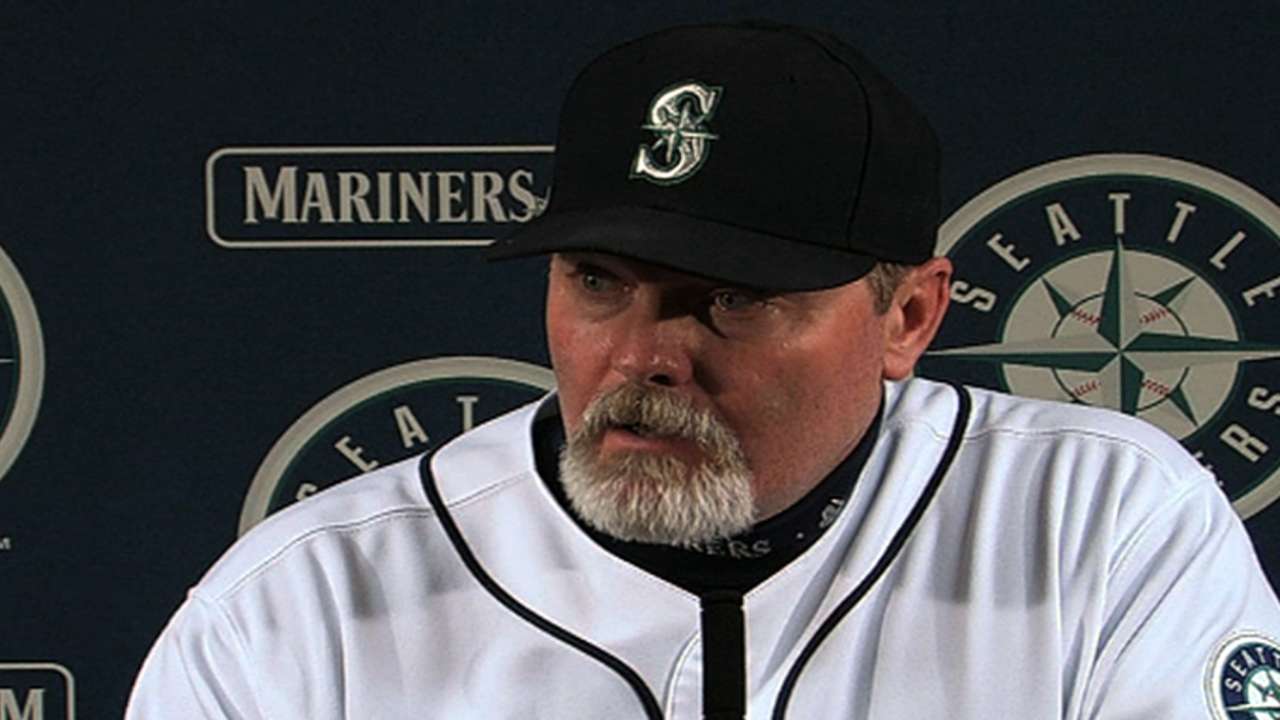 SEATTLE -- The Mariners lost the series finale. They lost leading home run hitter Michael Morse, too.
Did they lose patience with and confidence in Brandon Maurer?
That was the main question following Seattle's 6-1 loss to the Padres on Tuesday night before 11,911 at Safeco Field.
Morse, who has 11 home runs while playing in 45 of the Mariners' first 52 games, was injured trying to score the tying run from first base on Michael Saunders' double in the fourth inning. He was out by about the distance from San Diego to Seattle, and was grimacing after rounding third base.
He downplayed the injury after the game.
"It's not bad," said Morse, one of the few consistent power threats in Seattle's lineup. "Maybe in a day or two I'll be back."
Will Maurer?
The Mariners were grimacing collectively over what to do about him. Before they left late Tuesday for a two-game series at San Diego and then a weekend set at Minnesota, general manager Jack Zduriencik met with Eric Wedge and team staff in the manager's office.
"I don't think he's that far away," Wedge said of Maurer succeeding consistently. "But it's, what's the best path to get him there?
"We'll continue talking about it. When it feels it gets to the point that we have to do something, then we'll do something. We'll sit down and talk about it, and then we'll go from there."
A day after Aaron Harang throttled the Padres in a 9-0 win, the Mariners' second victory in 10 games, their rookie starter allowed six runs (five earned) on nine hits with two wild pitches and two home runs in 5 2/3 innings.
The 22-year-old right-hander surprised many by making the rotation out of Spring Training after spending 2012 in Double-A. But he has allowed 22 earned runs and 37 hits in 23 2/3 innings over his past five starts. He has three losses (combined final scores, 21-7) and two no-decisions in that span.
Overall, Maurer is 2-7 with a 6.93 ERA. He has allowed 10 home runs in 10 games, and hasn't won since April 20.
Asked what he's learned over this first 10 Major League starts, Maurer looked blankly and deadpanned: "That this is definitely a challenging level."
He thought the Padres took advantage of his concerted effort to get ahead early in counts by swinging aggressively and often.
Wedge and the Mariners realize sending Maurer to Triple-A, where he's never been, just 10 starts into meteoric hopes for him risks severely damaging the young starter's confidence. And psyche is more Maurer's issue right now than stuff.
"It's not a question of stuff," Wedge said. "But he has to keep that same intensity level and tempo when things start happening, to be able to control damage."
The veteran manager acknowledged a kids-glove approach to how the Mariners are handling -- and may handle -- Maurer.
"Sure, yeah. When you talk about a kid who is up here for the first time, younger, you have to handle him a little bit differently," Wedge said. "You make sure they understand what we are about here and what we are working to do."
The Mariners scored just one run despite having the bases loaded and no outs in the second against Edinson Volquez, who was erratic early. San Diego's starter entered the night with an ERA nearing 6.00 and 25 walks against 36 strikeouts this season. He threw 19 of his first 38 pitches for balls on Tuesday, and walked Morse and Saunders consecutively to load the bases in that pivotal second.
Nick Franklin, the 27th overall Draft choice from 2009 making his first career start, then a hit a hard grounder to first base for a forceout at home. Jesus Sucre got his first career RBI with a sacrifice fly before Brendan Ryan hit a long fly that center fielder Alexi Amarista ran back to catch for the third out.
The Mariners led 1-0 -- but it felt like an escape for the Padres.
It was.
Volquez (4-5) threw 31 of his next 46 pitches for strikes while allowing only two hits from the second inning until Kyle Seager's single with two outs in the eighth.
Those two hits came during the sequence in which Morse got hurt. The slugger singled with one out in the fourth. Saunders then ripped a double to the right-center-field gap. Morse got a late break on the drive. By the time third-base coach Daren Brown was waving him home, the slugger was grimacing. When he arrived at home well after Padres catcher Yasmani Grandal had caught the relay throw, Morse was slowed to a near stop. He let out a yell as he was easily tagged out.
"I was just trying to run real hard, harder than my body could," Morse said with a smile that conveyed his lack of concern over the injury.
Franklin struck out, stranding Saunders at third and keeping Seattle down 2-1. Endy Chavez moved from left field to right field to replace Morse for the top of the fifth, and Jason Bay entered the game in left.
The Mariners are already without usual No. 5-hitter Justin Smoak. The first baseman strained his oblique checking his swing Saturday and hasn't played since, though he hit off a tee Tuesday and said before the game he felt "much better" and could return by this weekend.
Then there's Jeremy Bonderman. The veteran right-hander has struggled some this season with Triple-A Tacoma -- 2-4, 4.52 ERA, 77 hits in 63 2/3 innings over 11 starts -- but he allowed just one run on five hits in four innings Tuesday for the Rainiers at Colorado Springs. The 30-year-old reportedly can opt out of his Mariners contract after June 1 to become a free agent rather than wait for a promotion with Seattle.
"So, yeah," Wedge said, "it's fair to say we've got a lot to talk about here."
Gregg Bell is a contributor to MLB.com. This story was not subject to the approval of Major League Baseball or its clubs.