Twins start fast, outlast Brewers in 14 innings
Three homers give Minnesota big lead before sac flies crucial late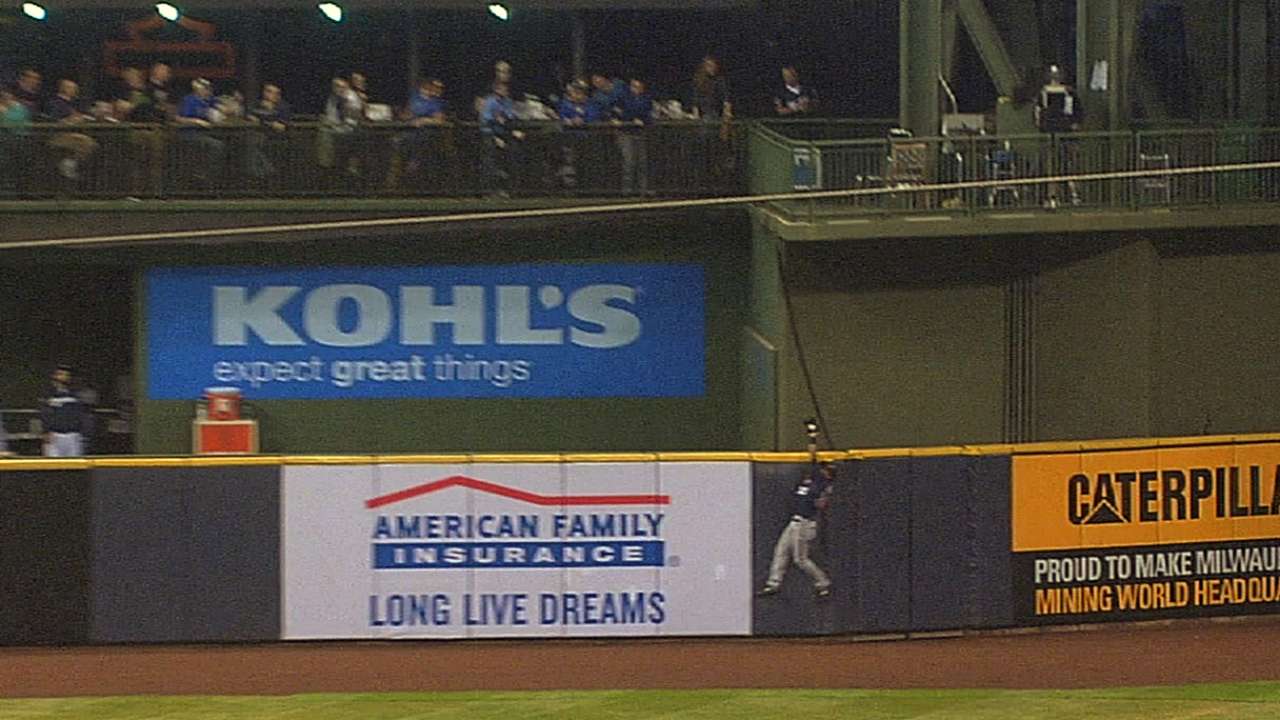 MILWAUKEE -- The long ball provided the Twins with an early lead Tuesday before they used small ball for a 6-5, 14-inning win over the Brewers.
The Twins hit three home runs for an early 4-0 lead, and Eduardo Escobar delivered a sacrifice fly in the top of the 14th inning to erase Milwaukee's comeback bid and lock up the two-game Interleague set at Miller Park.
Brewers shortstop Jean Segura was the first Major League player since 2009 to record six hits in a game, all of them singles.
"Both teams threw it out there; I think they used everybody they had just about, so did we," Twins manager Ron Gardenhire said. "Our guys just kept getting after it. There were some big plays made, some not so big plays made. That's kind of normally what happens in a game, and that's why it keeps going like that. It's a good win."
Center fielder Aaron Hicks led off the 14th inning with a double and was bunted to third by Pedro Florimon. Escobar then pinch-hit and lifted a fly ball to left field, deep enough so Hicks could slide into home plate well before the ball arrived.
"I waited a long time," Escobar said. "It's a long game, and I'm always ready for my opportunity. That's my chance, so I've got to come through."
A week ago, the Twins were in the midst of a 10-game losing streak, but they achieved some relief with their second straight victory, finishing their nine-game road trip at 3-6.
The Twins and Brewers meet again Wednesday and Thursday for two more games in Minnesota.
Both teams will look for strong starting pitching in the two-game set as they each used seven relievers Tuesday.
"We come in here and win two, and now we're going back to our place," Gardenhire said. "We're playing a little bit better. That game was a little wild, but a good win, and a lot of good things happened."
Jean Segura was Milwaukee's hero in the bottom of the ninth inning after he tied the game at 5 with his fifth hit, a one-out liner up the middle with runners on first and second off Twins closer Glen Perkins.
Hicks nearly closed in on the liner to double off Jeff Bianchi from second and end the game, but it one-hopped into his glove, and Bianchi beat the throw home to knot the score.
After a botched double-play ball turned into a fielder's choice and a walk, Perkins coaxed Carlos Gomez into a bases-loaded groundout to send the game into extra innings and set up Escobar's sac fly.
Milwaukee had no baserunners in extra innings until Segura's two-out single in the 14th, and Brewers manager Ron Roenicke said he could see his players trying too hard to win the game with a home run.
"It's hard, especially when you've done it before and you're one of those players that can actually win the game with one swing, it's hard not to try," Brewers third baseman Aramis Ramirez said. "I did it. I tried my last at-bat, and I missed the pitch."
Minnesota relievers Anthony Swarzak, Ryan Pressly and Brian Duensing combined for the final five innings after Perkins blew his second save of the year in 12 chances.
Pressly picked up his second win of the season, and Duensing earned his first save.
"The 'pen did a super, super job," Gardenhire said. "All night long, they came in and made big pitches when they had to, along with theirs. Theirs did about the same thing."
The Twins had not flexed their home-run muscle much this season, entering Tuesday ranked 26th in Major League Baseball with 38 home runs in 48 games. But it was the long ball that provided them with an early lead.
A day after hitting two homers in their Game 1, 6-3 win, the Twins hit three more Tuesday. The Twins jumped ahead, 4-0, after Ryan Doumit hit a two-run home run in the second inning and Josh Willingham and Hicks each hit solo shots in the fourth.
Doumit and Hicks went deep to center field, and Willingham took his to left. Each of Minnesota's home runs came on fastballs from Brewers starter Alfredo Figaro.
Hicks also saved a run in the second inning when he snagged a towering drive over the center-field fence. Hicks used perfect timing to scale the wall and rob Gomez, who saluted his counterpart with a helmet wave while rounding second base.
"No," Hicks said when asked if he saw Gomez's gesture. "I was on the ground. I need to work on my dismount."
The Brewers clawed back into the game with three runs in the fourth inning and another in the fifth inning to tie the game at 4 against Twins starter Scott Diamond.
Diamond finished with a line of 4 2/3 innings, eight hits, four earned runs and two strikeouts.
Figaro made the spot start for the Brewers, taking Hiram Burgos' turn in the rotation. Burgos is on the 15-day disabled list with a right shoulder impingement.
The right-hander lasted five innings and gave up four hits and four earned runs, with each of the runs driven in by Minnesota's three homers.
Kevin Massoth is an associate reporter for MLB.com. This story was not subject to the approval of Major League Baseball or its clubs.