Lyons continues to take advantage of shot in St. Louis
Backed by three homers, rookie picks up second win in Kansas City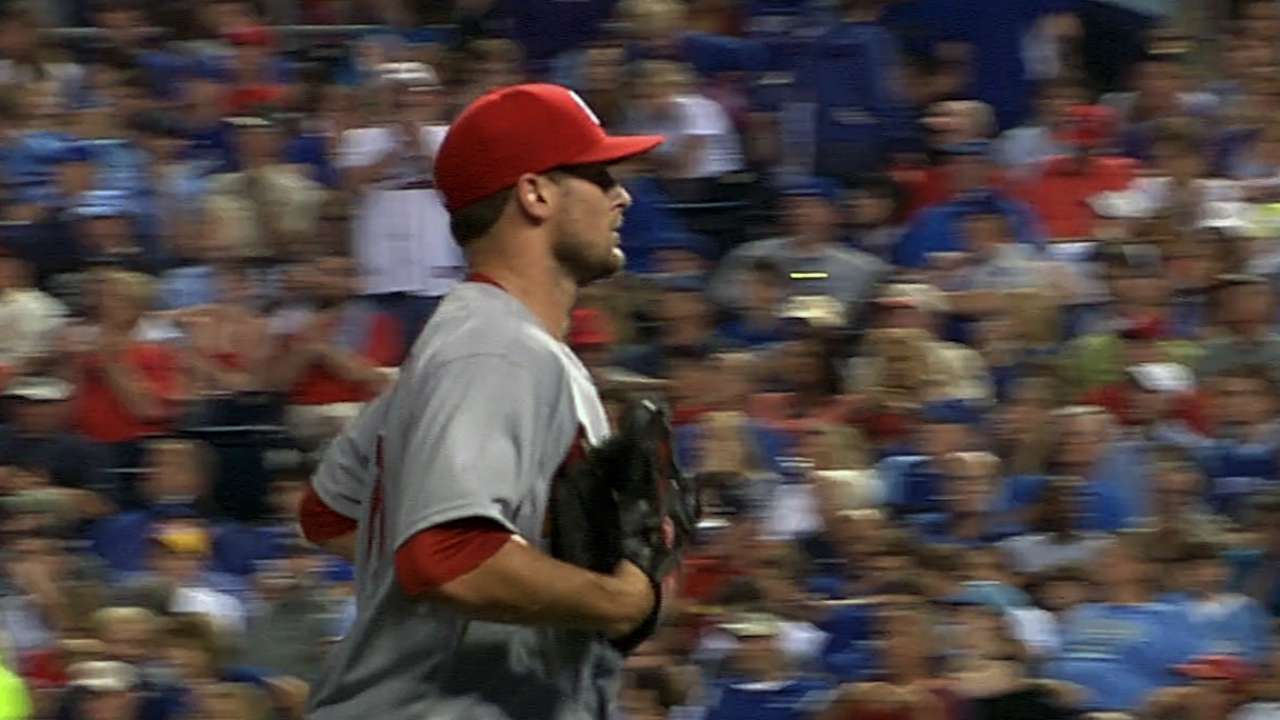 KANSAS CITY -- For much of Tuesday afternoon, the buzz in Cardinal country was about rookie right-hander Michael Wacha -- the newest coming attraction. But by Tuesday night, the talk turned to rookie left-hander Tyler Lyons -- the main attraction.
Lyons helped the Cardinals end their eight-game road trip in high style, pitching two-hit ball through seven innings, as St. Louis held off the Royals, 4-1, at Kauffman Stadium. In two Major League starts, Lyons is 2-0 with a 1.29 ERA. The only hits he allowed were to Royals cleanup hitter Billy Butler, and only one was struck well.
Butler lined a run-scoring double to left-center in the first, as Lyons struggled to find his groove. That was it for Kansas City's offense except for a bloop single to right by Butler in the seventh.
A rash of injuries to the Cardinals' staff has given opportunities to some young pitchers, and Lyons is definitely taking advantage of it. Working quickly and efficiently after the first, Lyons retired 17 in a row until Butler's second hit in the seventh.
"In the first inning, I was erratic with everything," Lyons said. "I had to figure out what was working and what wasn't. Eventually, things started coming together. We got in a pretty good groove by setting up fastballs with the off-speed and vice versa."
After allowing four hits and one run in seven innings at San Diego, Lyons outdid that performance against the Royals.
"Everyone's goal is to get here," Lyons said. "But at the same time, you want to get here and do well. Hopefully, I can keep it going."
For the second day in a row, the Cardinals gave their starting pitcher two runs to work with before the opposition could record an out. On Tuesday, Matt Carpenter opened the game by singling up the middle, and Carlos Beltran lined a two-run homer to the seats in right field. Yadier Molina followed Carpenter's leadoff single Monday with a homer.
"It's a common theme in baseball that the team that scores first usually wins the game," Carpenter said. "Jumping out with two quick ones in both games really helped us in this series."
The Cardinals (34-17) head home to face the Royals twice more with the best record in the Majors and the most road wins at 20.
Manager Mike Matheny is happy with his club on several levels, and the emergence of Lyons ranks high on the list.
"He pitched a little differently today," Matheny said. "He had a little trouble in the first finding his fastball. He got his breaking ball going, and that really kept them off-balance. The secondary pitches helped stabilize the game for him. He came through and did a real nice job."
Royals starter Ervin Santana settled down after the Beltran homer, and the Cardinals led by only one run entering the sixth. Carpenter provided some separation with a homer to right.
"He threw me an 0-2 slider," Carpenter said. "He left it up, and I was able to get the barrel on it."
Matt Holliday added the Cardinals' third homer of the game, and Lyons departed after needing only 89 pitches to get through seven innings. Trevor Rosenthal worked a clean eighth inning with two strikeouts, and Edward Mujica came on for his 16th save.
The Royals, who have dropped 18 of their past 22 games, were complimentary of Lyons.
"The thing he did so well was stay consistently down in the zone," Royals manager Ned Yost said. "He changed speeds and had a nice breaking ball."
The Cardinals are undefeated in their past nine series, winning eight and splitting one.
Most of the production Tuesday came from the top of the order, with Carpenter, Beltran and Holliday combining for six hits, four runs scored and four RBIs.
"It started with Matt getting on base by putting a real good stroke on it and Carlos doing his thing," Matheny said. "The top of our order not only got on base, but showed some muscle, too. That was nice to see."
Robert Falkoff is a contributor to MLB.com. This story was not subject to the approval of Major League Baseball or its clubs.