Lee dominates Red Sox in win at Fenway Park
Left-hander hurls eight stellar innings; Papelbon closes it out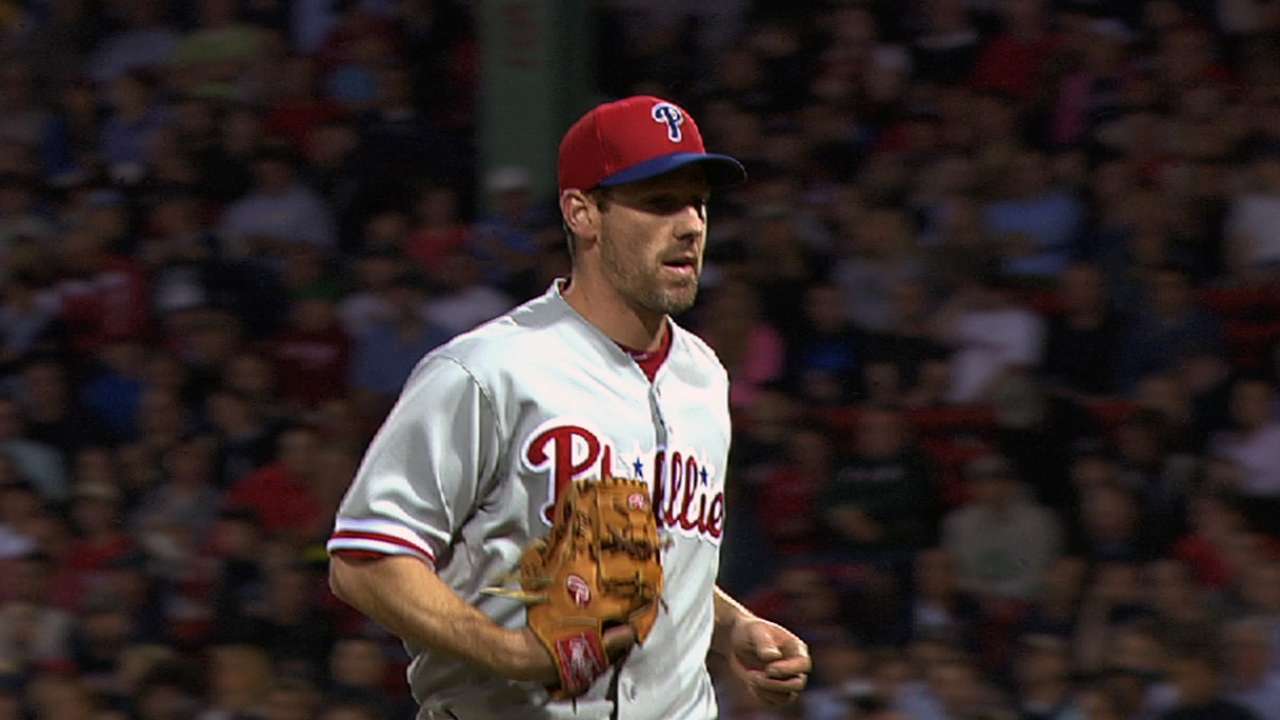 BOSTON -- Cliff Lee quickly and efficiently tore through the Red Sox lineup for eight innings Tuesday at Fenway Park.
He offered very little drama as he quietly dismantled Boston in the 3-1 victory.
So enter Phillies closer Jonathan Papelbon, who got the blood flowing in the ninth. He pitched seven seasons for the Red Sox, helping them win the 2007 World Series. Boston honored him with a video montage in Monday's series opener, but he suddenly and perhaps unexpectedly found himself warming up in the ninth inning to face former teammates Dustin Pedroia and David Ortiz in front of a crowd that once revered him.
"Pap likes drama," Phillies manager Charlie Manuel said. "I might as well like it with him."
Lee had thrown only 95 pitches, but Manuel said he wanted him to leave the game on a high note. So Papelbon loosened up for his homecoming game. When the visitors' bullpen door swung open and he stepped onto the field he heard a mixture of boos and cheers. But the reaction hardly affected him as he pitched a perfect ninth to pick up his 10th save and help the Phillies finish 4-4 on an eight-game road trip through Miami, Washington and Boston.
He struck out Jonny Gomes before getting Pedroia to ground out to third and Ortiz to ground out to second.
"I loved it," said Papelbon, who made a few references to his alter-ego, Cinco Ocho, afterward. "I loved the fact that I had to self-talk to Cinco in there. His ego was getting in the way a little bit there. Probably went inside to Ortiz one too many times maybe. That was his ego getting in the way. That's just what I had to do. That's the way it is."
Ortiz turned on one Papelbon pitch, but the ball landed foul down the right-field line.
"Oh, I knew," said Papelbon, when asked if he knew if it was foul. "I almost gave him one of these."
He then waved his finger like former 76ers shot-blocker Dikembe Mutombo.
Papelbon had his moment, but this truly was Lee's game. He allowed a first-inning run, but retired 23 of the final 25 batters he faced to play a major role in the team's .500 road trip. He threw a three-hit shutout Wednesday in a 3-0 victory over the Marlins before he allowed four hits, one run and struck out eight in eight innings against the Red Sox, who whipped the Phillies in the series opener on Monday, 9-3.
Lee, who won just six games last season because of poor run support, improved to 6-2 with a 2.34 ERA.
He is 4-0 with a 1.15 ERA in his last five starts after shutting down the Red Sox, who entered the night in first place in the American League East with the third-best offense in baseball averaging 5.02 runs per game.
"Just locating and working ahead in the count," Lee said. "The first couple of innings, I wasn't locating as well. But as the game went on, I felt like that I got better. I wanted to make them swing their way on base. They have a really good lineup and I tried to do everything to make them swing their way on. I didn't want to walk anybody and fortunately, I was able to do that.
"There's not many holes in that lineup. From top to bottom, it's pretty strong. You have to stay ahead and focused. You don't want to get into hitter-friendly counts with that lineup. I did everything to work ahead and throw strikes and go at them."
"You wouldn't know if it was 2007 or 2013 tonight the way he threw," Red Sox manager John Farrell said. "He was strong throughout."
The Phillies took a 1-0 lead in the first inning when Michael Young hit a home run over the Green Monster in left field.
It snapped a 0-for-22 slump.
It would not be enough, although forgive Lee if he thought it might have to be. The Phillies (25-27) have scored three or fewer runs in 30 of their 52 games, and two or fewer runs 20 times. But Lee ensured the Phillies would need to score more than one run when he allowed a run following a couple of singles in the first inning to tie the game.
Lee and Red Sox right-hander Ryan Dempster kept both teams' offenses quiet much of the night.
The Phillies finally broke through in the seventh when John Mayberry Jr. hit a leadoff single up the middle. He advanced to second on a sacrifice bunt from Freddy Galvis and scored on Erik Kratz's one-out single to center field. It snapped the team's 0-for-15 slump with runners in scoring position dating to Saturday. Domonic Brown, who was named National League Player of the Week on Tuesday, added a solo shot in the ninth.
That set up the ninth for Papelbon, who returns with his teammates to Philadelphia to open a two-game set on Wednesday against the Red Sox.
"We still have a way to go, but things are going to click," Papelbon said. "It feels like our hitting and pitching are starting to sync up, and I think if we do that we can do a lot of damage in the NL East. This division is still anyone's, by a long shot. If we keep grinding it out we have a good chance."
Todd Zolecki is a reporter for MLB.com. This story was not subject to the approval of Major League Baseball or its clubs.