Dempster strong, but Lee better as Red Sox fall
Offense held to one run; former Boston closer Papelbon earns save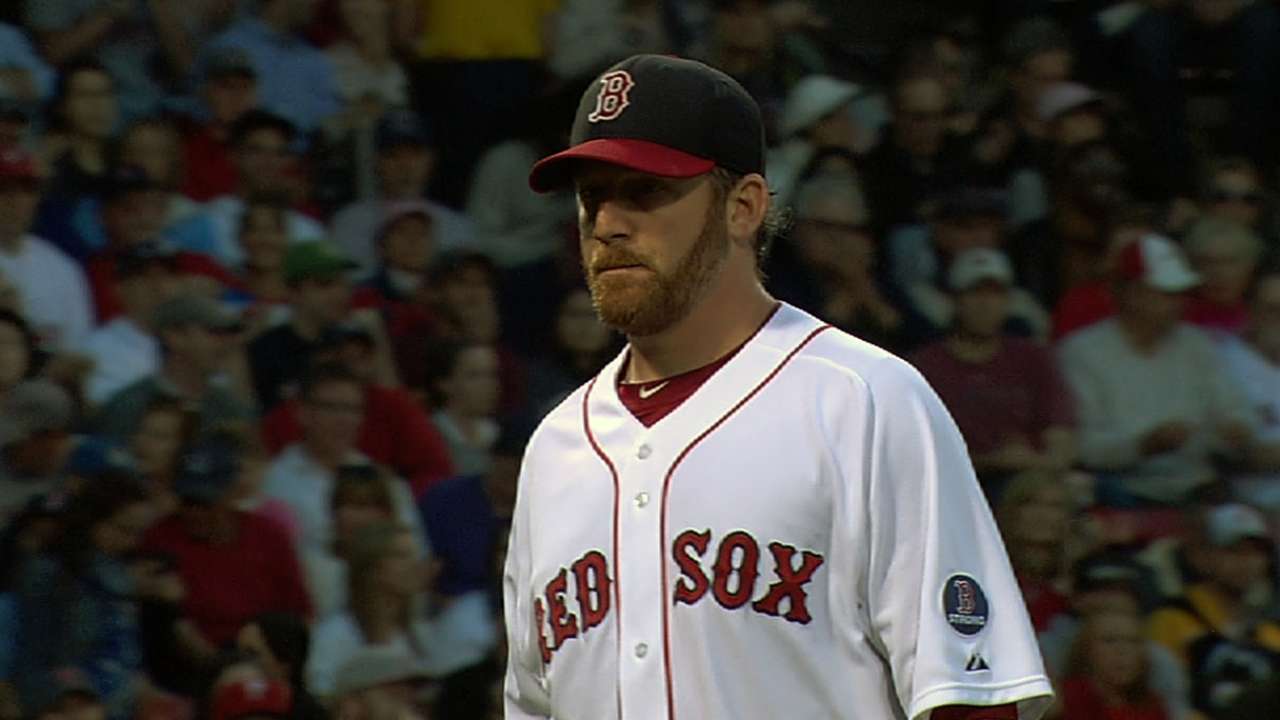 BOSTON -- The Red Sox take enormous pride in their patience at the plate, feeling they can grind most pitchers into a long night at the office.
But when Cliff Lee has pinpoint control, there's just not much you can do. And there's not much Boston's hitters did do on Tuesday night, suffering a 3-1 loss to Lee and the Phillies at Fenway Park.
The lefty was vintage in this one, firing an eight-inning masterpiece in which he allowed just four hits and a run. Lee threw just 95 pitches, 69 for strikes.
"That's the one way to attack our approach, is to pitch to quality locations early and often, and he's a guy that can do that," said Red Sox manaer John Farrell. "I think you saw us respond by trying to go earlier in the count with some swings. You have to tip your hat where it's due and he pitched a very good game."
So good, in fact, that Lee probably could have gone the distance.
But Phillies manager Charlie Manuel knows a good subplot when he sees one. On came Jonathan Papelbon for the ninth in his first appearance at Fenway Park since he departed the Red Sox as a free agent following the 2011 season.
Amid a 1-2-3 ninth, Papelbon earned the save by retiring two of his closest friends from his Boston days -- Dustin Pedroia and David Ortiz.
"I was trying not to look at his face, man," Ortiz said. "I tried hard. He's looking good, man. He looks like he's having a good year. That's Pap."
Somewhat surprisingly, the Fenway faithful booed Papelbon -- Boston's all-time saves leader -- when he raced in from the bullpen.
"That's how they love me in that city," said Papelbon. "That's just how it is. I felt like the first time I got booed at Yankee Stadium, I was like, 'Yes, I made it!' It's the atmosphere of the city -- I've always enjoyed playing in this city -- and pitching off that mound. It really felt like old times when I was out there … just in a different uniform."
Though the Red Sox didn't have a win to show for it, Ryan Dempster broke out of a three-start slump with a fine performance against the Phillies. Unfortunately for the veteran righty, he was matched up with the wrong pitcher.
Over seven innings, Dempster allowed six hits and two runs. He walked three and struck out four while falling to 2-6 on the season.
"I felt better," said Dempster. "I threw the ball a little bit better tonight. I just got outpitched by the other guy. Cliff Lee is tough. When you're going to go out there and match up with him, you can't make many mistakes. I made a couple tonight and it cost us a couple runs. He did a good job of pitching against us."
After splitting the two games in Boston, the teams will finish out the rare home-and-home series with games in Philadelphia on Wednesday and Thursday.
Michael Young put the Phillies on the board when he belted a solo shot over the Monster with one out in the first.
The Red Sox rallied in their half of the first. Jacoby Ellsbury started it with a single to left. With one out, he stole second. Pedroia tied the game with an RBI single to the opposite field in right.
Just as the teams matched runs in the first inning, they would match zeros for several more after that.
The best swing the Red Sox had came from Ortiz, as he launched a drive to right-center in the fourth that wound up being a 400-foot out in the deepest part of Fenway Park.
"He throws strikes," Ortiz said of Lee. "He pounds the strike zone and makes his pitches."
The Phillies finally broke the stalemate with a National League-style rally in the seventh against Dempster. John Mayberry led off with a single. Freddy Galvis dropped down a sacrifice bunt, putting the go-ahead run in scoring position.
No. 9 hitter Erik Kratz gave the Phillies the lead with an RBI single up the middle.
The way Lee was going, it didn't seem as if much insurance was needed. But Domonic Brown provided some anyway in the ninth, unloading a solo homer into Boston's bullpen in right-center.
Then, it was time for Papelbon to do what he did so well for six years in Boston.
"I would say it was more fun than strange," Papelbon said. "It's like playing against your brother in the backyard. For me, those guys are some of my best friends in the world. But at the same time, it was fun. They have a really good lineup over there, so I had to really stay focused on the task at hand, because I knew at any given moment the game could be tied up or be close."
Ian Browne is a reporter for MLB.com. Read his blog, Brownie Points, and follow him on Twitter @IanMBrowne. This story was not subject to the approval of Major League Baseball or its clubs.