Crew slips in 14th despite Segura's big night
Slugger ties franchise record with six hits, forces game to extras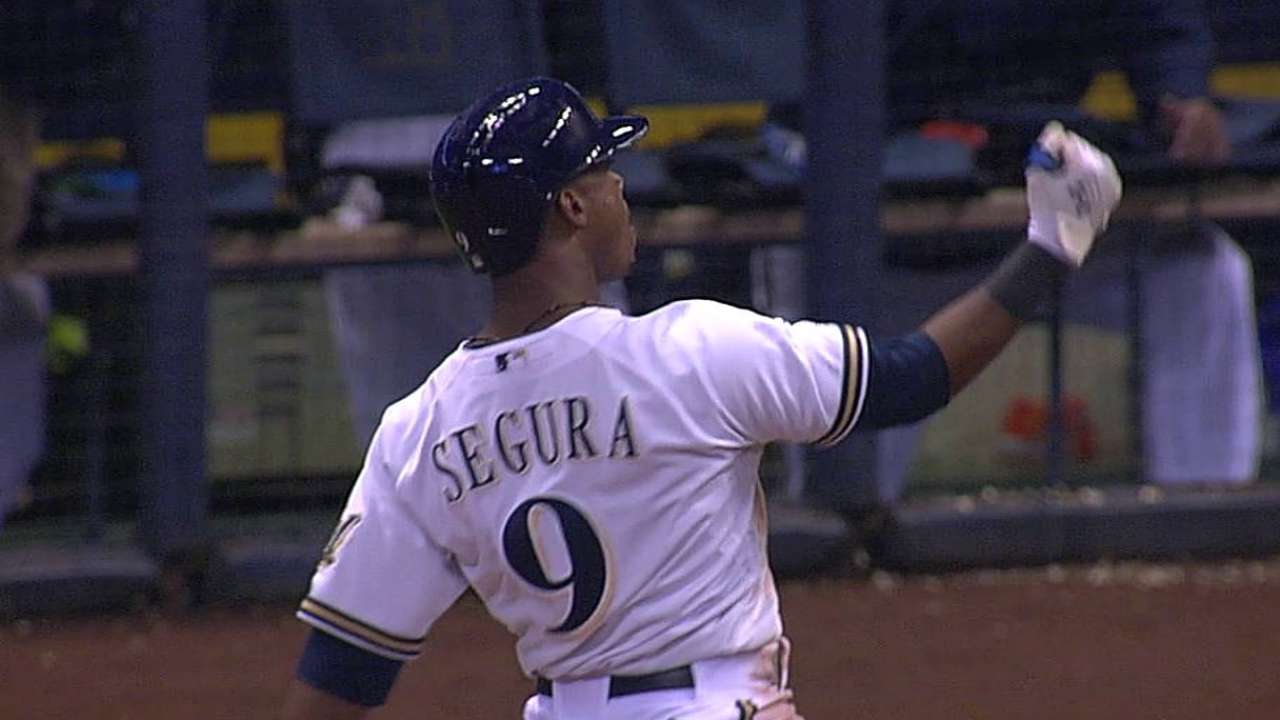 MILWAUKEE -- How tough has May been on the Brewers? The last time they were this bad, they were historically bad.
A marathon, 6-5 loss to the Twins on Tuesday, decided on Eduardo Escobar's sacrifice fly in the 14th inning, left Milwaukee with a 5-20 record in May, its worst mark in any month since a 6-21 August in 2004. Those '04 Brewers made dubious Major League history for posting the worst second-half winning percentage (.293) for a club that was over .500 at the All-Star break.
These Brewers never expected to be mentioned alongside that sort of futility but now find themselves needing to win two of their three remaining May games to avoid matching the worst winning percentage for any month in a franchise history that goes back to 1969. If they lose all three remaining May games, the Brewers would tie the club record for losses in a month and set a new mark for worst winning percentage.
"I'm not counting [the losses]," third baseman Aramis Ramirez said. "I'm counting the wins, and we don't have too many.
"I don't know. Right now, we just can't get anything going offensively. Our starters, it seems like we have to come back in every game. They have to pick it up. We have to pick it up offensively. It's a team effort. We have to play better."
The Brewers traveled to Minneapolis in the wee hours of Wednesday for two more games against the Twins, and they open a series in Philadelphia on Friday.
Then, it is good riddance to May and on to June.
"It's been a rough month," said Milwaukee manager Ron Roenicke, who insisted that better months were coming. "Yeah, I do. There better be. We'll get it going, but this is tough."
The Brewers wasted a big night for shortstop Jean Segura, who matched a franchise record that had not been touched in 20 years by collecting six hits, including an RBI single against tough Twins closer Glen Perkins in the ninth inning that tied the game at 5 and pushed it into extras.
But the Brewers' offense, which had gotten a clutch, two-run double from Ramirez amid a three-run fourth inning and a tying triple from Ryan Braun in the fifth, did not have a single baserunner in extra innings until Segura's single with two outs in the 14th, after the Twins had broken the logjam.
Against Brewers reliever Burke Badenhop (0-2), Aaron Hicks had led off that inning with a ground-rule double, advanced on a sacrifice bunt and scored when Escobar lifted a fly ball to left field.
"I waited a long time," Escobar said. "It's a long game, but I'm always ready for my opportunity. That's my chance, so I've got to come through."
Hicks had a big game, delivering one of the Twins' three home runs as they built a 4-0 lead, and robbing the Brewers' Carlos Gomez of a home run with a sensational leaping catch way back in the second inning.
Ryan Doumit and Josh Willingham also homered for the Twins off Brewers spot starter Alfredo Figaro, who managed to deliver five innings that would have been bullpen-saving had the game not pushed so deep into the night.
Roenicke used eight pitchers, plus Yovani Gallardo as a pinch-hitter in the 13th inning.
"In extra innings, the problem is, when you're at home, somebody tries to win it with a homer," Roenicke said. "When you're not scoring for a while, people are trying to hit a home run. When you try to hit home runs, it doesn't usually work that way. We didn't have a lot of good at-bats in extra innings."
Ramirez conceded as much.
"It's hard, especially when you've done it before and you're one of those players that can actually win the game with one swing, it's hard not to try," he said. "I did it. I tried my last at-bat, and I missed the pitch."
The result of the Brewers' overtime was another loss, making this only the 13th month in 44 Brewers seasons with at least 20 losses, including their club-record 23 losses in three consecutive Augusts from 1975-77 (though, because of doubleheaders, the Brewers won at least seven games in each of those months, including their marathon, 11-23 record in August 1977).
Five of the team's 20-loss months came before 1978, when the franchise came of age with its first winning season. More recently, that sort of losing had become much rarer. The Brewers posted only two 20-loss months in the first 12 seasons of the Miller Park era -- a 6-20 July in 2001 and the aforementioned 6-21 August in 2004.
Only once before this season had the Brewers endured a 20-loss month before the All-Star break. It came during strike-shortened 1994 season, when Milwaukee was 7-21 in May.
Just as rare is a sub-.300 winning percentage for a full month, which the Brewers are guaranteed for only the 14th time since the team moved to Milwaukee. They need to win two of their three remaining May games to avoid the worst winning percentage for a month in Brewers history. The 1969 Seattle Pilots own the dubious franchise record with a 6-22 August in the franchise's debut season.
"It's tough going through [this] when your bullpen is doing a pretty good job keeping up the zeros," Roenicke said. "Our starters will pitch better, and we'll start hitting better with people on base and getting big hits. We did that a couple times tonight, but we just didn't continue to do it."
Adam McCalvy is a reporter for MLB.com. Read his blog, Brew Beat, and follow him on Twitter at @AdamMcCalvy. This story was not subject to the approval of Major League Baseball or its clubs.