Jennings' two-out hit wins it in ninth for Rays
Escobar ties it in eighth; comeback secures third straight win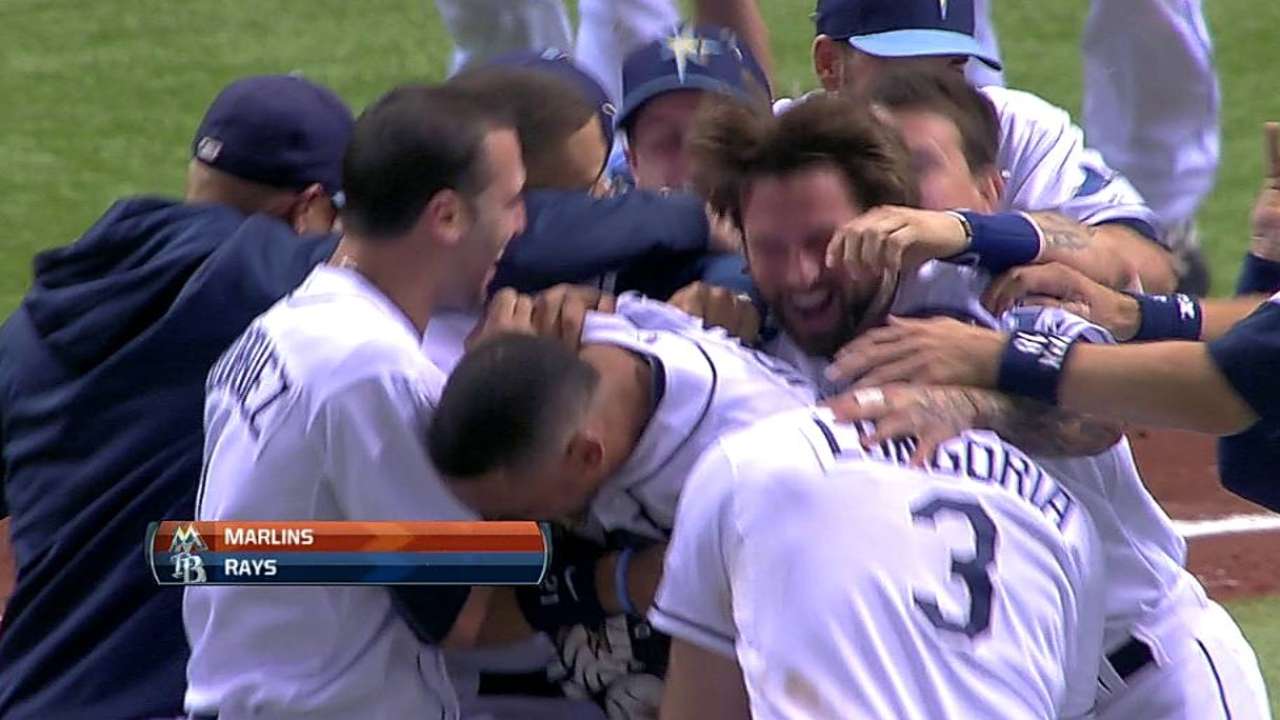 ST. PETERSBURG -- Joe Maddon moved Desmond Jennings out of the leadoff spot and down in the order on Monday to "take some heat off of him as a leadoff hitter" and allow him to sort some things out.
Tuesday night Jennings again hit in the seventh spot, and came through with three hits, including the game-winner in Tampa Bay's 7-6 walk-off win over Miami at Tropicana Field.
By winning their third consecutive game, the Rays finished their homestand 3-2 and improved to 27-24. The Marlins (13-39) have now lost seven straight.
Jennings entered Monday night's action hitting .232 and looking somewhat lost at the plate. Thus, Maddon opted to insert the versatile Ben Zobrist in the top spot and pencil in Jennings at No. 7 in the lineup.
"I remember Joe did it last year toward the middle of the season," Jennings said. "It always seems to work, I guess."
Miami held leads of 4-0, 5-3, and 6-5 before Tampa Bay tied the game in the eighth on Yunel Escobar's single to right that drove home Luke Scott.
Fernando Rodney, who earned his second win of the year, held the Marlins in check in the ninth, retiring the side in order to set the table for the Rays to try and grab their first lead.
Kelly Johnson led off with an infield single and Evan Longoria followed with a single through the left side. Two outs later, Chad Qualls took over for Mike Dunn to pitch to Jennings, who already had a double and a single.
Qualls threw a 95 mph sinker for strike one. The former Rays right-hander then threw another 95 mph sinker that Jennings drove down the right-field line for the walk-off win.
"Just looking for a fastball out over the plate," said Jennings, who is 4-for-6 with two walks since his move down in the order. "Actually got a hard sinker."
For Jennings, the single gave him his second career walk-off hit. His first came Sept. 11, 2011, via a solo home run off Texas' Mark Lowe. Maddon complimented Jennings on his final at-bat.
"How about the line drive down the right-field line to win the baseball game?" Maddon said. "That's just outstanding to see that, understanding what the pitcher's trying to do, then just going with it. Just a beautiful piece of hitting."
Jennings found himself batting in the midst of a group that produced the bulk of the Rays' offense Tuesday night. The six through nine hitters -- Scott, Jennings, Jose Lobaton and Escobar -- went 11-for-16 with four doubles and five RBIs.
"They were good," Maddon said. "I've talked about Escobar, he's been hitting the ball consistently well and finally missed some defensive players, and even his out was a hard-hit drive at the center fielder. … The [bottom four], those guys were fabulous and it was fun to watch."
Kevin Slowey started for the Marlins and could not hold a 4-0 lead.
"You're disappointed any time your team gives you the lead and you can't hold on to it or you're unable to win the game," Slowey said. "Tonight was a battle on both sides, for both pitchers, both bullpens all the way around. You do your best to keep your team in the game."
Jeremy Hellickson didn't have a good start, either, allowing five earned runs in 5 1/3 innings to raise his ERA in May to 6.69 in what will be his last start of the month.
"Not crispy at all," said Maddon about Hellickson. "There's more in there -- just disjointed, just not sharp with anything. Nothing was really normal for him. He's coming off some really good outings. Today just was off, he just wasn't as good as he normally is tonight."
The Rays bullpen allowed one run in 3 2/3 innings and that was the only run the relievers gave up in 8 2/3 innings during the two-game set with the Marlins. Standing out within the group was Rodney, who looked more like the 2012 Rodney than the one haunted by blown saves this season.
"I just thought the angle was better," Maddon said of Rodney's mechanics. "I know [pitching coach Jim Hickey] talked to him about throwing downhill more. I thought his delivery was more compact and more under control, and the results were better. That's what I saw from the side."
The Rays are now 22-14 since April 19, when they were a season-low five games under .500, and they improved to 7-1 in Interleague Play.
"As a team, we never quit," Jennings said. "We're going to fight until the end and see what happens. That's what we do. We've been swinging the bats really well lately. Hopefully we keep this up and keep swinging the bats."
Bill Chastain is a reporter for MLB.com. This story was not subject to the approval of Major League Baseball or its clubs.