Dodgers roll Angels behind Ryu's two-hitter
Cruz's first homer fuels rookie lefty's first career shutout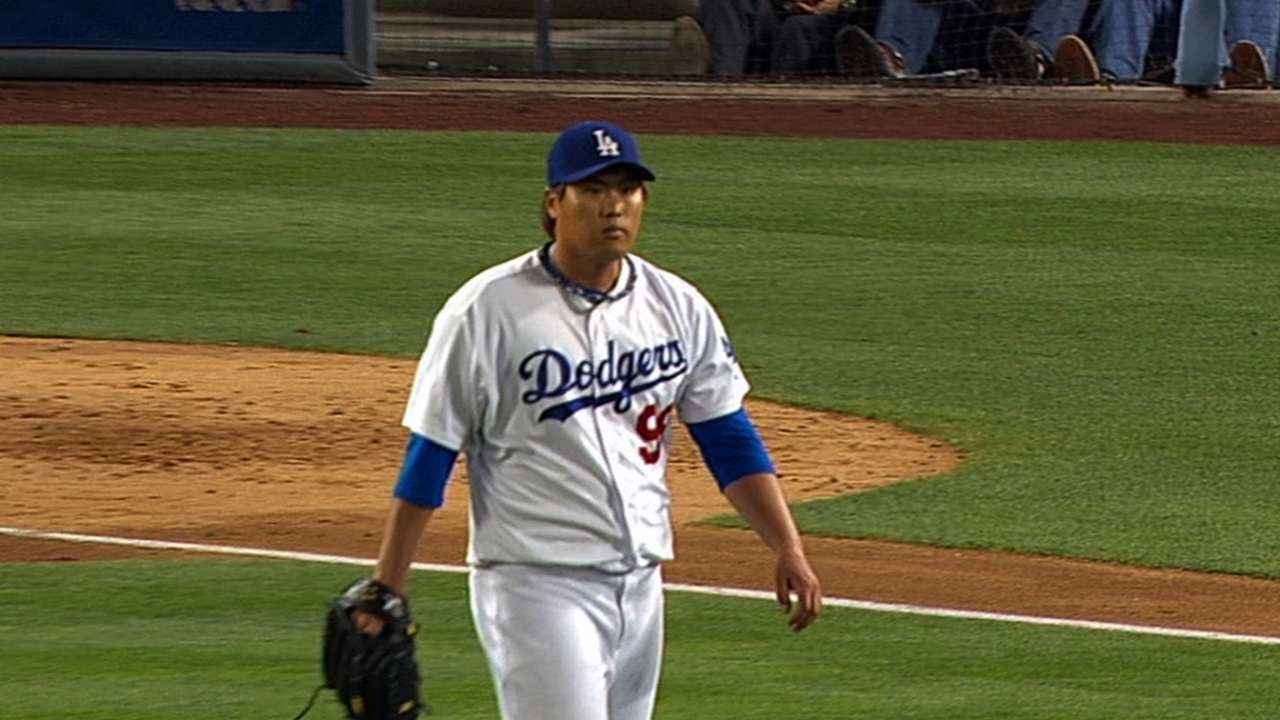 LOS ANGELES -- When the Dodgers took the leap with a $62 million commitment for Korean star Hyun-Jin Ryu, they trusted their scouts that the lefty's game would play in the big leagues.
It couldn't have played much better on Tuesday night, when Ryu pitched a two-hitter and rode the first homer of the year from buddy Luis Cruz to a 3-0 Freeway Series win over the Angels.
"He's a superstar," said Matt Kemp, who is day to day after leaving the game with an inflamed nerve sustained when he was hit on the right elbow by a pitch. "He kept some tough hitters off balance. He threw a shutout. That's big. It definitely is going to boost his confidence."
For his first Major League shutout, Ryu mowed through the Angels' lineup, which was a little less imposing after the pregame scratch of Josh Hamilton (back spasms).
Nonetheless, Ryu was dominant with seven strikeouts and no walks in 113 pitches.
"I was really happy I didn't walk anybody," said Ryu.
After allowing a one-out single to Howie Kendrick in the second inning, Ryu retired 19 consecutive batters until Chris Iannetta's two-out double in the eighth.
"We couldn't make him uncomfortable out there," said Angels first baseman Albert Pujols.
Ryu is now 6-2 with a 2.89 ERA, solidifying his early candidacy for Rookie of the Year, as he qualifies despite seven years of stardom in his homeland.
The last left-handed Dodgers pitcher to win Rookie of the Year was Fernando Valenzuela in 1981, and they are not dissimilar. Neither is overpowering but can be sneaky fast, both relying on offspeed pitches to keep hitters off balance with the willingness and command to throw to both sides of the plate.
"He's more of an artist for me than a thrower, uses both sides of the plate, pitches inside, uses the changeup," manager Don Mattingly said of Ryu. "It's the art of pitching, not just radar guns and things like that."
Valenzuela could hit, and so too can Ryu, as he showed with a third-inning double, and both could field their position, as Ryu showed by knocking down a liner by Alberto Callaspo in the second inning and putting a kick save on a Mark Trumbo comebacker to end the third inning.
That one hurt, as Ryu limped off the field, retreated to the clubhouse and returned just in time for the fifth inning.
"I don't think anything's wrong with the bone," said Ryu, who limped into the interview room with an ice pack wrapped onto the top of his left foot.
Like Valenzuela, Ryu is not exactly chiseled. But he also shares Valenzuela's toughness. And in this game, for the first time this season, he reached the finish line to rest the bullpen, as Valenzuela was well-known for doing.
"He gave us just what we needed with a couple guys down in the 'pen," said Mattingly. "If we continue to get shutouts, I know we'll fight our way back. Thirty or 40 days in a row, we're going to be all right."
Good to see the manager hasn't lost his sense of humor after spending all this time in last place.
"To me, the difference in guys that become the elite guys are the guys that get you deeper in the games, so you don't need four or five innings out of bullpen. [Clayton] Kershaw gives you that, we think Zack [Greinke] will and if you can depend on Hyun-Jin to go deeper, it puts our bullpen in better order."
The Dodgers scored on Cruz's two-run homer off former teammate Joe Blanton in the fifth inning, with an insurance run in the sixth on a double by Kemp (dropped to fifth in the order) and a single by A.J. Ellis, snapping an 0-for-16 slump.
Cruz was the feel-good story of 2012, when he became the starting third baseman for the second half of the season. But when he came to the park Monday, he was hitting .096 and the Dodgers were looking for a roster spot with Jerry Hairston coming off the disabled list.
"I won't lie. I was a little worried the last few days," Cruz said. "The last thing I thought of was to be playing, but I worked hard to be ready if they needed me and I feel really good that I helped my team win."
Instead of designating Cruz for assignment, the Dodgers optioned Dee Gordon to the Minor Leagues. Granted a reprieve, Cruz started in Monday's comeback win and contributed a single, walk and two runs scored.
He started Tuesday only because Nick Punto was injured. Cruz followed Juan Uribe's single leading off the fifth inning by blasting a 2-2 pitch into the left-field pavilion.
"When you get chances you do something," said Mattingly. "I know it's been a frustrating year for him to this point, but a lot of things about this year have been frustrating to this point. It's a chance for a lot of us to put things behind us."
Cruz said he was a little surprised to hit Blanton, having been 0-for-7 against him until the homer.
"He's been one of the toughest pitchers for me to face," Cruz said. "It's hard for me to pick up the ball and with the timing for my leg kick, he's tough. I was just lucky to hit the ball."
Ken Gurnick is a reporter for MLB.com. This story was not subject to the approval of Major League Baseball or its clubs.