Angels go quietly vs. Dodgers' Ryu
Halos shut out on two hits against another lefty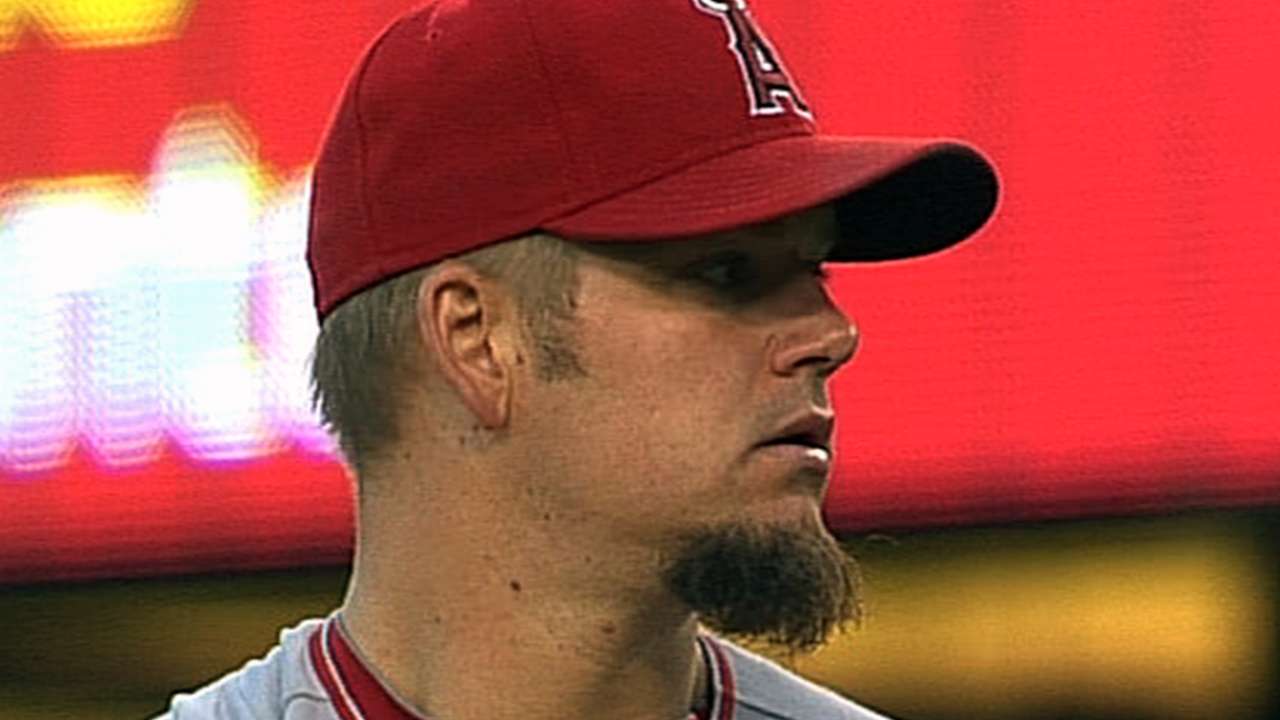 LOS ANGELES -- They were flummoxed by Chris Sale yet again on May 17, and then the Angels' offense morphed into the juggernaut everyone expected, plating five-plus runs in nine straight games -- one shy of the club record -- and even batting .400 with runners in scoring position during that stretch.
Then came another lefty, Hyun-Jin Ryu, the Dodgers' pricey Korean southpaw with a devastating changeup and an arsenal of plus pitches. On Tuesday night, with a fastball that had more life than usual, the 26-year-old twirled a two-hit shutout to hand the Angels a swift 3-0 defeat at Dodger Stadium.
It was the Angels' fifth shutout of the season -- three from left-handed starters, two of which came courtesy of Sale -- and their second straight defeat after reeling off eight consecutive victories.
"He threw the ball well," Angels first baseman Albert Pujols said of Ryu, now 6-2 with a 2.89 ERA since being obtained from the Far East on a six-year, $36 million contract. "He didn't make too many mistakes, he kept the ball down. He kept us off balance, pretty much. We couldn't make him uncomfortable out there. He was cruising all night long."
On March 28, Ryu faced the Angels (23-29) in Spring Training and retired all 12 of the hitters he faced.
On Tuesday, opposite an effective Joe Blanton, he didn't issue a walk, struck out seven, threw 79 of his 113 pitches for strikes and retired 19 straight batters between a second-inning single by Howie Kendrick and an eighth-inning double by Chris Iannetta.
"He came right after us, established his fastball, then worked some good changeups," said Angels manager Mike Scioscia, who scratched Josh Hamilton after the lefty-hitting slugger suffered back spasms during pregame batting practice.
"He's a superstar," Dodgers center fielder Matt Kemp said of Ryu, his team now 22-28. "He kept some tough hitters off balance. He threw a shutout. That's big. It definitely is going to boost his confidence."
Blanton, seemingly fighting to keep his spot in the rotation now that Tommy Hanson and Jered Weaver are returning this week, notched a second straight solid outing. Five days after picking up his first win against the Royals, Blanton went seven innings, gave up only three runs and kept his team in the game.
But his record is now 1-8, with the offense scoring fewer than three runs in five of those losses, and his ERA is still an unsightly 5.94.
"You feel for him," Pujols said. "Obviously we haven't scored many runs. He pitched better than what his record shows, and everybody knows that. He doesn't complain; he works so hard. That's a guy you want the best for, because he goes out there every fifth day and gives you what he's got."
Scioscia said Blanton has "hopefully turned a corner on his rough start" and will remain in the rotation, but he also said that Jerome Williams will make at least one more start and confirmed that all of his starters are healthy, which means the Angels may go with a six-man staff one time through the order.
In the second of a four-game Freeway Series, while facing the team he played for the last two months of last season, Blanton really only made one mistake. It came in the fifth inning, with one on and no outs in a scoreless game, when he left a sinker out over the plate to Dodgers infielder Luis Cruz. The result was a two-run homer -- and Cruz's first extra-base hit in 83 plate appearances this season.
"I played with him, I saw what he can do last year," Blanton said. "Just because a guy doesn't hit a lot of homers doesn't mean he can't hit one."
The Angels have been drastically worse against left-handers (.224/.285/.382 slash line) than right-handers (.272/.335/.436) despite sporting an offense that leans pretty heavily to the right. They've been held scoreless through 16 2/3 innings by the lanky, 6-foot-6 Sale and were shut out against the stocky, 6-foot-2 Ryu.
The strangest thing is that this latest one immediately followed the offense's best stretch of the season.
"It's going to happen," Scioscia said. "At times there's going to be some pitchers that throw the ball and pitch a strong game and he did tonight. You're not going to get it done on the offensive side every night, but I think if you look at the way our offense has been the last couple weeks, there's no doubt that they've been where we would expect them to be and tonight they were shut down."
Alden Gonzalez is a reporter for MLB.com. Read his blog, Gonzo and "The Show", and follow him on Twitter @Alden_Gonzalez. This story was not subject to the approval of Major League Baseball or its clubs.