Bradley recalled for series in Philadelphia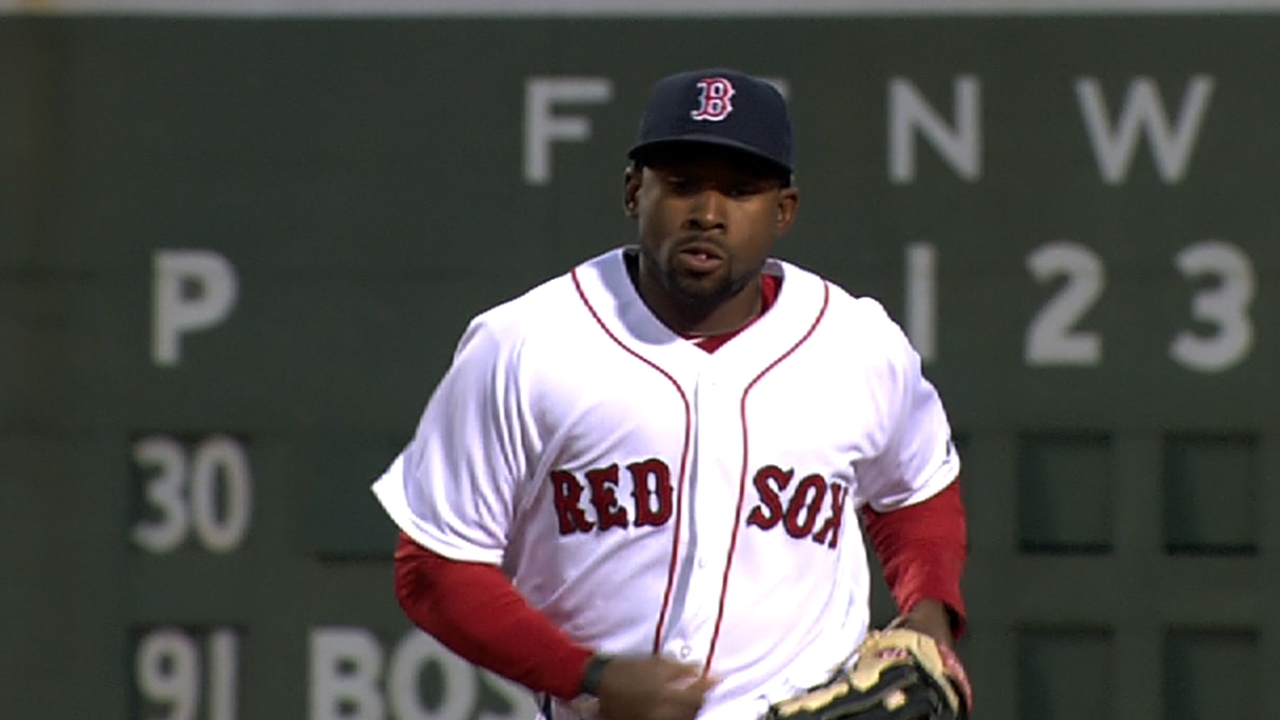 BOSTON -- When the Red Sox resume their home-and-home series with the Phillies on Wednesday at Citizens Bank Park, Jackie Bradley Jr. will be back on the roster.
To make room for Bradley, who was recalled on Wednesday, the Red Sox optioned right-hander Alex Wilson to Triple-A Pawtucket.
Wilson fared well in his first stint in the Majors, posting a 2.50 ERA in 16 outings.
However, the Red Sox had been going with 13 pitchers and 12 position players in recent days and didn't want to be in that alignment during the two games in Philadelphia, which will be played under National League rules.
Bradley provides the Red Sox with someone who can pinch-hit, pinch-run or be a defensive replacement.
"We know going into Yankee Stadium [on Friday] with that big left field that defense is a premium," manager John Farrell said on WEEI Radio. "He'll factor into that. And he'll factor in these two games in Philadelphia as well."
Unlike earlier in the season, when the Red Sox said the only way they would carry Bradley on the roster was if he was playing full-time, the club took a different stance this time.
"We started Spring Training saying Jackie has to get every day at-bats, but we feel like [Jonny] Gomes and [Mike] Carp has been a productive combination [in left field], and there's been a flow to this roster," Farrell said.
This time, Bradley will simply be holding down a roster spot until Shane Victorino is activated on June 5. Mike Carp, Jonny Gomes and Daniel Nava will likely continue to get the bulk of the at-bats in the corner-outfield spots until Victorino returns.
Bradley led off for Triple-A Pawtucket at Indianapolis on Tuesday and played right field, going 1-for-4 with a double. The outfielder is hitting .354 for Pawtucket.
When the Red Sox sent Bradley down following their game on April 18, he was in the midst of an 0-for-20 slump.
The team has had good reports on him of late.
"Very good," Farrell said on Tuesday. "Once he got past the shoulder tendinitis and got back on the field, much like we saw in Spring Training with his defense, he made two good plays last night and doubled off a guy with a throw. He threw out another runner. He had a home run and a double last night. He's been swinging the bat very well."
Ian Browne is a reporter for MLB.com. Read his blog, Brownie Points, and follow him on Twitter @IanMBrowne. This story was not subject to the approval of Major League Baseball or its clubs.