Mets walk off on Mariano for emotional victory
Murphy, Wright, Duda rip consecutive hits off Yankees closer to win it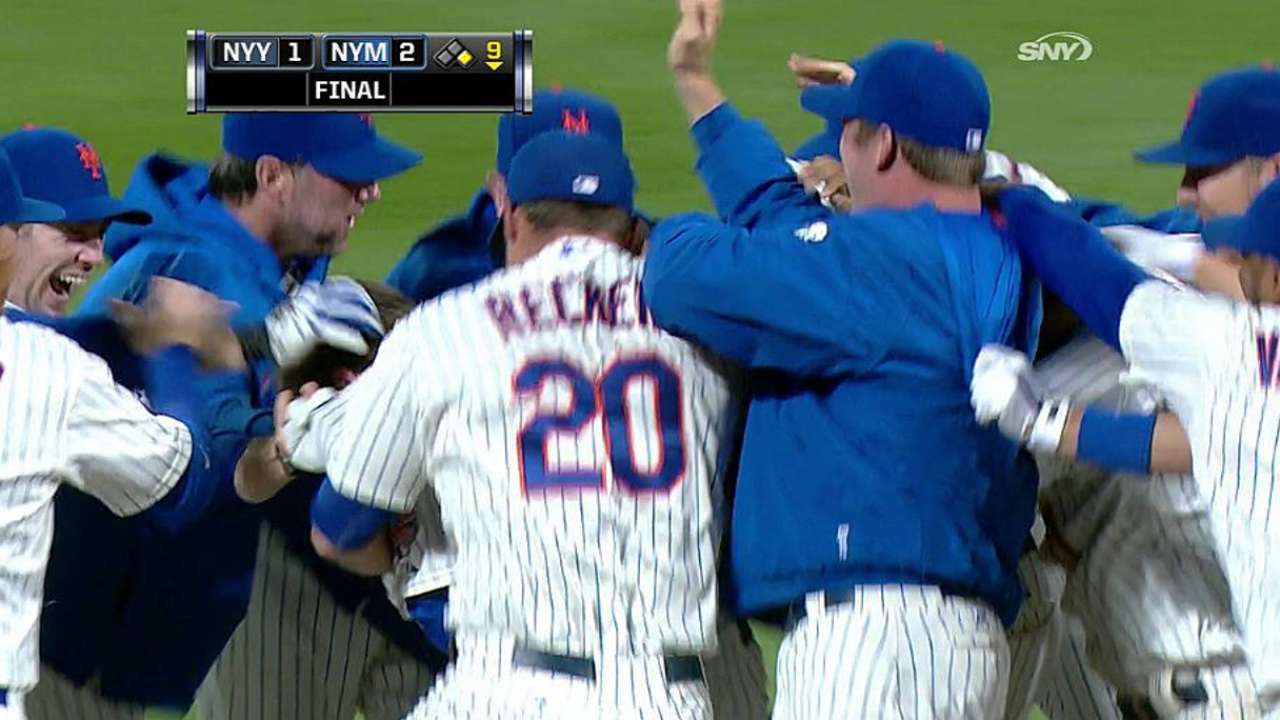 NEW YORK -- The sea of Mets flowed from the dugout to the field, surging into shallow left before ebbing back to the clubhouse. Ike Davis led the pack, charging full speed at a jubilant Lucas Duda. David Wright was there. Daniel Murphy was there. All of them were present, less ballplayers at that moment than they were children.
The Mets had won a game -- stolen a game, really -- against a premier opponent and the best closer in history.
For once in this hardscrabble season, they were having fun.
"It feels good to have all your teammates jumping around you," Duda said.
Duda called the Mets' 2-1 victory over the Yankees their best win of the year -- or at least their most emotional. He had the right to call it whatever he wanted, considering he was the one who came up with the game-winning hit, redirecting a Mariano Rivera cutter into right field to score Wright.
Three hits on nine pitches -- that was all it took. Murphy started the rally, dunking a double into left field in a one-run game. Wright followed with an RBI single back up the middle, which nearly scorched Murphy on its path to center field. Then Duda struck the game-winner, allowing the Mets to dispatch Rivera for the third time ever. It marked the first time the future Hall of Famer had blown a save without recording a single out.
"I think we surprised ourselves," Wright said. "You get Mo coming in, it's usually game over."
Three hits on nine pitches -- in retrospect, it all seemed so simple. And yet the Mets had recorded a total of four up to that point, unable to do anything against Yankees starter Hiroki Kuroda or setup man David Robertson. That left Matt Harvey on the hook for his first loss of the year, despite eight brilliant innings of his own.
Losing seemed inevitable for the Mets, who, as Wright noted, have won several emotional games this year only to flat-line in their encore performances. They entered Tuesday's play with consecutive wins against the Braves and Yankees, both in relatively dramatic fashion. So it would not have been wholly unexpected to see them wallow away quietly against Rivera in the ninth.
"You make the bed you sleep in," Wright said. "You're not going to get a bunch of energy and electricity and excitement in the stadium when you're 10, 11 games under .500."
The Mets tried to manufacture some of their own, despite rainy conditions that resulted in a 91-minute delay and a sparser-than-usual Subway Series crowd. Harvey did his part, retiring six in a row to start the game, regularly dialing his fastball as high as 98 mph and striking out eight of 15 from the second through fifth innings.
His only problem came in the sixth, when Marlon Byrd committed an error on Brett Gardner's leadoff single in a scoreless game. Though Harvey did recover enough to give himself a chance to emerge unscathed, he cracked on Lyle Overbay's two-out RBI single.
If any energy floated out of Citi Field at that moment, manager Terry Collins restored it in the bottom of the inning, when he argued Ruben Tejada's pickoff at second base long enough to get ejected. Drawing a roar from the crowd as he walked off the field, Collins planted himself in the Citi Field video room for the rest of the evening.
There, he spoke to several Mets hitters as they prepared for their at-bats against Rivera. Swing early, Collins told them, or the greatest closer in history will bury you.
What happened next, Rivera called "unacceptable."
"You could tell everybody wanted to get a run so bad," Harvey said. "The way the guys were playing defense, the way everybody was getting mad that they weren't getting hits. Everybody played their -- I can't say it, but they played their butts off. And that's fun to watch."
"Fun" is a concept somewhat foreign to the Mets, who had not enjoyed a three-game winning streak since the season's opening weekend. Wright spoke often about the notion last summer, noting how much fun he had before the Mets plummeted out of contention. Those were the memories upon which he drew when deciding to sign a long-term extension in New York.
Wright is also a realist, understanding the Mets' place in this rebuilding process. But he knows good things can happen nonetheless.
Buoyed by the past three days, he feels there is more opportunity for fun at Citi Field.
"This could be, hopefully, the couple games that we needed to get a little bit of swagger back," Wright said. "We need to capture that."
Anthony DiComo is a reporter for MLB.com. Follow him on Twitter @AnthonyDicomo. This story was not subject to the approval of Major League Baseball or its clubs.