Mo's first blown save of season results in stunner
Yankees closer doesn't record an out in ninth, watches Mets walk off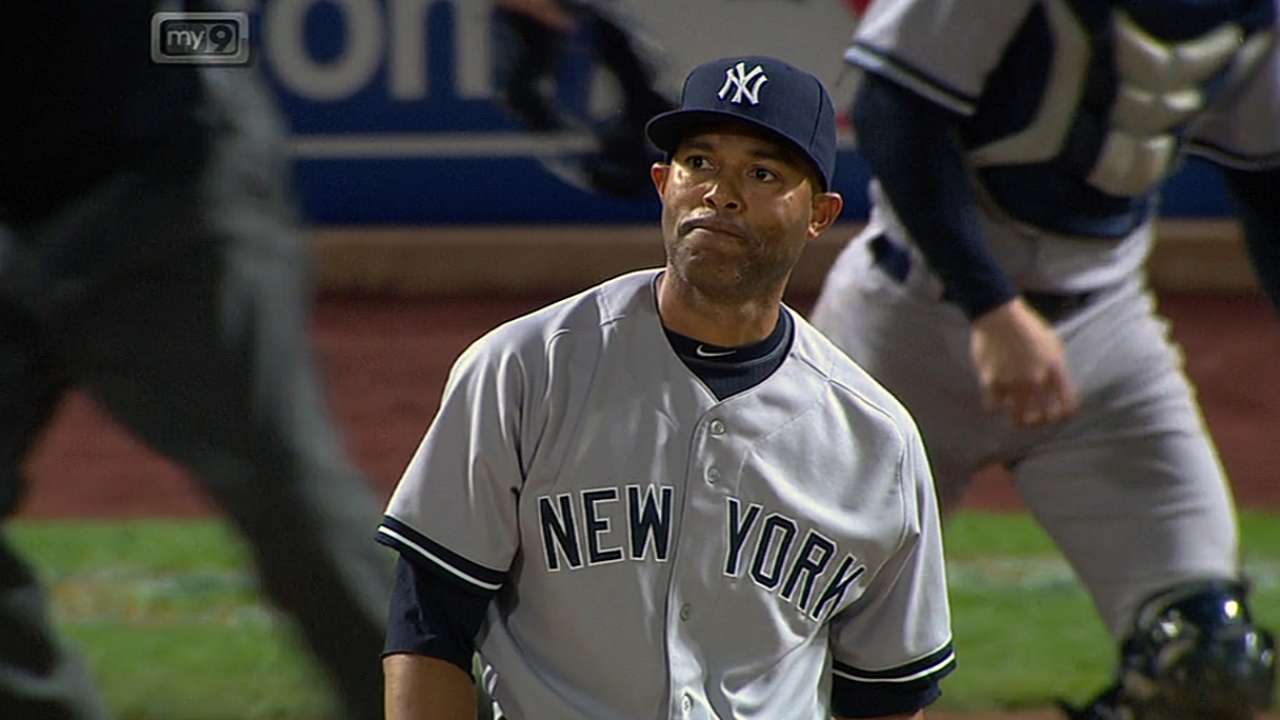 NEW YORK -- Mariano Rivera was invited to toss the first pitch of the night on Tuesday at Citi Field, a rare celebration of a Yankees player in Queens that came as much for his standing as the all-time saves leader as for his dominance over his crosstown rivals.
The evening ended with Rivera throwing the final pitch as well, but surely not as anticipated. Rivera blew his first save of the season and the Mets rallied for two runs in the bottom of the ninth, pulling off a Subway Series stunner and celebrating a 2-1 victory.
"We don't want that to happen, but it happened," said Rivera, who had been perfect in his first 18 chances of the year. "Hopefully, it's the last one, God knows. But at the same time, what can I say? It was a great game until I got into the game."
The Yankees were in position to lock down a victory thanks to Lyle Overbay's sixth-inning RBI single off electric phenom Matt Harvey, who struck out 10 over eight strong innings but left trailing thanks to Hiroki Kuroda's seven innings of scoreless four-hit ball.
Rivera had been 22-for-24 in save opportunities against the Mets, including the postseason. His final appearance against them in Queens will be tucked into that rarest group of misfires, securely filed on this side of the Robert F. Kennedy Bridge alongside the Matt Franco classic from the summer of '99.
"You knew at some point it would probably happen," Yankees manager Joe Girardi said. "Very seldom do you see a closer go through the whole year without blowing a save. It's not an easy job to do and Mo has been so good at it. He's been so good at it this year. Tonight happened to be that night."
Rivera didn't record an out in the ninth -- the first time he has ever done so in a save opportunity -- surrendering three straight hits.
"He's human," Brett Gardner said. "As much as people might not like to think so, it's not impossible to beat him. He's human just like the rest of us."
Daniel Murphy started the trouble with a ground-rule double to left field and David Wright followed with a game-tying single, sliding into second base safely as Gardner's throw from center field skipped past catcher Chris Stewart.
Stewart said that he thought Gardner's throw would bounce more and that it squeaked under his glove, but Rivera never made it behind the plate to back up and blamed himself for the miscue.
"I should be back there, but I wasn't. It was my fault," said Rivera. "That allows David to get to second base. It happened quick. There wasn't time to do anything else. It happened."
Rivera's final career pitch against the Mets in Queens shattered Lucas Duda's bat, but Duda muscled the ball into shallow right-center field to drive home Wright with the winning run as the Mets stormed the field in raucous celebration.
"It's more luck than anything," Wright said. "Anytime you get a chance to get a hit against Mo, it's close your eyes, swing hard and hope you hit it. He's as dominant as anybody, and that's well-documented."
Thanks to the late lead change, Harvey was taken off the hook in a game where the marquee pitching matchup actually lived up to its hype.
Harvey came out of the gate firing gas, hitting the black of the plate with 98-mph fastballs and racking up 10 strikeouts through eight innings, but Kuroda held his ground with his assortment of diving offerings, making Overbay's hit hold up until the ninth.
"Anybody can look at him and know how good a pitcher he is," Kuroda said through an interpreter. "So I was expecting that it was going to be a tough game. But we were able to get a run from him, so I think I was able to make it a game for us."
There was also a remarkable bit of symmetry with the series opener, in which Murphy was robbed of a hit by Gardner in the outfield only to later play a pivotal role in the Mets' comeback.
Gardner scaled the wall to steal a homer from Murphy in the series opener on Monday and followed that feat by taking away what would have been a run-scoring extra-base hit on the warning track on Tuesday evening.
"He's a good player," Gardner said. "I don't think he's too happy with me right now."
The Mets' rally against Kuroda fizzled later in that frame as Ruben Tejada was picked off of second base; Mets manager Terry Collins was ejected for arguing the call with second-base umpire Adrian Johnson.
"I guess I was resilient," Kuroda said. "Even if I allowed a runner, I didn't let them come home."
But, wrapping a day on which they lavished Rivera with praise and a few gifts, the Mets also happened to have one last parting blow for an adversary who has been more than worthy for them over the years.
"Everything was great -- until the ninth," Rivera said. "It's part of the game, man. You just have to come back tomorrow strong and play hard again."
Bryan Hoch is a reporter for MLB.com. Follow him on Twitter @bryanhoch and read his MLBlog, Bombers Beat. This story was not subject to the approval of Major League Baseball or its clubs.