Offense delivers more than enough for Latos
Righty allows one earned run in 6 1/3 frames with seven strikeouts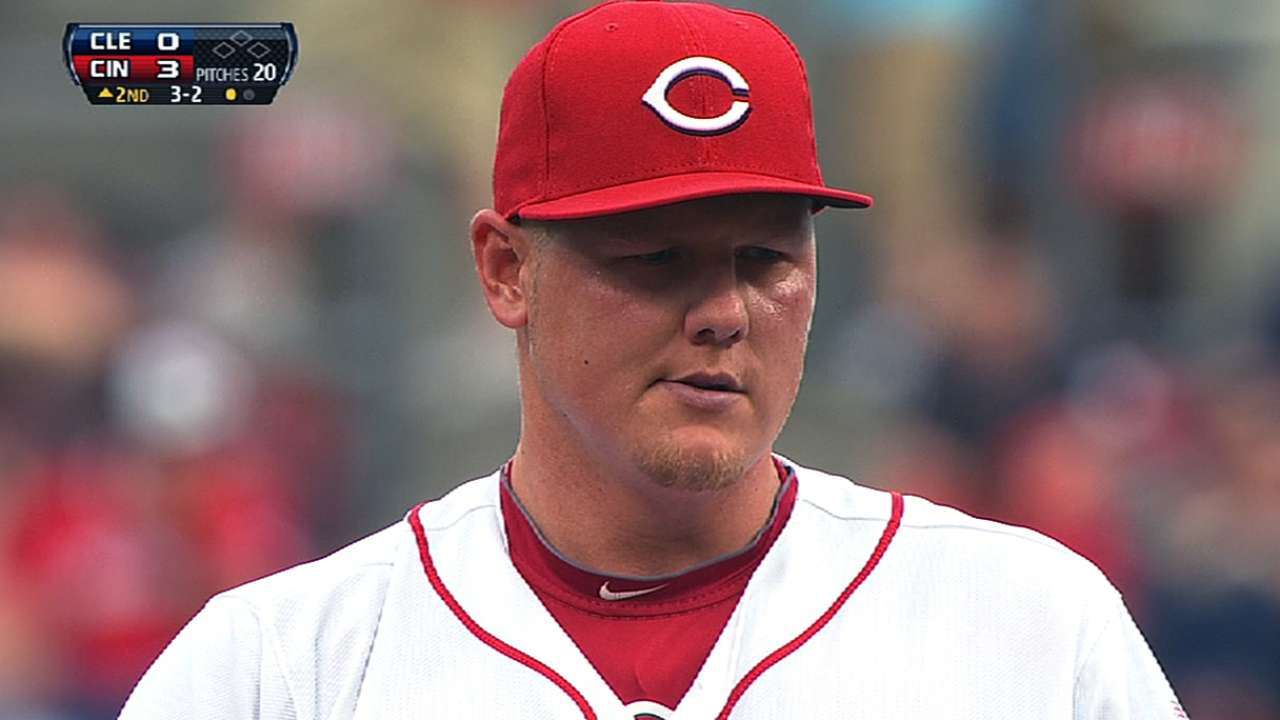 CINCINNATI -- Even with a 3-1 lead heading into the seventh inning of Tuesday's game against the Indians, Reds manager Dusty Baker had an uneasy feeling.
"I didn't like the way that game was going," Baker said. "It was similar to the game we had the other night against the Cubs where we had a lot of opportunities to score and didn't score."
Cincinnati lost that game on Sunday to Chicago, 5-4, in extra innings, and after watching his club put the leadoff man on and runners in scoring position in four straight innings without anything to show for it, Baker feared Tuesday's game was headed down the same path.
In the bottom of the seventh, though, the Reds finally broke through, scoring four runs and adding a little insurance on their way to an 8-2 win over the Indians at Great American Ball Park. Although the seventh inning outburst and another run added in the eighth ended up being unneeded for the win, Xavier Paul said the Reds didn't want to keep leaving runners on base.
"The game's not over until the last out is made," Paul said. "You see that around baseball every year, every day. You got to play a complete game, full nine innings, and to be able to put more runs on the board there, that really gave us that driving force."
Before Cincinnati's bats came up big in the seventh, the bullpen left it's mark in the top half of the inning. Starting pitcher Mat Latos pitched well most of the night, but he got himself into trouble with two one-out walks that forced Baker to pull him after 6 1/3 innings.
With Jason Kipnis coming to the plate for the Indians, Baker turned to left-hander Manny Parra, who made just his second appearance since coming off the disabled list last Friday. Parra came up big, striking out Kipnis on three pitches, before handing the ball to Sam LeCure, who ended the inning with a strikeout of his own.
Along with being an important point in the game for the Reds, it was vital for Parra as he works his way back into the swing of things following his stint on the DL.
"I think it just instills confidence in you, you know?" Parra said. "You get the call. You get to go in that situation. It's a lot of fun to pitch in that situation, too."
The pair of strikeouts was just the beginning of the fun for the Reds.
Brandon Phillips led off the Cincinnati half of the seventh with a single that was followed two batters later by Paul's third base hit of the game. Devin Mesoraco then stepped to the plate and reached first on a chopper down the third-base line. Cleveland catcher Carlos Santana had no play at first, but threw the ball over the head of first baseman Nick Swisher anyway, allowing Phillips to score.
Two pitches later, Jack Hannahan drove in another run before Derrick Robinson came in as a pinch-hitter and singled to score Mesoraco. After Shin-Soo Choo was hit by a pitch, Zack Cozart delivered his third hit of the game to extend the Reds lead to 7-1.
Each team added a run in the eighth, but by then, the game was all but decided.
In all, the Reds collected 18 hits -- one shy of a season high -- as seven Reds recorded multi-hit games. Paul and Cozart led the way with three hits a piece. Cozart has now hit safely in nine of his last 11 games, batting .340 (17-for-50) in those contests after hitting just .186 in the previous 11.
"I feel good up there," Cozart said. "I'm attacking up there. Instead of taking a lot of pitches, I'm going up there looking for a pitch in the zone early, and I think that's what's turned it around for me."
After the Reds posted a three-spot in the first inning, thanks in part to Cozart, Latos kept that lead safe for six innings, allowing just four hits while striking out seven. With the win, he remained perfect on the season and dropped his ERA to 3.01.
"He kind of came as advertised," Indians manager Terry Francona said. "He's got a lot on his fastball, but he'll throw all his pitches in any count. That makes it really effective. I thought our second or third time through the order we were better, but you have to respect all three of his pitches at any time in any count."
Monday's and Tuesday's games were the first half of the Reds' four-game series with the Indians, with the next two coming in Cleveland on Wednesday and Thursday.
At 33-19, Cincinnati holds the second-best record in baseball, behind only the division-rival Cardinals (34-17). The Reds have won 17 of their last 20 games, and their 18 wins since May 3 are the most by any Major League team.
"I feel like we show up to the park, and we expect to win," Cozart said. "We're starting to get to that point to where I think we know how good we are if we play our style of ball that we're going to win a lot of games. It starts with Latos today, and we got a lot of hits. Then the bullpen comes in and finishes it off. It seems like it's been that way for a while, and hopefully we keep it going."
Jeremy Warnemuende is an associate reporter for MLB.com. This story was not subject to the approval of Major League Baseball or its clubs.