Bats, bullpen stumble against Reds
McAllister solid, allowing three earned runs in 5 1/3 innings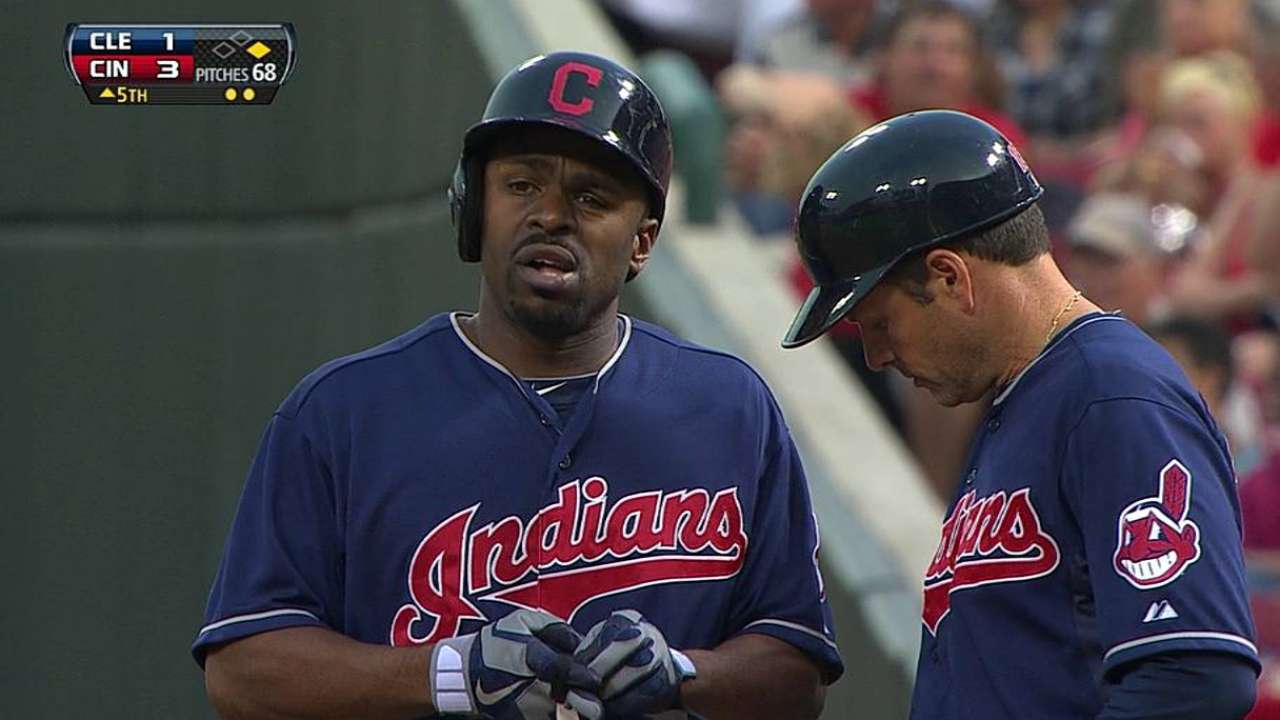 CINCINNATI -- It is far too soon to say that the wheels have fallen off the Indians' season. There do seem to be a few loose bolts in need of attention.
On Tuesday night, Cleveland suffered another late-game unraveling and took an 8-2 Interleague loss at the hands of the Reds at Great American Ball Park. The Tribe's I-71 rivals claimed both games in this two-game series, which will be followed by a two-game encore in Cleveland.
The defeat was Cleveland's fifth in a row, matching the team's longest losing streak of the season.
"No one is going to win every single game out there," Indians starter Zach McAllister said. "Obviously, everyone is out there trying to win games and doing their part to help the team out. We're in a little funk right now."
McAllister pitched into the sixth inning, playing damage control as he tried to put his team in position to rally. The comeback against Reds right-hander Mat Latos never came and the Tribe's bullpen continued its recent trend of swinging momentum in the wrong direction.
Five late runs by the Reds turned a close game into a blowout, sending the Indians to a third consecutive series loss for the first time this season. The Tribe had won 18 games in a 22-game stretch before its recent eight-game skid, which includes seven losses.
It might feel similar to the collapses of the past two seasons, but the Indians do not agree.
"Not at all. This is a completely different team from last year," McAllister said. "There's a completely different attitude. This is an exciting team. We've lost some and it's been a rough stretch, but it's exciting right now. I think everybody out there is encouraged with the way we're playing."
McAllister was saddled with a loss after limiting Cincinnati to three runs over 5 1/3 innings. Dating back to last season, the right-hander has turned in 12 consecutive starts consisting of at least five innings and three earned runs or fewer allowed. That is the longest such run for a Cleveland pitcher since Bud Black went 16 straight between Aug. 23, 1989-May 18, 1990.
His rare feat aside, McAllister could not guide the Indians to victory.
All three of the Reds' runs off McAllister came in the first inning, when former Indian Shin-Soo Choo led off with a ground-rule double. Slugger Joey Votto later brought Choo home with a run-scoring single and Reds left fielder Xavier Paul chipped in a two-run single that pushed Cleveland behind, 3-0.
"It was a battle for him," Indians manager Terry Francona said of McAllister. "He was struggling with his fastball command and he pitched behind in the count more than he has. The first inning was a tough inning. Saying that, he made a 2-0 pitch -- a really good pitch -- that got fought off [by Paul] for that base hit that drove in two.
"After that, [McAllister] dodged traffic for every inning it seemed like. But he never gave in and he competed his [butt] off and gave us a chance."
McAllister ended the evening with 10 hits allowed, but he was able to pry himself from a handful of jams.
One such situation came in the fifth, when Votto led off with a base hit before stealing second. McAllister quickly slipped into a 2-0 count to Brandon Phillips, who was then hit by a pitch. If it was retaliation for Monday's ninth-inning incident involving Reds closer Aroldis Chapman and Nick Swisher, the umpires looked the other way. No warnings were issued and the players held their ground.
In the ninth inning on Monday, Chapman fired a 100-mph fastball near Swisher's head, raising a few eyebrows and blood pressures in the process.
McAllister said hitting Phillips with a pitch was not payback.
"I was trying to go in," said McAllister, who had six strikeouts and one walk. "I missed on one earlier going in there and I kind of went a little too far in that time."
McAllister escaped the fifth-inning jam unscathed. Center fielder Michael Bourn made a sliding catch on a drive from Jay Bruce and right fielder Drew Stubbs made a strong running grab to rob Devin Mesoraco of extra bases. Between those outs, Votto was picked off second base by catcher Carlos Santana after a pitch in the dirt.
The Indians were unable to take advantage against Latos, who picked up the win after allowing one run on five hits with seven strikeouts over 6 1/3 innings. Cleveland's lone run off Latos came in the fifth, when Stubbs singled, stole second base and crossed the plate on a single from Bourn.
"He kind of came as advertised," Francona said of Latos, who improved to 5-0 on the year.
The Reds blew the game open with a five-run burst against the Indians' depleted bullpen between the seventh and eighth innings. Four of those runs came in the seventh and were charged to reliever Bryan Shaw, marking the fourth time in the past five games that the Tribe's bullpen surrendered a four-spot in the seventh inning or later.
"I'm just glad we added on some runs in the late innings," Reds manager Dusty Baker said, "because it was getting a little hairy there for a few minutes. It was a 3-1 score, but all the guys they have that can reach the fences in this ballpark, you're always a little nervous."
A throwing error by Santana on a swinging bunt off the bat of Mesoraco did not help matters. The catcher bobbled the ball and threw wildly beyond first base, allowing Cincinnati's first run of the seventh inning to score. After that gaffe, the floodgates opened.
"[Santana] jumped out after it really aggressively like he's supposed to," Francona said, "and it spun backwards. And then he kind of got in no-man's land. Once we threw it away, that ends up being a big inning."
And another big loss.
"We have a lot of faith in our guys out there," McAllister said, "and that we're going to be able to win games and get back on top."
Jordan Bastian is a reporter for MLB.com. Read his blog, Major League Bastian, and follow him on Twitter @MLBastian. This story was not subject to the approval of Major League Baseball or its clubs.