Tigers' bats can't back Porcello's 11-K gem
Detroit held to five hits, blanked by Gomez and Pittsburgh 'pen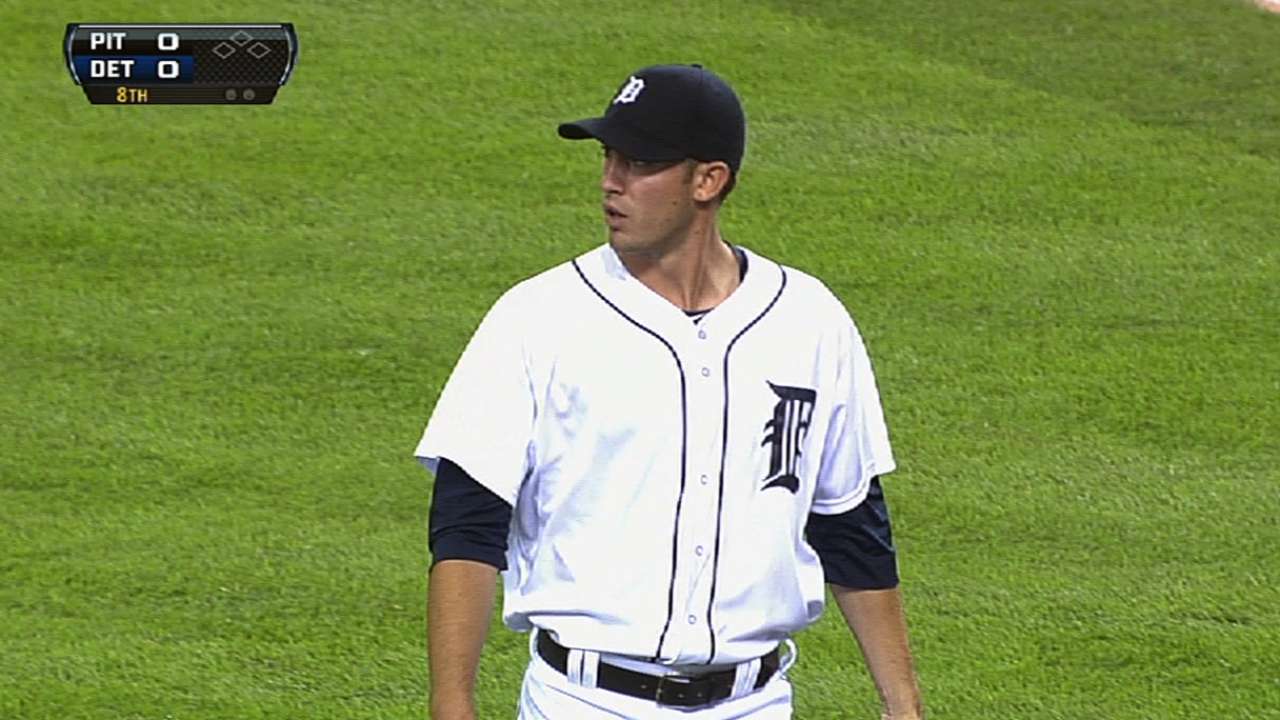 DETROIT -- It should have been one of the best nights of Rick Porcello's career. It still might be, depending on how he builds off of it.
But it will have to be a moral victory, because even after throwing eight scoreless innings on Tuesday night at Comerica Park, he didn't get an actual one.
"I'm trying to throw up zeros every time, no matter what the score is," Porcello said after Neil Walker's homer in the 11th inning sent the Tigers to a 1-0 loss to the Pirates. "Tonight was a good ballgame. It was really a tough game on both sides. We just ended up coming up a little bit short, but it was a good baseball game."
Porcello had everything working, especially the curveball, later the changeup, even a slider or two. He threw any pitch in any count for most of a rainy evening. He obliterated his career high, with 11 strikeouts, while still getting nine groundouts.
All he was missing was run support. On this team, that's the irony of it all. On a night when his defense made plays behind him, the best offense in the big leagues deserted him.
Remember, this is the same pitcher who as a rookie drove in two runs himself to beat the Pirates. Had he been facing the Pirates a day or two later at PNC Park, he might have been able to help his own cause.
Instead he was stuck in a pitching duel with Jeanmar Gomez that didn't end.
Not since Earl Wilson in 1966 had a Tigers pitcher tossed eight or more scoreless innings with 11 strikeouts and not earned a win.
"It was a terrific game, really," manager Jim Leyland said. "They finally got the one [run], and we couldn't get one. We had a chance to maybe win it, but we couldn't get it. We didn't do much all night. Both starting pitchers were terrific.
"The story tonight was, we just didn't do anything offensively."
It was the Tigers' first 1-0 loss of the year, and just the second since the start of last season. They hadn't lost a 1-0 game in extra innings since May 26, 2008, when Bobby Seay entered with the bases loaded in the 12th and issued a walk-off base on balls.
By contrast, it was the Pirates' third 1-0 win in their last nine games.
This actually became the pitching duel many fans expected when Justin Verlander and Yu Darvish matched up in Texas earlier this month. Porcello, whose only previous eight-inning shutout performance came in Pittsburgh two years ago, topped that gem.
He had his usual sinker going, plus the changeup that got him through his previous start. The difference was the curveball, the breaking ball he spent Spring Training honing before struggling to throw it early in the season.
This was the spring curveball, one that Pirates hitters never quite adjusted to seeing.
"I was rolling," Porcello said. "I felt really good, throwing everything for strikes, making good two-strike pitches. It was definitely one of the better games I've had, for sure."
The combination was efficiently stingy. Porcello struck out four of the first seven batters he faced, then sent down the Pirates in order on groundouts in the third. Walker's first-inning single to center was the only ball Porcello allowed to escape the infield until the fourth inning.
Once Andrew McCutchen's bouncer took a high hop over Omar Infante and into center field in the fourth, Porcello sent down 11 Pirates in a row, six of them on strikeouts.
"He's got swing-and-miss stuff. He always has," catcher Alex Avila said. "It's always just been a matter of him getting ahead of guys and being able to use his put-away pitches and locating them, rather than leave them in the middle of the plate. He's worked really hard at it."
Not until the eighth inning did Porcello have to worry about a runner in scoring position. The problem was that Gomez didn't allow a runner past first base over his seven innings, allowing just three singles and a walk to Avila.
"My sinker was really good," Gomez said. "That was a key. I was able to make pitches to both sides of the plate. The way Porcello was pitching, it made me focus more. He was getting a lot of ground balls, just like me."
Though the Tigers hit .362 against Gomez during his time with the Indians, they had no answers for him on Tuesday. It was the same stuff the Tigers remember seeing from him in the past. The difference was in the details.
"He had more velocity, I thought," Don Kelly said. "And he was mixing it up, in and out, up and down, throwing his changeup and slider for strikes, too. He pitched well."
Not until Clint Barmes' errant throw on an Infante grounder with one out in the eighth did the Tigers put a runner in scoring position. Gomez was gone by then, replaced by the hard-throwing lefty Justin Wilson, who stranded Infante.
Once Victor Martinez's line drive to deep left died at the fence, the game headed to extra innings, and Jose Ortega and Mark Melancon kept it scoreless until the 11th. As aggressively as the Pirates were swinging against Porcello early, they were hacking against Ortega late.
Ortega's first-pitch slider hung up just enough for Walker to send it down the right-field line for his third home run of the year and his third in 13 games against Detroit.
Walker had half of Pittsburgh's six hits. Even Kelly, who's married to Walker's sister, is wondering what they have to do to get him out.
"He won't say anything at least until the offseason," Kelly said. "He doesn't talk too much [trash]. He always hits us well. I don't know what the deal is."
Once former Tiger Jason Grilli struck out the middle of the lineup in order for his 21st save, the odd night had its climax.
"It was a great game," Leyland said. "Certainly, they didn't win it cheap."
Jason Beck is a reporter for MLB.com. Read Beck's Blog and follow him on Twitter @beckjason. This story was not subject to the approval of Major League Baseball or its clubs.