Bucs outlast Tigers, score game's sole run in 11th
Gomez throws seven scoreless frames before Walker's homer wins it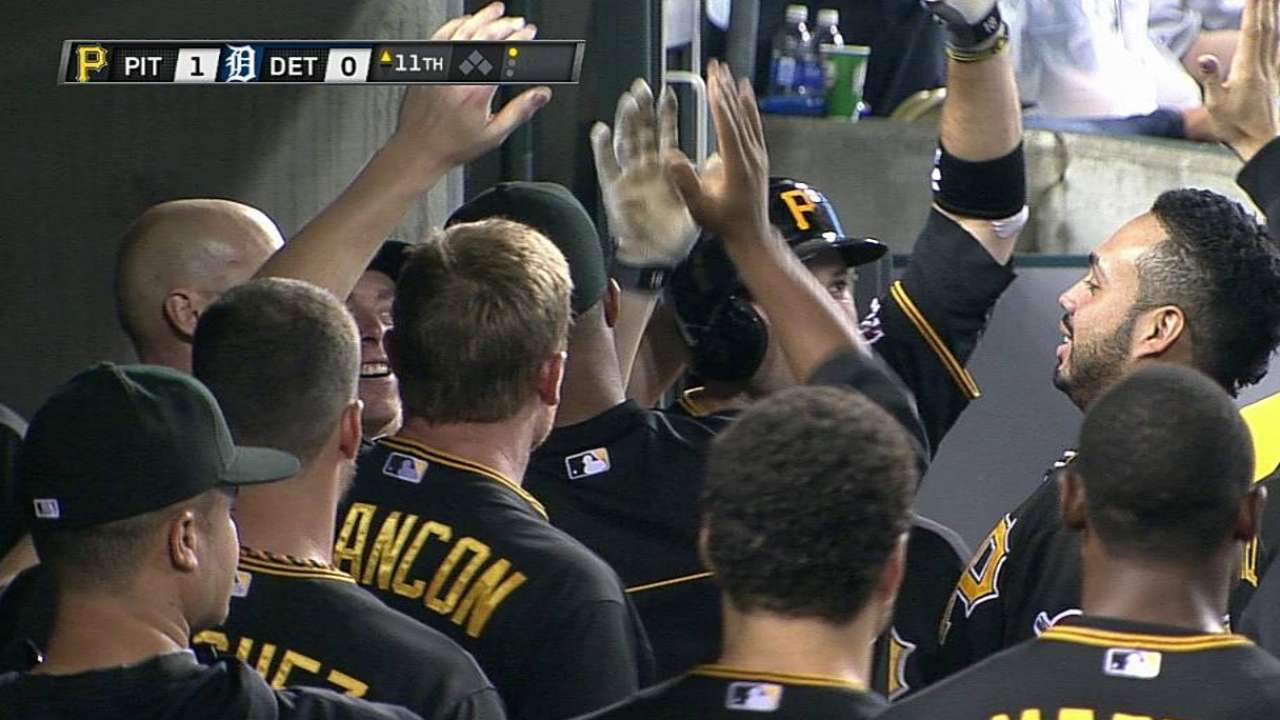 DETROIT -- If there is a pitching version of Wally Pipp, his name might be James McDonald. Pipp took a day off 90 years ago because of a headache, and Lou Gehrig turned it into a career. Discomfort in McDonald's shoulder three weeks ago gave Jeanmar Gomez a start, and Gomez does not seem willing to finish.
The 25-year-old right-hander's brilliance was the story of Tuesday night's Interleague game against the Tigers, especially after the Bucs translated it into a 1-0 victory on Neil Walker's 11th-inning home run.
"Awesome" is the way Walker described Gomez's work. "When you've got a guy sinking the ball and keeping the game going like he was, it makes the game fun. It was kind of like what their guy was doing to us."
Gomez was as unyielding through seven innings as he had to be to keep up with "their guy," right-hander Rick Porcello. Gomez blanked the Tigers on three hits, and Porcello did the same to the Pirates through eight innings that included a career-high 11 strikeouts.
But after the bullpens took charge, the Pittsburgh Kid connected for his third homer with two outs in the second extra inning off reliever Jose Ortega.
"He throws hard," Walker said of Ortega, who frequently dialed his fastball up to 97 mph in his two innings of work, "so I was getting ready early [in the at-bat], hoping he'd get one over the plate. I was fortunate to get one across the heart of the plate."
Walker sent the ball midway up the lower deck in right field and sent the Bucs home at the end of a 3-2 road trip. Not an insignificant achievement: Although the journeys have been of varying lengths -- from a 10-game trip to one four-game series in New York -- the Pirates have won three consecutive road trips for the first time since late 1992.
This 3-2 trek through the wilds of Milwaukee and Detroit followed the 3-1 raid of Citi Field from May 9-12 and the 6-4 tour of Philadelphia, St. Louis and Milwaukee from April 22 to May 1.
Gomez's accomplices were Justin Wilson, who put up two zeros; Mark Melancon, who earned the win by pitching the 10th; and Jason Grilli, who banked save No. 21 by taking care of the 11th.
This one was special for Grilli, and not only because he struck out both Miguel Cabrera and Prince Fielder for the final two outs.
"This is where I became a reliever," said Grilli, the former starter who was during his tenure with the Tigers (2005 to 2008). "I have a lot of great memories here. They have an unbelievable offense, a great lineup.
"But the only thing I'm thinking when I take the mound? 'Win the ballgame.' We've played so many tight games. Why was this different? These guys know that if they get a lead, the bullpen can do the job."
Gomez's seven innings kept him on the mound six outs longer than any of his prior starts this season. He went seven for the fourth time in his career. This latest revisited a favorite personal history: In his Major League debut, on July 18, 2010, he went seven innings against the Tigers, holding them to five hits and two unearned runs.
The game quickly developed into a stare down between Gomez and Porcello, who brought a 6.28 ERA to work. Neither wanted to blink, and their combined mastery produced a brilliant pitching showcase.
"My sinker was really good. That was a key," Gomez said. "I was able to make pitches to both sides of the plate. The way Porcello was pitching, it made me focus more. He was getting a lot of ground balls, just like me."
"[It] was a good ballgame, a tough game on both sides," Porcello said, "and we just ended up coming up a little bit short. A good baseball game. I felt really good, throwing everything for strikes, making good two-strike pitches."
Neither team managed to put two men on base in the same inning, or even advance a runner beyond first base, until both did so in the eighth.
Pedro Alvarez led off the Bucs' half with a single. and Travis Snider drew a one-out walk. In the home half, Omar Infante reached on a two-base throwing error by shortstop Clint Barmes with one out.
Neither threat led anywhere, resulting in the scoreless game being placed in the hands of each team's bullpen.
By the end of the sixth, Porcello had matched a career high, with eight strikeouts, something he had done three times before, but not since July 29, 2010. Through that sixth the 24-year-old had made 75 pitches, an economical 12 1/2 per inning.
Gomez was even more efficient. He needed only 55 pitches to get through five innings, which had been his previous wall. Thus able to see the sixth inning for the first time, he got even stingier, needing only seven more pitches for three more outs.
The Bucs' two-city road trip was extended by an hour and 13 minutes, the length of the rain delay that held up the start of the game without throwing Gomez off track.
The only thing to conclude is that Gomez definitely is not a creature of habit, as are most starting pitchers famous for rigid pregame routines. He had made what was expected to be his only start on May 1, stepping into the opening created by the release of Jonathan Sanchez, but was again given the ball a couple of hours before the May 7 game, when McDonald reported that his shoulder hurt too much to take the mound.
Gomez blanked Seattle on two hits for five innings that night, and was off and running.
Tom Singer is a reporter for MLB.com and writes an MLBlog Change for a Nickel. He can also be found on Twitter @Tom_Singer. This story was not subject to the approval of Major League Baseball or its clubs.