Twins draft college catcher Turner in third round
Twins draft college catcher Turner in third round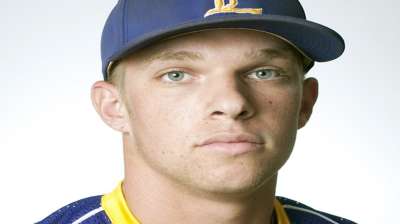 After taking two right-handers early, the Twins picked up a defensive catcher in Stuart Turner with their third-round pick (No. 78 overall) of the First-Year Player Draft on Friday.
Turner spent his first two college seasons at LSU-Eunice, helping the Bengals win the 2012 Division II junior college national championship. Then, in just one season after transferring to Mississippi, Turner established himself as the best catcher in the SEC.
The 6-2, 200-pound catcher excels defensively, earning high marks for his plus arm and receiving skills. Turner's impressive work behind the plate was enough to garner Gold Glove honors among Division II junior colleges last year.
"He has advanced catch skills," scouting director Deron Johnson said. "He's a really good receiver, he can throw, he's got a big durable body. He swings the bat enough. We think he's got the chance to be an everyday catcher in the big leagues."
His offense, however, is not as well regarded. Turner regularly puts the ball in play, but scouts worry that he doesn't make hard contact consistently enough. He batted .374 with 51 RBIs and five home runs in 2013.
"Defense is obviously his greater strength right now," Johnson said. "There's a mixed bag in our camp actually. Some guys think he'll have a little more power than average, and some people think he'll hit for more average than power. We'll see as he starts his career and we'll follow him."
In the Pipeline
Heading into the draft the Twins weren't shy about their need for pitchers -- and it showed early with six out of their first 10 picks spent on hurlers.
The Twins currently have five pitchers among their top 10 prospects -- righties Alex Meyer, Kyle Gibson, Trevor May, Jose Berrios and J.T. Chargois.
As general manager Terry Ryan noted in the days leading up to the Draft, teams always need pitchers and catchers, but the Twins also draft with the philosophy of taking what's best available -- it just turned out what was best available was also a happy union with filling their current needs.
Kelly Erickson is an associate reporter for MLB.com. This story was not subject to the approval of Major League Baseball or its clubs.