Eight hopefuls to be present on Draft's first night
Potential early-round picks make up event's largest group of attendees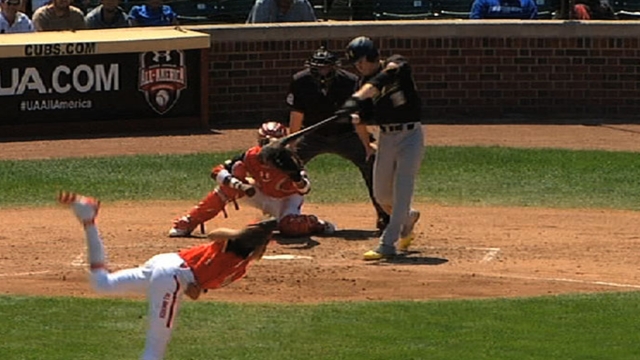 When the First-Year Player Draft begins on June 6, eight players will be in MLB Network's Studio 42 eagerly waiting to hear their names called, Major League Baseball confirmed Tuesday. It is the largest group of potential draftees to attend the broadcast, breaking last year's mark of five.
The group includes six high school players, one junior college shortstop and a college outfielder. All eight of the players are expected to be picked on the Draft's first night, and each of them is ranked in MLB.com's top 40 Draft prospects.
"Major League Baseball is very pleased with the turnout for this year's Draft," Commissioner Bud Selig said. "We look forward to showing these young men and their families a memorable evening, on such a special occasion in their lives, with the many accomplished baseball figures who will represent our 30 clubs at MLB Network's Studio 42."
2013 draft order
The order of the first round of the 2013 First-Year Player Draft:
No.
Team
1
Astros
2
Cubs
3
Rockies
4
Twins
5
Indians
6
Marlins
7
Red Sox
8
Royals
9
Pirates

(M. Appel - unsigned)

10
Blue Jays
11
Mets
12
Mariners
13
Padres
14
Pirates
15
D-backs
16
Phillies
17
White Sox
18
Dodgers
19
Cardinals
20
Tigers
21
Rays
22
Orioles
23
Rangers
24
Athletics
25
Giants
26
Yankees
27
Reds
28
Cardinals

(Comp for K. Lohse)

29
Rays

(Comp for B.J. Upton)

30
Rangers

(Comp for J. Hamilton)

31
Braves

(Comp for M. Bourn)

32
Yankees

(Comp for N. Swisher)

33
Yankees

(Comp for R. Soriano)
Headlining the group of high schoolers is outfielder Clint Frazier of Loganville High School in Georgia, who is projected to be a top 10 selection. He is joined by fellow prep stars catcher Nick Ciuffo of Lexington High in South Carolina, shortstop J.P. Crawford of Lakewood High in California, catcher Jon Denney of Yukon High in Oklahoma, outfielder Billy McKinney of Plano West Senior High in Texas and first baseman Dominic Smith of Junipero Serra High in California.
Fresno State outfielder Aaron Judge is the lone college player who will attend the Draft. Shortstop Tim Anderson of East Central CC in Mississippi is the only junior college representative.
The 2013 First-Year Player Draft will take place June 6-8, beginning with the Draft preview show on MLB.com and MLB Network on Thursday at 6 p.m. ET. Live Draft coverage from MLB Network's Studio 42 begins at 7 p.m., with the top 73 picks being streamed on MLB.com and broadcast on MLB Network. Rounds 3-10 will be streamed live on MLB.com on Friday, beginning with a preview show at 12:30 p.m., and Rounds 11-40 will be streamed live on MLB.com on Saturday, starting at 1 p.m.
MLB.com's coverage includes Draft Central and the Top 100 Draft Prospects list. You can also keep up to date by following @MLBDraft on Twitter. And get into the Draft conversation by tagging your tweets with #mlbdraft.
Frazier said his whole family is looking forward to attending the Draft to see the culmination of his hard work.
"It was a very easy decision for me to accept the invite," Frazier said. "It's something I'll never get to experience again."
Smith agreed with Frazier and said he is happy to be among the players invited to this year's Draft.
"Being drafted to play professional baseball is something you dream about your whole life," Smith said. "I'm just thankful to have the opportunity to go to New York and take in the full experience. I can't believe it's almost here."
A loss in the Mountain West Tournament last Friday ended Fresno State's season earlier than Judge would have liked, but a few days later he was happy to accept an invitation to attend the Draft with his family.
"It's a once-in-a-lifetime opportunity," Judge said. "We are really looking forward to the experience."
All of the players headed to New York for the Draft have had long journeys to reach this point in their baseball careers. They played in countless games, tournaments and showcases leading up to the final event.
After all the games and practices, Frazier said he is excited to find out what team will ultimately pick him.
"I'm looking forward to getting the wait over with," Frazier said. "The whole not knowing part, it's eating me up inside. After I get selected, I'm ready to work on my overall game, become a better player and make it to the big leagues as fast as I can.
"I just want to know who's going to choose me. It's not that I'm nervous. I'm very antsy to get out and play and finally start my pro career."
Teddy Cahill is a reporter for MLB.com. Follow him on Twitter at @tedcahill. This story was not subject to the approval of Major League Baseball or its clubs.