Homers haunt Gausman as O's fall to Nats in DC
Righty allows three long balls, seven runs over four innings in loss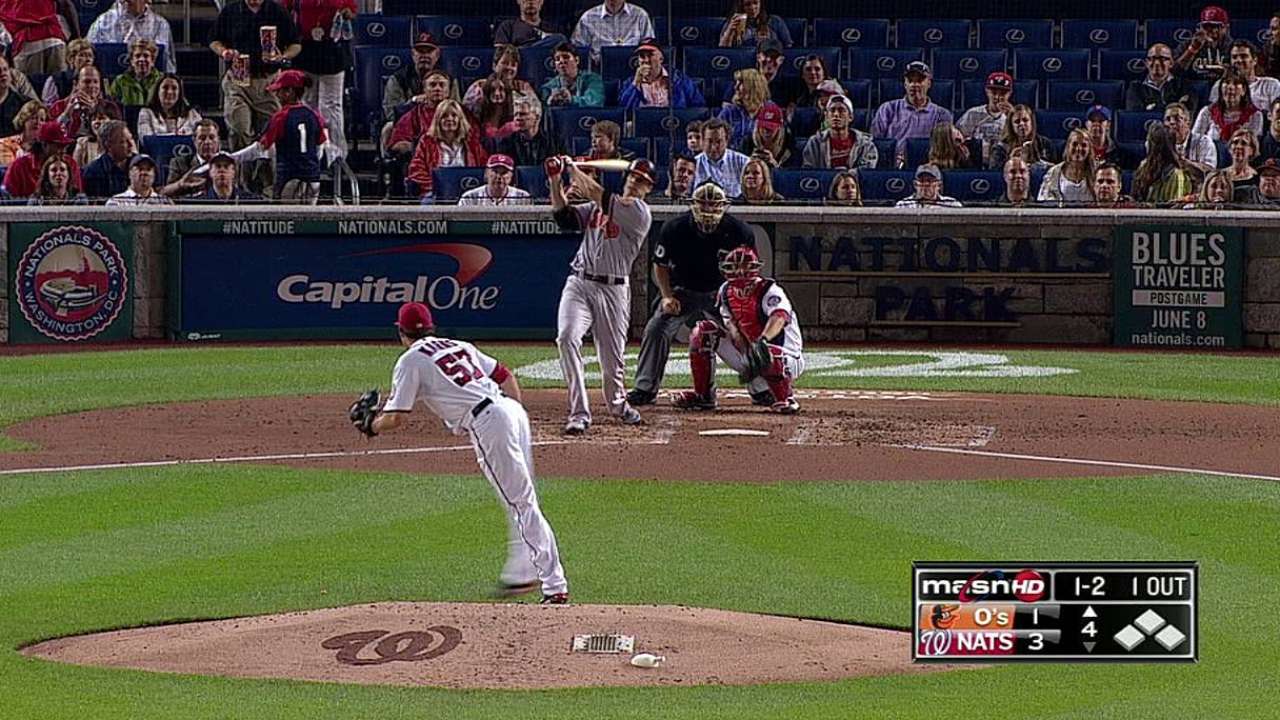 WASHINGTON -- With a pair of rookies on the mound who just two weeks ago were traveling by bus at Double-A, Orioles manager Buck Showalter cheekily reminded reporters Tuesday afternoon that Kevin Gausman -- he of one prior Major League start -- was the veteran.
But the 22-year-old Gausman, who worked his nerves out in Thursday's debut in Toronto, didn't look polished or composed Tuesday night. Instead, the young right-hander was knocked around in a four-inning outing resulting in seven runs by a Nationals lineup missing superstar Bryce Harper. Gausman -- outpitched by 25-year-old Nathan Karns in his big league debut -- put Baltimore in a hole it couldn't get out of, resulting in a 9-3, series-evening loss in front of 35,664 at Nationals Park.
The defeat, which snapped a franchise-record 10 consecutive road games in which the Orioles had scored at least five runs, marked the fifth time in six games the team's starter has failed to go six innings. It also begged the question: Will Gausman get another chance?
"Sure," Showalter said when asked to confirm Gausman would make his next start.
"There's nights when guys who have been here for a while struggle. Pitching in the big leagues is hard. And he's got the talent to do it, and eventually he will. And I look forward to it being next time out. He knows mistakes get magnified here. But it's part of the process, both the young pitchers tonight. You can see why they like [Karns] and you can see why we like ours, and we'll continue down the process."
The highly touted Gausman, promoted from Double-A after just eight Minor League starts, has allowed 11 earned runs on 15 hits in his first two games. On Tuesday, six of Gausman's seven runs came via the homer, and he's now allowed four long balls over his first nine Major League innings.
"He's got great stuff. He's a great arm," catcher Matt Wieters said of Gausman, who was selected as the fourth overall pick in last year's First-Year Player Draft. "He's going to get where we want him to get. It's just not going to be a perfect plan."
Gausman's next start is lined up for Sunday against a power-laden Detroit team that entered Tuesday leading baseball in several offensive categories, including hits and runs scored, and Showalter affirmed Gausman will pitch against the Tigers.
"That's something that's up to them, but obviously it shows that they have a lot of faith in me," Gausman said. "My confidence is still there and I know that I have the pitches to be there. I just need to be more consistent with them and just try to get better, and just try to attack the bottom half of the zone."
Gausman couldn't keep the ball down consistently enough Tuesday and paid dearly for it. After allowing back-to-back one-out singles in the first inning, Adam LaRoche drilled a 2-0 fastball over the right-center-field fence to give the Nats a three-run lead.
Gausman issued a leadoff walk to LaRoche in the fourth and hung an 0-2 slider to Tyler Moore, who sent it into the Orioles' bullpen for a two-run homer. Three pitches later, Roger Bernadina followed with a solo homer.
Asked how he will go about getting back to ground balls, Gausman said: "I don't know. Right now, I'm trying to find that feel. That's something that I've kind of had my entire career. I've been able to get a lot of ground-ball outs and I've been really good pounding the lower half of the zone. That's something that, going forward, is something I've got to try to get back."
Kurt Suzuki singled following Bernadina and Denard Span doubled him in to complete the four-run fourth and spell the end of Gausman's night. The right-hander was lifted in the top of the fifth for pinch-hitter Steve Pearce, suffering his second loss in as many starts.
"This much elevation on a fastball is the difference," Showalter said, using his fingers to illustrate the miniscule margin for error on baseball's biggest stage. "When he got it down a few times, there were not very good swings off him. Command of the breaking ball wasn't -- the changeup wasn't as good as it's going to be for him. He'll get these two games under his belt, and smart guys and competitive people like he is, they sit back and take it in. And he'll get better."
"There's going to be a learning curve," added Wieters. "Everybody in this game, including myself are still adjusting every game that we're out there.
"This team, we're going to treat him just like everybody else and try and find a way to make him the best he can be, and the team the best it can be."
Karns didn't last much longer than Gausman, going 4 1/3 innings and allowing three runs on five hits and a pair of walks.
The O's got on the board in the second when Wieters doubled in Chris Davis from first and moved to third on J.J. Hardy's hit. But Karns struck out Yamaico Navarro and Gausman to strand runners on the corners.
In the fourth, Davis brought the O's within a run, launching a 1-2 pitch into the Nationals' bullpen for his Major League-leading 17th homer. Hardy followed one out later with a solo homer to tie the game at 3.
But that was all the Orioles would get, as Baltimore mustered up one hit over the next 2 2/3 innings after Karns exited. The offense threatened in the eighth with a pair of singles from Nate McLouth and Manny Machado off Tyler Clippard, but the right-hander got a trio of flyouts to keep the O's off the board.
Lefty Troy Patton, after a 1-2-3 seventh, surrendered a pair of runs in the eighth, while Rule 5 Draft pick T.J. McFarland tossed two scoreless frames following Gausman.
"I know that my stuff plays here," said Gausman, who indicated several times that he won't let the early struggles get him down. "When I came out, [fellow starter Jason] Hammel came up to me, he talked about his debut and all the struggles he's been through in his career. That's good to know these guys feel like I belong here."
Brittany Ghiroli is a reporter for MLB.com. Read her blog, Britt's Bird Watch, and follow her on Twitter @britt_ghiroli. This story was not subject to the approval of Major League Baseball or its clubs.