Astros on short end with Rockies' late heroics
Lyles goes seven strong innings, but offense sputters in series finale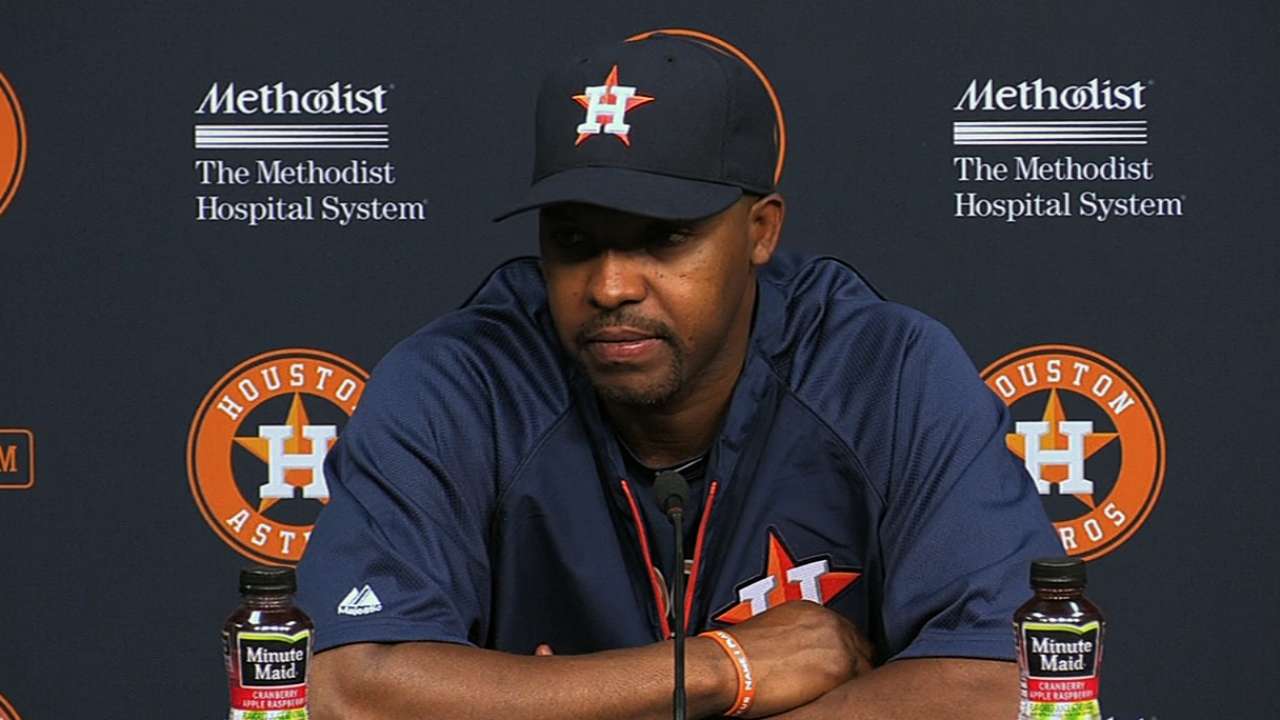 HOUSTON -- Astros starter Jordan Lyles was toying with disaster, allowing the Rockies to load the bases with none out in the fourth inning on Tuesday. His pitch count was already over 70 and there was commotion in the bullpen.
Simply put, it was gut-check time.
Lyles escaped the jam by getting a swinging strikeout and a double play, and he wound up turning in his strongest start of the season, though it wasn't enough to rescue the Astros. Michael Cuddyer's RBI single in the ninth off Jose Veras sent the Rockies to a 2-1 win at Minute Maid Park.
It was a frustrating loss for an Astros team that had a chance to win both in the brief two-game set here, but watching the 22-year-old Lyles allow one run and six hits in a season-high seven innings was certainly a bright spot for the rebuilding club.
"Today was what you call a graduation," Astros manager Bo Porter said. "That was pretty good. I told [Lyles], I said when we talked earlier in the year, 'There's going to come a point in time [when] we're going to ride you,' and today was that day. He answered the call."
Left-hander Wesley Wright threw a scoreless eighth in relief, and Veras started the ninth by allowing a leadoff double to Troy Tulowitzki. He moved to third on a wild pitch and scored seconds later, when Cuddyer lined a single to left.
"I know Veras loves his curveball, and his first three pitches were that," Cuddyer said. "I was sitting 1-2 with a man on third. I had a good feeling another one was coming. I was fortunate enough to get good wood on it over the third baseman's head."
Lyles was a near lock to make the starting rotation entering spring camp, but he struggled all of March and began the season at Triple-A. The young righty has improved steadily since his return, and he has allowed one earned run in each of his last three starts while posting a 1.50 ERA.
"I wasn't settling for anything less than seven innings, because we needed those guys healthy in the bullpen," Lyles said. "I wanted to get eight, but in the first and fourth, I probably threw 20, 25, 30 pitches. The second was crucial. I was less than 10 pitches, I'm sure, and when it came down to it, we made pitches when we had to."
Before throwing a shutout in his final start of last season, Lyles was a model of inconsistency and often had trouble escaping the fifth inning. In addition to the fourth inning on Tuesday, he survived a bases-loaded jam in the first inning by allowing one run and benefited from three more double plays by the Astros' defense.
"I think he's learned from his time last year, I think he's learned from early on this year and he was able to make quality pitches to get out of some tough jams, and get the big strikeout when he needed it and the ground-ball double play," Porter said.
No play was bigger for Lyles than what shortstop Ronny Cedeno did in the third inning.
With runners at first and third and one out, Tulowitzki hit a shallow pop fly into left-center, but Cedeno made a terrific over-the-shoulder grab and fired home to catch Nolan Arenado trying to score from third.
"That's a great play," Porter said. "Not only the catch, but the wherewithal to get rid of the ball at the speed at which he got rid of the ball, and the accuracy of the throw. If that's in the Olympics, you're judging it at a 10."
Cedeno said he heard left fielder J.D. Martinez yelling at him to throw home, and he whirled and threw without even getting his feet under him.
"I don't know how I made the play," Cedeno said. "Just run, see the ball and catch it. It's hard timing to make the play, but I give credit to Jordan. He threw a great game today and it was very frustrating how we lost the game. We have to keep going and playing hard and I think we played great baseball today and played good defense."
Rockies starter Jorge De La Rosa matched Lyles by throwing seven innings, allowing just one run and five hits. The only run the Astros managed came in the fourth inning, when Chris Carter plated Carlos Corporan from third base on a fielder's choice. Houston was 0-for-2 with runners in scoring position.
"They pitched well, but I thought we swung the bats pretty well, too, as far as making hard contact, but we couldn't capitalize," Astros designated hitter Carlos Pena said. "We had our situations, but I think today is one of those games we just got beat. I don't think we beat ourselves that much. Those are the ones that are tough to take."
Brian McTaggart is a reporter for MLB.com and writes an MLBlog, Tag's Lines. Follow @brianmctaggart on Twitter. This story was not subject to the approval of Major League Baseball or its clubs.