Tulo, Cuddyer double up to take down Astros
Rockies split two in Houston before teams reconvene at Coors Field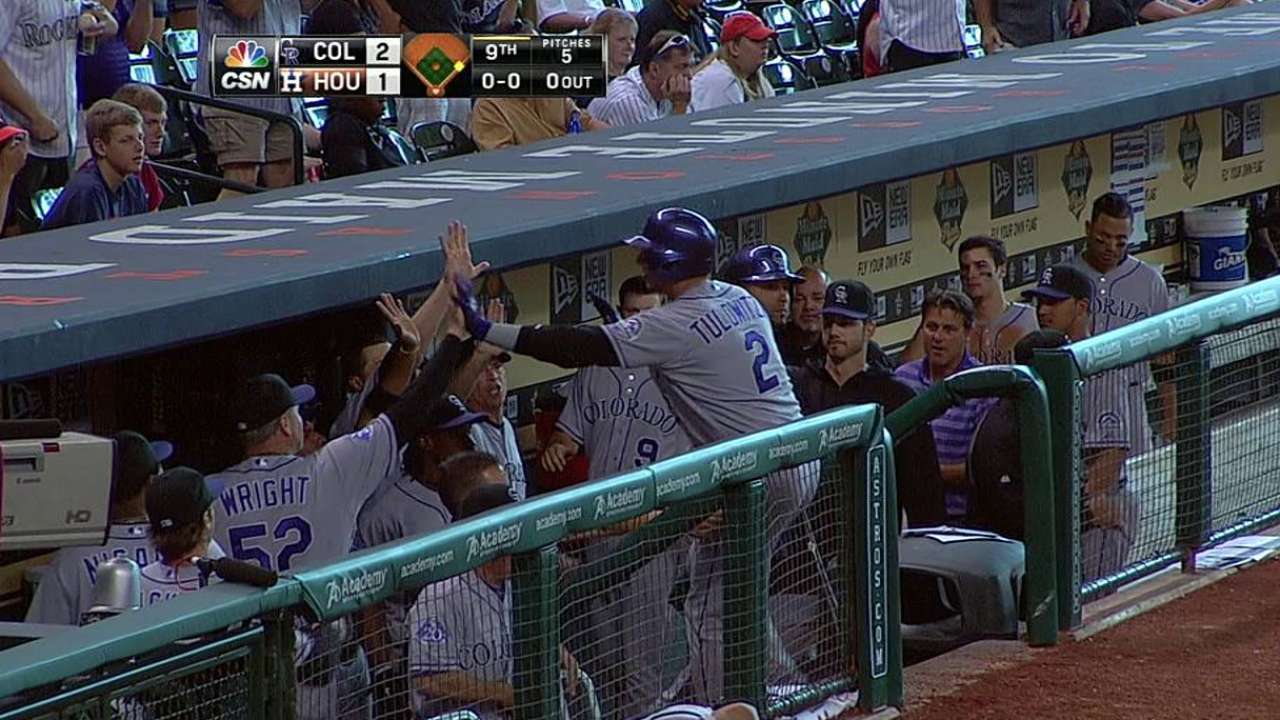 HOUSTON -- Rockies right fielder Michael Cuddyer could barely grip a bat a few days ago, much less rip a go-ahead single.
Not even 48 hours after he was plunked on his right wrist against the Giants, Cuddyer did just that, breaking a stalemate in the ninth inning of a pitchers' duel as the Rockies edged the Astros, 2-1, on Tuesday afternoon at Minute Maid Park.
"It doesn't surprise me with Cuddy," Rockies manager Walt Weiss said. "He's always looking to answer the bell. I'd say maybe a little more than 24 hours ago, I didn't think he'd be playing this early. He's just tough."
The Rockies improved to 7-8 in one-run games this season, while snapping a three-game skid as they head home for two more games against the Astros on Wednesday and Thursday before the Dodgers come to Coors Field for a weekend series.
With the score deadlocked at 1, shortstop Troy Tulowitzki opened the ninth inning with a double off Houston closer Jose Veras. A wild pitch moved him over to third and Cuddyer delivered the heroics, lining a hit just out of the reach of Astros third baseman Matt Dominguez that prevented a third extra-inning game in four days for Colorado.
"I know Veras loves his curveball, and his first three pitches were that," Cuddyer said. "I was sitting 1-2 with a man on third. I had a good feeling another one was coming. I was fortunate enough to get good wood on it over the third baseman's head."
Cuddyer didn't start Monday's game, pinch-hitting in extra innings as he rested his wrist, which swelled overnight on Sunday. Weiss wasn't even sure he wanted to play Cuddyer until the veteran convinced him when they arrived at the ballpark on Tuesday.
"It's sore and swollen," Cuddyer said of his injured forearm. "Fortunately, where I got hit, the one thing that doesn't bother me too much is swinging. Everything else isn't too great, but I got lucky there. It was good enough for me to come through."
Cuddyer finished 3-for-4 with the all-important RBI.
Looking for his fifth consecutive win, Rockies starter Jorge De La Rosa completed a spectacular month on the mound by striking out four and spreading five hits over seven innings of one-run ball.
"We were thin in the bullpen after a few extra-inning games, and Jorge gave us exactly what we needed," Weiss said. "We needed some length from him, and he kept those guys in check. That was huge."
De La Rosa threw 110 pitches, the most by any Rockies pitcher this season, and enticed the Astros into 10 ground-ball outs.
"I was feeling pretty good. The velocity stayed there all game long," De La Rosa said. "Every pitch was working good and staying low in the zone. I wasn't tired."
The lefty finished May with an ERA of 2.09 (30 1/3 innings, seven earned runs) and a 4-0 record in five starts.
The early innings resembled Monday's discouraging 12-inning loss, when the Rockies left 15 runners on base.
Colorado nabbed a 1-0 lead in the first inning for the second straight day after a Tulowitzki infield single ricocheted off the foot of Astros starter Jordan Lyles and past first base, scoring Dexter Fowler from second. Tulowitzki went 2-for-4 and has hit safely in 17 of his last 18 games against Houston, while compiling 16 RBIs.
The Rockies had several chances to extend the lead on a struggling Lyles, starting in the third inning.
Fowler led off with a walk, while Nolan Arenado replaced him at first after a fielder's choice and ended up on third when Carlos Gonzalez singled him over. Tulowitzki popped up to shallow left and Astros shortstop Ronny Cedeno made an over-the-shoulder catch before throwing out Arenado at home plate.
The fourth brought more frustration, as the Rockies loaded the bases with none out off two hits and a walk. But catcher Yorvit Torrealba struck out swinging and second baseman DJ LeMahieu grounded into a 4-6-3 double play. It was the second straight game that Colorado had loaded the bases with none out and failed to score.
"Even though were definitely frustrated again, the bottom line is we found a way to win," Weiss said. "You never like leaving the bases loaded, but it was rewarding to struggle and still battle to pull a close game out."
The Astros evened things in the bottom of the fourth. De La Rosa hit the first two batters -- Jose Altuve was caught stealing at second -- and J.D. Martinez's double put runners at second and third.
Chris Carter followed with a sharp grounder at Arenado, who spun and airmailed a throw over the head of Torrealba at home. De La Rosa induced a double play to quell the Houston threat.
"I just made a mistake on that double and left a ball on the plate," De La Rosa said. "I got a little mad and then found some better pitches."
Lyles settled down after that, needing only 31 pitches to retire the Rockies in the next three innings. The Rockies scored a mere four runs during the two games in Houston despite putting 29 runners on base and pounding out 21 hits.
The teams combined to hit into five double plays during the finale. Houston leads the American League in double plays turned with 67, while Colorado has turned 47.
Chris Abshire is an associate reporter for MLB.com. This story was not subject to the approval of Major League Baseball or its clubs.