Toronto's taxed 'pen pushed over the edge in 10th
Right-hander Morrow pulled after two innings with forearm soreness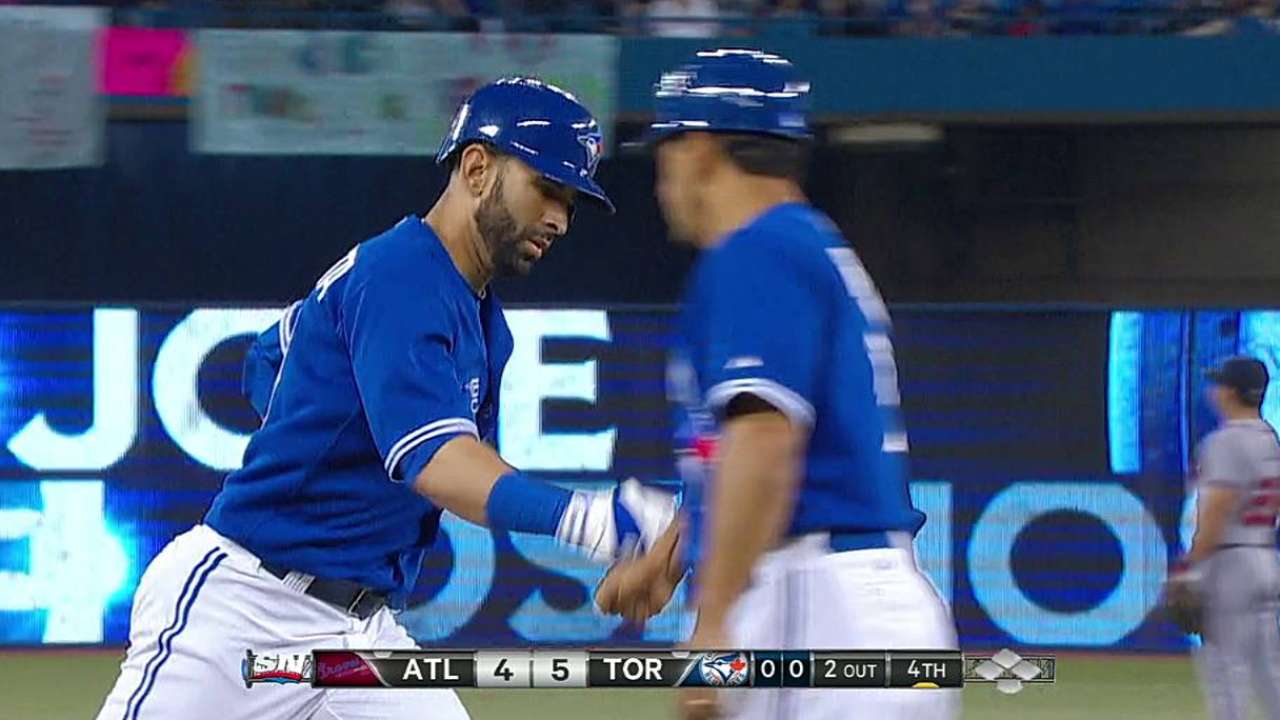 TORONTO -- The Blue Jays' bullpen has been pushed to the brink on multiple occasions this year, and on Tuesday afternoon, it finally went over the edge.
Toronto's relief corps has been one of the most overworked groups in baseball, and while it put up an admirable fight against the Braves, the club eventually ran out of gas.
Right-hander Thad Weber was forced into action for the third consecutive day, and the end result was a game-winning home run off the bat of Atlanta's Brian McCann in the Blue Jays' 7-6 loss in a matinee affair at Rogers Centre.
"It's part of baseball. You deal with it," manager John Gibbons said. "You just try and win the game. Everybody that you have on your team, they're here for a reason and you think they can help you win, and you just go with whatever you've got."
The Blue Jays' bullpen has now thrown 189 1/3 innings this season, which trails only Houston for most in the Major Leagues. Steve Delabar, Brett Cecil, Aaron Loup and Esmil Rogers all rank in the top 10 in innings pitched by American League relievers, and while their performance has been consistent, there's only so much they can be expected to do.
Tuesday's game against the Braves marked another long day at the ballpark for Toronto's relievers. Starter Brandon Morrow was able to pitch just two innings before he was removed from the game because of soreness in his right forearm.
That left a lot of work still to be done. Right-hander Ramon Ortiz got things started with three solid innings out of the 'pen, until he surrendered a pair of back-to-back homers in the sixth to McCann and Evan Gattis.
Loup, Cecil and Delabar then combined to throw four scoreless innings, but with the game tied at six and extra innings looming, Gibbons looked at his list of available pitchers and realized there weren't many left.
"[Delabar] has been throwing a lot lately. Loup's been throwing a lot lately. They all have." Gibbons said after his club's third loss of the season in extra innings. "We had that stretch of seven to 10 days where nobody was pitching, with a couple of off-days and things. Now they're all pitching.
"That's what happens when your starters get knocked out, things don't go well, or a couple of guys are down."
When the game headed into the 10th inning, there were only three pitchers who were yet to enter the game. The first, Brad Lincoln, was unavailable after having thrown a pair of innings against Atlanta on Monday. The second, Casey Janssen, is still in the process of recovering from offseason shoulder surgery.
Janssen hadn't pitched since Wednesday, and he had only thrown two innings since May 12, but some of the work that doesn't show up in the box score had taken an additional toll.
"I knew today wasn't going to be the day," Janssen said. "I went through a little bit of a run there where I was up [in the bullpen] pretty much every night.
"I don't think it's anything major. It just makes me remember that I did have a procedure in the offseason, and this thing isn't 100 percent yet. It's on the road to getting there. I wouldn't even call it a bump in the road, it's just unfortunately an off-day."
Weber threw just one pitch before McCann recorded the go-ahead run with his second homer of the afternoon. Atlanta's designated hitter sent a 1-0 fastball over the wall in right-center field.
After using so many pitchers on Tuesday, the Blue Jays had no choice but to make a pair of roster moves after the disappointing loss. Weber was optioned to Triple-A Buffalo, while the veteran Ortiz was designated for assignment.
That will provide a couple of fresh arms that may be desperately needed with Rogers set to make a fill-in start on Wednesday. Getting five innings out of Rogers would be considered a positive sign, considering his amount of time in the bullpen, but that's what it has come to for a staff ravaged by injuries.
Starters Josh Johnson and J.A. Happ remain on the disabled list, but the hope is that Morrow won't join them. Toronto's No. 2 starter had his day come to an early end, but the righty expects to make his next scheduled start.
"I didn't know how it was going to be until I got out there," said Morrow, who allowed four runs (two earned) on four hits in his two innings. "It felt loose yesterday, but not real explosive. But I had a lot of work done on it, so that can dampen the feeling in the muscle activity a little bit, but I was hopeful it would be OK."
The disappointing finish overshadowed another strong day at the plate for Toronto. The Blue Jays scored four in the first inning off left-hander Paul Maholm on a trio of doubles off the bats of Edwin Encarnacion, J.P. Arencibia and Mark DeRosa. Colby Rasmus also chipped in with a run-scoring single to cap the early rally.
Toronto added another run in the fourth on a solo home run by Jose Bautista. Despite that, the club found itself trailing by one in the seventh, until Bautista doubled and came around to score on yet another double by Arencibia.
That was it for Toronto, as Maholm struggled early, but did enough to survive before the Braves' bats eventually took over. Maholm was charged with five runs on 10 hits, and he walked one, but he came away with the no-decision.
"They're pretty good," Maholm said of McCann and Gattis. "Obviously, they are good behind the dish, but they are both power threats. ... It's fun to watch. It's good to get to sit ... and watch those guys take some big hacks."
The Blue Jays missed out on their opportunity to take both games, but will have a second chance Wednesday when the club heads to Atlanta with some fresh arms for two more contests.
Gregor Chisholm is a reporter for MLB.com. Read his blog, North of the Border, and follow him on Twitter @gregorMLB. This story was not subject to the approval of Major League Baseball or its clubs.