Padres fans battle for cash on latest 'Bucks'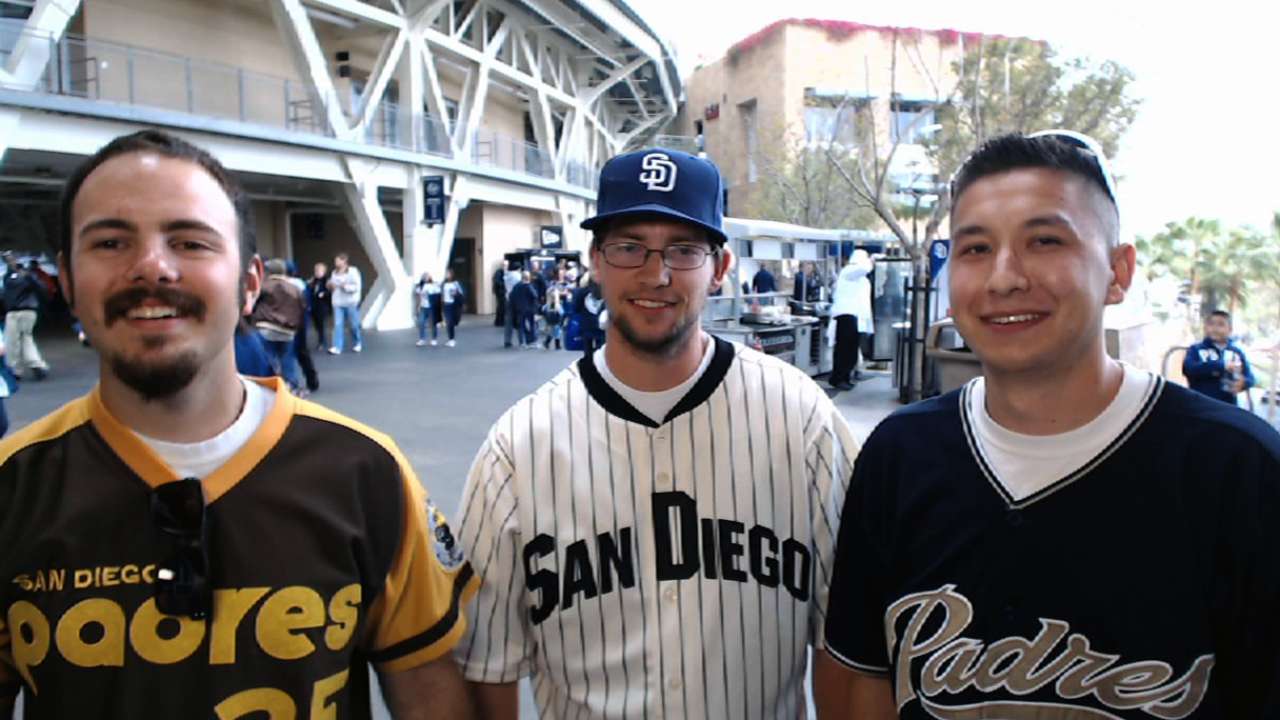 Will DeFelice, Daniel Penny and Nathan Bennett all live in San Diego, where they have worked government contracts doing communication and combat systems for the U.S. Navy.
The three Padres fans have not seen as much of each other since Bennett welcomed a son named Liam into his family a couple years back. But the trio was back together at Petco Park for a game earlier this season -- each of them wearing a different style of Padres jersey -- when MLB.com invited them to be on its game show "Bucks on the Pond."
"Personally I try to catch a few Padres games throughout the season," Bennett said Monday night in an email to MLB.com, "but you caught us getting together for a 'reunion' after about a year of not seeing each other."
We won't say whether this episode eight reunion resulted in another big "Bucks" win or the first season 2 strikeout, but let's just say that the game taught them about the importance of communicating.
"Bucks" is hosted by Jeremy Brisiel, and you might be a part of it this season when you least expect it. Fans at the ballpark interact with MLB.com's studio through the magic of technology in conjunction with game action inside. In creating a new experience for fans, MLB.com is giving people a chance to earn bucks while they spend bucks at the ballpark.
Contestants are asked a trivia question -- general knowledge and baseball -- on each pitch during a half-inning of baseball. Get the question correct and win money. Get the question wrong and it's a strike. Three strikes and you're out.
The questions' difficulty and value increase with the number of outs in the on-field action: $5 easy questions to start, $10 medium-difficulty questions after one out, $20 hard questions after two outs. If the contestant lasts longer than the team's at-bat, they win the bucks in their bank.
Topics covered in the latest episode included musical arrangements, Padres All-Star history, furniture, menswear, Elvis Presley, U.S. Constitution, world geography, vice presidents, bestselling authors, Latin, Padres pitching stats, German numbers, U.S. literature, Greek mythology, explorers and grain.
"It was great getting back together since it's been a while, so we had a lot of catching up to do -- but mostly drinking at the game," said Bennett, who also goes to San Diego Chargers games with his buddies and also joined them at a Padres-Nationals game (subsequent to the "Bucks" game) during the last homestand. "The game show was a big plus."
So what if he thought Poseidon was Ariel's father in "The Little Mermaid?" When asked if he would recommend that other fans join the "Bucks" set, Bennett said enthusiastically: "Absolutely -- if you aren't a party pooper."
It was the second show of the season involving Padres fans, following episode 3, in which Kristen Arena and her boyfriend, Daniel Vinton, scored 170 bucks from MLB.com.
The "Bucks" crew has been to more than half of all Major League ballparks and is working its way through the full list. In addition to the Padres, teams visited include the Angels, Astros, Athletics, Cardinals, Cubs, Dodgers, Giants, Marlins, Red Sox, Reds, Royals, Orioles, Tigers, White Sox and Yankees. Bookmark MLB.com/bucks and be on the lookout for the "Bucks" crew at your ballpark.
Mark Newman is enterprise editor of MLB.com. Read and join other baseball fans on his MLB.com community blog This story was not subject to the approval of Major League Baseball or its clubs.