Hurlers must get crafty at point when velocity dips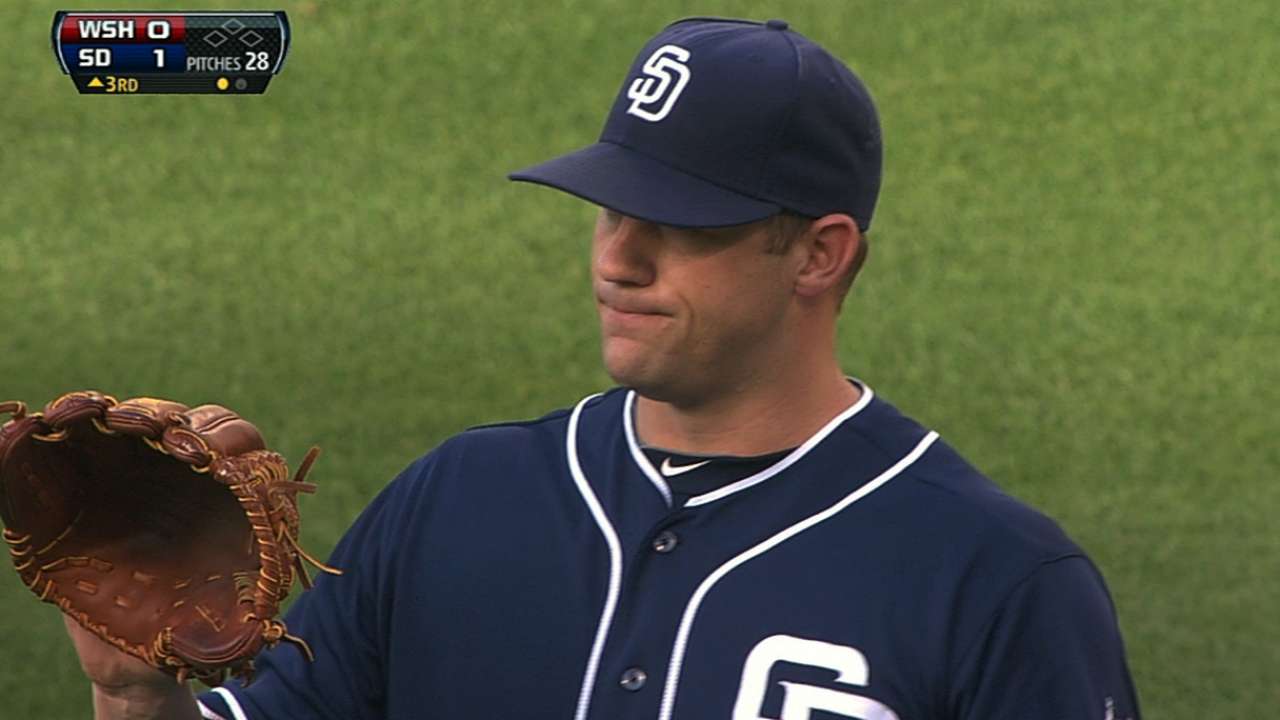 SAN DIEGO -- Velocity is in style right now. It's what fans come to the park to see from their favorite pitchers. It's what gets power arms on more highlight reels than finesse arms.
But there comes a point in every pitcher's career when the numbers on the radar gun begin to dip. What was once a velocity-based advantage becomes -- at best -- a wash.
Some pitchers can't adjust. The withdrawal from the velocity they've grown accustomed to is simply too much to overcome. Other pitchers go about their business as if nothing changed -- except a few numbers on a scoreboard, of course.
So what's the difference? What's the key to sustaining success on the mound after that inevitable drop in velocity that comes with age? There are infinite theories, and no two baseball minds are completely alike on the issue.
But there's one piece of the equation that just about everyone agrees upon.
"I think you can tell a lot about a pitcher's career path by their mind -- how they think, how they compete -- things that you talk about in a competitive conversation," said Padres manager Bud Black, who posted six sub-four ERA seasons after he turned 30. "You learn a lot about [a pitcher] and how good or long of a career that they're going to have based on a number of intellectual factors."
It's generally agreed upon that mental makeup is the most important aspect in adjusting to a velocity dip. It seems you can't overcome one if you don't have the mental capacity to make the necessary changes in approach.
But it isn't the only factor. There are a few more tangible indicators of which young pitchers may be able to last when they can no longer throw "heat."
Padres right-hander Eric Stults is one of baseball's prime examples. He hasn't just dealt with a loss of velocity. He's used it to his advantage. Stults' fastball has averaged 86.4 mph this season compared with a 90.6 average in 2011.
Stults has plenty of theories as to which types of pitchers have the best chance to succeed when father time takes over. He isn't much of a fan of conventional pitch definitions. If a hurler has a good inside fastball, a blazing high fastball and a solid fastball on the outside corner; to Stults those are three separate pitches. Whoever masters the most spot-pitches has the best chance to succeed later on, he says.
He's also a believer in mixing fastball velocities -- a method of pitching that is debated among pitching minds.
"Early in my career, I wasn't overpowering, but I tried to throw my best fastball every pitch," Stults said. "I would have outings where I could locate it, but then I'd have outings where I couldn't locate the pitch. I'd get hit around, and I'd wonder why. Over the years, I've learned location is a big part of it. Changing speeds is a bigger part of it."
Stults' own pitching coach isn't in total agreement. Darren Balsley, one of the game's more respected pitching minds, says that while changing speeds is useful, he'd prefer his pitchers stick to one speed -- top speed -- on their fastballs (while still locating to all parts of the plate, of course).
In his opinion, the best indicator of whether a pitcher can succeed as his velocity wanes is mix of pitches -- and the ability to use more than one weapon in any situation.
"The guys who can still pitch and make pitches are the guys who can command their fastball and have secondary pitches and can use them at any time," Balsley said. "That's why secondary pitches are so important to develop. You don't necessarily need secondary pitches when you're young and throwing 95. You can be a two-pitch pitcher in the big leagues. But the guys who have weapons -- three pitch pitchers or even four -- those are the guys who usually make that transition a little more easy."
Yankees ace CC Sabathia appears to be in the midst of that transition. In 2009 -- the year he helped lead the Yankees to their 27th World Series title -- Sabathia averaged 94.2 mph on his fastball. As recently as 2011, he posted a 93.8 mark. This year? He's at 89.9.
"I probably would have been going crazy, losing sleep," Sabathia said earlier this season regarding his velocity drop. "Now, as long as I'm getting guys out, I don't care."
Recently, however, he hasn't been getting guys out. It seems as though Sabathia is in the process of making that adjustment, learning to pitch with less velocity.
For one, he's thrown breaking balls at a much higher rate than ever before, proving Balsley's statement that hurlers with the best mix of pitches develop into the best middle-to-late-aged pitchers.
But the mix isn't all Balsley believes in. He added just how important it is to keep in mind the differential in speed between those pitches.
Typically, a solid slider sits seven to eight mph below a fastball. Certain pitchers can get away with a smaller gap when they're young because the velocity is overpowering. Balsley hypothesizes that a 93-mph fastball with an 88 slider/changeup may work, but when that becomes 88/83, it rarely will.
First and foremost, for Balsley, it comes down to veteran savvy. Some have it and some don't.
"As you age, you get away with less mistakes because your stuff isn't quite as good, and your velocity isn't as good," he said. "But you're making fewer mistakes."
It makes sense. Baseball is a sport where pitchers aren't judged on their best pitches. They're generally judged on the mistakes they make. Whether those slip-ups come on 100-mph heat or middle-80s fastballs is irrelevant.
When the velocity goes, it's the pitchers that limit those mistakes who succeed. Determining which pitchers will be able to do that has become one of baseball's guessing games.
AJ Cassavell is a reporter for MLB.com. This story was not subject to the approval of Major League Baseball or its clubs.