Pennington delivers walk-off win in nightcap
Gregorius sets up victory with eighth-inning HR off Darvish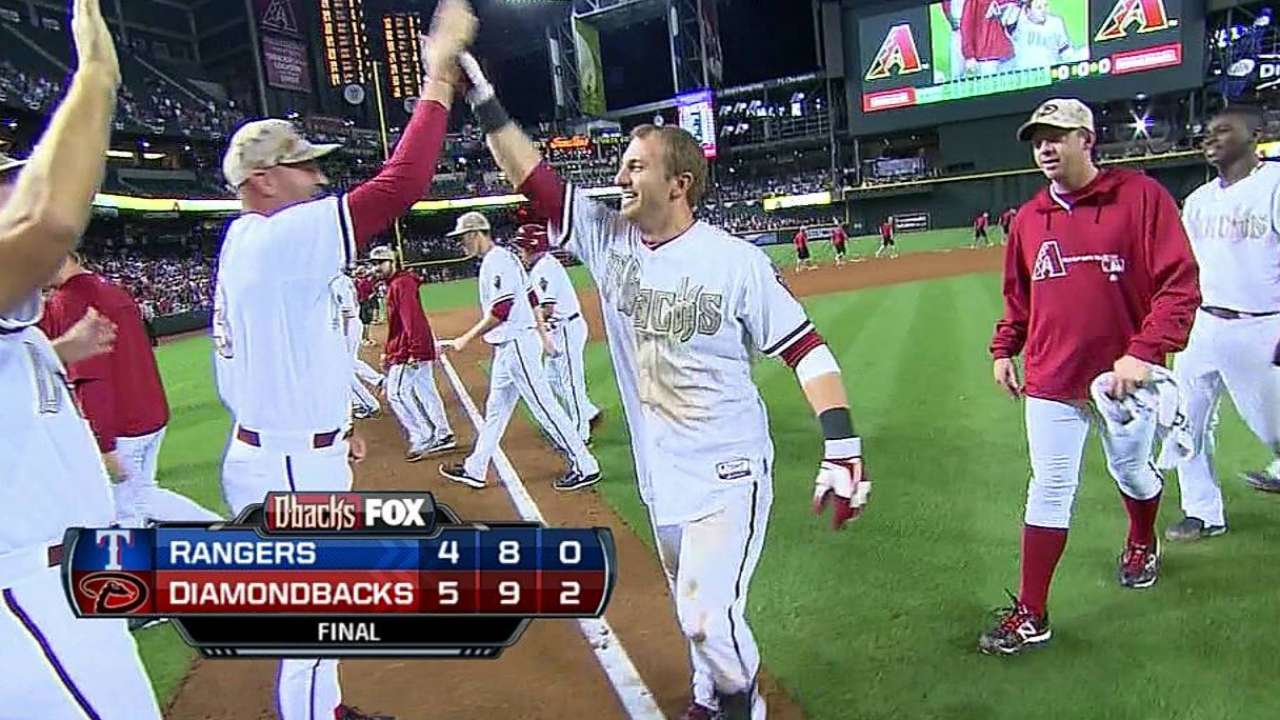 PHOENIX -- Paul Goldschmidt was ready to pinch-hit in the ninth inning, but D-backs manager Kirk Gibson went with his gut and let Cliff Pennington hit.
"Just had a feeling it was Penny's night and put it on him, and he came through for us," Gibson said.
Pennington hit a Robbie Ross pitch down the right-field line for the game-winning walk-off hit as the D-backs rallied to beat the Rangers, 5-4, in Monday night's Game 2 of a doubleheader at Chase Field.
Arizona had won the first game, 5-3.
Miguel Montero led off the ninth with a double to right off Jason Frasor and after A.J. Pollock struck out, the Rangers brought in lefty Ross to face the left-handed hitting Eric Hinske.
Martin Prado, who injured his knee in the first game and had to be scratched from the lineup for Game 2, told Gibson he could pinch-hit if needed. So Gibson sent Prado up for Hinske, and the Rangers decided to walk him.
Rather than pinch-hitting for Pennington, Goldschmidt was on-deck to hit for the pitcher, and Gibson's faith in Pennington was rewarded.
"He's been really good, obviously, all year," Pennington said of Ross. "I knew he had a really good cutter, mid-90s fastball, and so I just tried to make sure I didn't try and pull it because you can't pull that cutter. So I was just trying to stay inside it and got it to come through."
Pennington, who entered the game hitting .198, has played sparingly since Didi Gregorius was added to the roster. That made his game-winner, the third of his career, especially sweet.
"Obviously you always want to do it," Pennington said. "Any player wants to do it at any time, but when you're not swinging the bat as well as you want to swing it, it feels even better. If you're going to just get a few you might as well make them count."
It was a strange game for the D-backs. They started and finished strong, but in between they struck out 15 times.
They got off to a hot start against Yu Darvish.
Gerardo Parra led off the bottom of the first with a single on the first pitch from Darvish and Gregorius also swung at the first pitch on a triple to right, driving in Parra.
"I saw Parra hit the first pitch so I thought maybe [Darvish] thinks I'm not going to swing so I'll just go ahead and swing too," Gregorius said.
Gregorius hit a cut fastball from Darvish, a harbinger of things to come.
Eric Chavez drove in Gregorius with a sacrifice fly and the D-backs led, 2-0.
Darvish, though, settled in and was dominant for the next six innings as he matched his career high with 14 strikeouts.
While Darvish was mowing the D-backs down, his offense was chipping away at starter Trevor Cahill and Texas eventually took a 4-2 lead with a two-run sixth inning. One of the runs would score thanks to a throwing error by Pennington, something he would more than atone for in the ninth.
Darvish was cruising until allowing a leadoff single to pinch-hitter Wil Nieves to lead off the eighth.
One out later, Gregorius stepped to the plate and Darvish missed with a pair of cut fastballs to fall behind 2-0.
"He'd been throwing me a lot of cutters almost the whole game so I was like, 'Well, I'm going to wait for a cutter right here,' because I knew he was going to throw another cutter," Gregorius said. "He threw the first two cutters in the dirt and then he threw me a third cutter. I was looking for a good pitch that I could hit a line drive, put good wood on it."
Said Darvish, "I had to get a strike in there, I didn't want a 3-0 count. I just tried to hit the corner but I missed and he hit well. "
It all added up to a doubleheader sweep of the team with the best record in the American League as the D-backs picked up a game and a half on the three teams directly behind them in the National League West standings.
"This team has great character," Gibson said. "I'm very proud of them tonight."
Steve Gilbert is a reporter for MLB.com. Read his blog, Inside the D-backs, and follow him on Twitter @SteveGilbertMLB. This story was not subject to the approval of Major League Baseball or its clubs.