Phils can't claw back from early deficit at Fenway
Cloyd allows six runs, exits in third inning; Kratz, Brown homer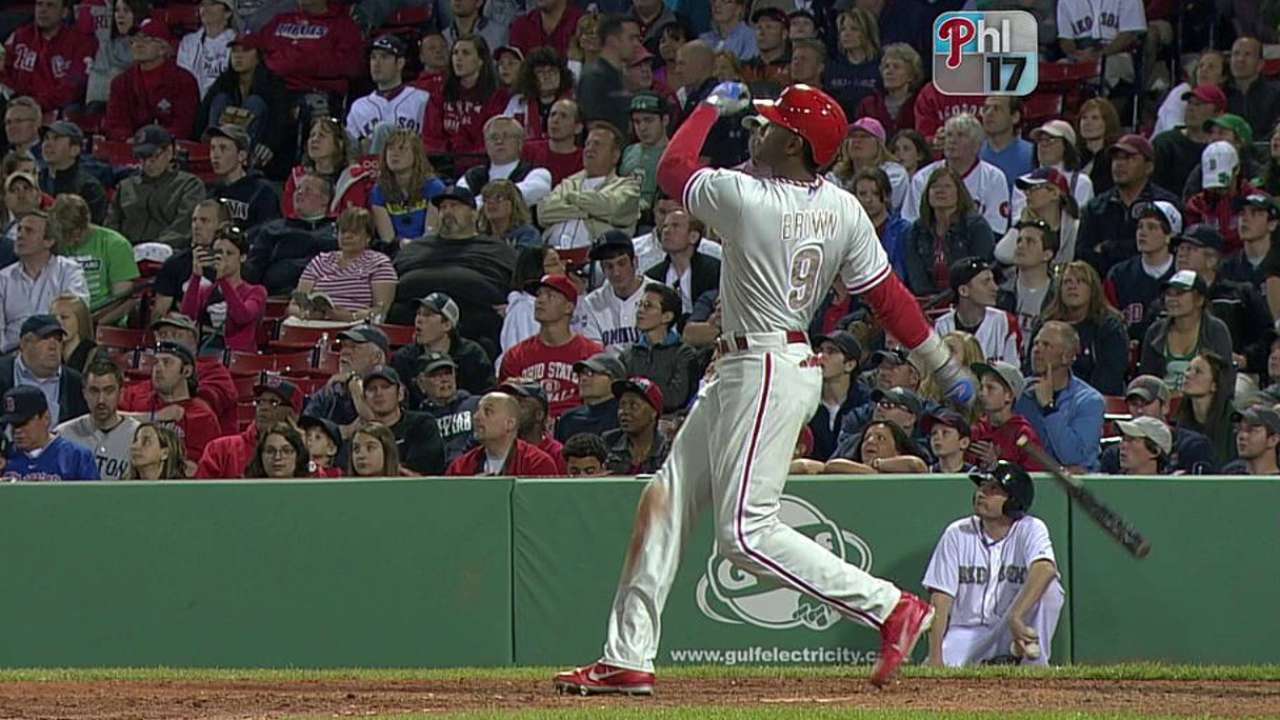 BOSTON -- This game had a familiar feel after just one inning on Monday at Fenway Park.
The Phillies stranded a runner at second base in the top of the first against Red Sox right-hander Alfredo Aceves, who entered the night with an 8.20 ERA, while Phillies right-hander Tyler Cloyd allowed three runs in the bottom of the first to hand the Red Sox a three-run lead.
The Phillies turned that three-run deficit into a 9-3 loss.
They fell to 24-27 after flirting with .500 this weekend.
"I said two weeks ago that the more that we play, we'll show how good we are," Phillies manager Charlie Manuel said. "To me, the more we play, we'll see how good we can possibly play and what we'll do."
The loss felt like an inevitability after the first inning based on a couple things: the Phillies' offense has not shown an ability to score runs in bunches, and the Red Sox appeared to be on their way to an early knockout of Cloyd, who dropped to 1-1 with a 5.74 ERA in three starts with the Phillies after posting a 1-4 record and 6.57 ERA in seven starts with Triple-A Lehigh Valley.
Cloyd stranded two runners in the second before allowing three more runs to score in the third to make it 6-1.
He allowed six runs, nine hits, one walk, two home runs and struck out two in just 2 1/3 innings.
"Command for me, in my view, wasn't there at all tonight," Cloyd said. "I had no control over the two-seamer. My ball was up and I couldn't get ahead of hitters. I still had some movement on the ball, but when it's up in the zone, it's definitely easier to hit."
"I thought we had an outstanding approach, not only against Cloyd, but seemingly each guy that came to the mound tonight," Red Sox manager John Farrell said.
His performance echoed a couple of starts the last time the Phillies visited Fenway Park in 2010. Jamie Moyer allowed nine runs in one inning in the first game of the three-game series. Joe Blanton allowed nine in four innings in the second game.
The Phillies finished second in the National League in scoring in 2010, so they could outhit poor pitching on occasion. That is not the case this year. The offense entered Monday 12th in the league in runs per game. They have scored three or fewer runs in 29 games.
The Marlins (40), Mariners (33), Dodgers (31) and Nationals (29) entered the night with more games with three or fewer runs, but that should not console anybody.
Aceves, who could be optioned Tuesday, had allowed 18 runs, 26 hits, 12 walks and six home runs in 18 2/3 innings this season. He started Monday because the Red Sox scratched Clay Buchholz, who could not pitch because of a sore collarbone.
Erik Kratz hit a solo home run to right field in the third inning to make it 3-1. Twenty-four of the Phillies' last 25 home runs have been solo homers, mostly a byproduct of the fact that the Phillies entered the night with a dismal .301 on-base percentage.
It is tough to score with runners rarely on base.
They got the rare multirun homer in the eighth, when Domonic Brown hit a two-run shot to make it 8-3. Brown leads the team with 10 homers and 29 RBIs.
Manuel shuffled his lineup Monday, moving Jimmy Rollins from first to third, Michael Young from third to second and returning Ben Revere to the leadoff spot. Maybe Brown could move up soon. He has hit sixth 41 times this season and fifth seven times. But he is producing. Most of the rest of the team is not. Could he move up to get a few more at-bats?
What is there to lose?
"I kind of like where he's at," Manuel said. "I won't say I won't move anyone up. But I like what he's doing."
The rest of the team will need to do better to leave Boston with a split.
"It's tough," said Revere, when asked about the early 6-1 deficit. "They've got a good bullpen. They've got great hitters. It's kind of tough. But we've got [Cliff] Lee on the mound tomorrow, so we know he's going to give us a good matchup and everything. We'll be going right at them."
Todd Zolecki is a reporter for MLB.com. This story was not subject to the approval of Major League Baseball or its clubs.