Aceves strong, bats hot as Red Sox top Phillies
Righty hurls six strong innings, but could be headed back to Triple-A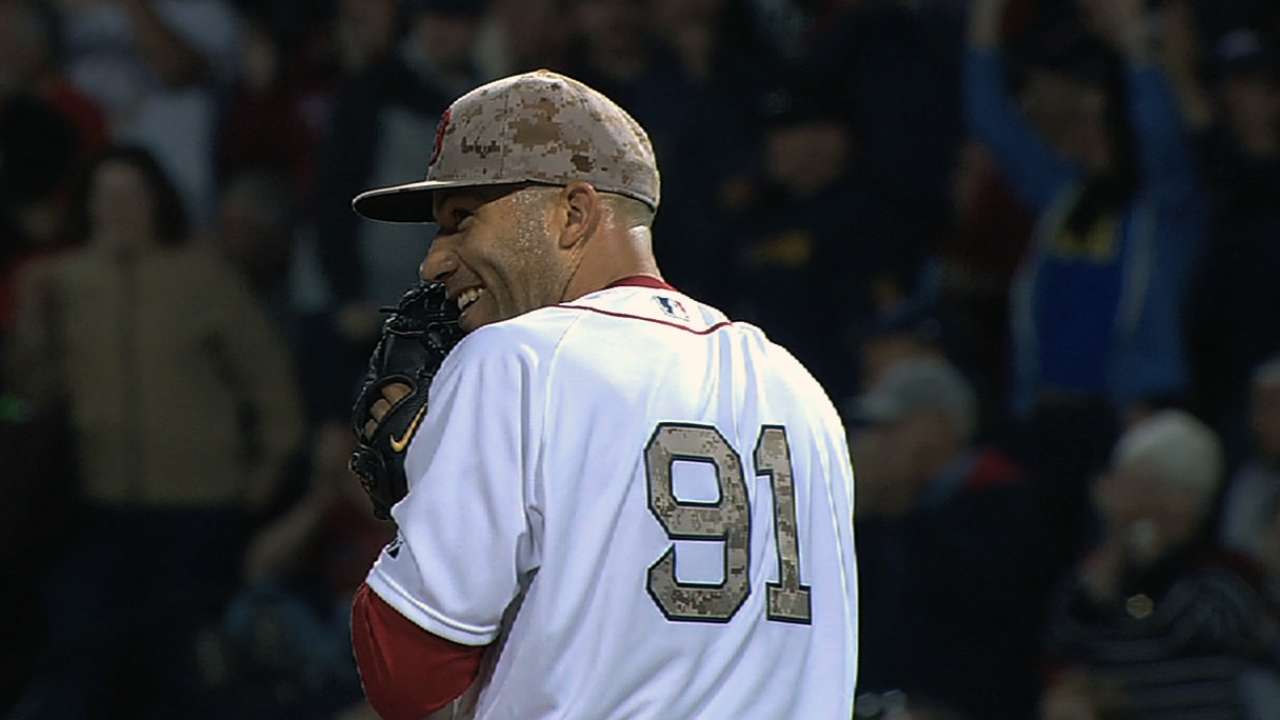 BOSTON -- Alfredo Aceves took a big step back toward being a pitcher the Red Sox can rely on when he fired six strong innings en route to Monday night's 9-3 victory over the Phillies at Fenway Park.
However, there's a chance -- perhaps even a strong one -- that Aceves will be optioned back to Triple-A Pawtucket on Tuesday for the second time this season.
Left-handed reliever Franklin Morales is expected to be activated before Boston's next game, and Aceves was a spot starter in this one, filling in for Clay Buchholz.
"Again, there's no move at this point," said Red Sox manager John Farrell. "We did talk about Franklin being available for us tomorrow. That has not been finalized yet. There's some things coming in the next day or so."
Though heading back to the Minors would not be the ideal scenario for Aceves, he did improve his stock in the organization with his work against the Phillies.
Before Monday, the last time Aceves started for the Red Sox was April 23 against Oakland, and it was a disaster. The righty plodded along and seemed to lack focus, giving up eight runs over 3 1/3 innings.
He looked like a different pitcher Monday.
"He took tonight as an opportunity to make an impression," Farrell said. "He made a solid one. Right from coming out of the bullpen, the way he attacked the strike zone, when you compare it to the game against Oakland, it's a night-and-day difference with the overall approach. Again, I think it was reflected in the tempo and the pace that he set, and his willingness to work a little bit quicker and every pitch had a little bit more intent to it."
Aceves did not stick around after the game to speak to the media about his performance.
Without question, Aceves looked focused and determined on Monday while holding the Phillies to a run on seven hits. He walked three and struck out four during his 93-pitch outing.
"We were definitely on the same page," said Sox catcher Jarrod Saltalamacchia. "We were working well. I don't think he shook me once, which is a little different than what we're used to. He still had that good cutter going, good fastball. His curveball wasn't as sharp as it's usually been, but when he throws strikes, he's effective."
While Aceves was the story from the mound, the Sox had several contributors on offense.
Jacoby Ellsbury had a three-hit game from the top of the order.
The performance followed the leadoff man's walk-off hit on Sunday, and served as another sign that Ellsbury might be ready to get in a groove after spending most of May in a slump.
"Everybody goes through a little something where maybe it's not falling," Ellsbury said. "But you look at everything -- everything looks good. The swing's there. It was just a matter of time before the results start to come."
Mike Napoli was a force from the No. 5 spot in the order, drilling a solo homer to right-center and belting an RBI double.
Stephen Drew (2-for-3, two RBIs) and Saltalamacchia (2-for-4) also both played key roles.
Then there is Dustin Pedroia. The sparkplug second baseman made a tremendous stab on a John Mayberry rocket in the second to start a double play. In the first, he hit a two-run homer.
By the seventh, Pedroia, Boston's only player to start all 52 games thus far, even got to put his feet up for a bit, as Farrell gave him a rare rest.
"The dive to his glove side? He makes it look awfully easy, but it's not," said Farrell. "He's got such sure hands and such confidence in them. Seemingly he attacks every ground ball, whether it's a short hop, whether it's a long hop.
"I don't want to say taken for granted, but we've come to see him make so many plays like that. He turns a one-hop smash into a ground-ball double play. It's a testament to who he is. There's a reason he's won Gold Gloves and he's shown it for the 52 games so far this year."
With five wins in their last six games, the Red Sox moved back into sole possession of first place in the American League East for the first time since May 7.
"We're just trying to come out and win every day," Napoli said. "We're not looking at the standings. We're worried about the team that's in there right now. We're just trying to win every day."
Boston had the bats going from the outset against Phillies starter Tyler Cloyd. With one out in the bottom of the first, Pedroia curled a two-run homer around Pesky's Pole in right. Napoli followed by clocking a solo shot over the Boston bullpen in right-center to give Aceves a 3-0 lead.
The Phillies got one back in the top of the third on a solo homer to right by Erik Kratz.
Back came the Boston bats in the bottom of the third. David Ortiz opened with a double to center and Napoli smacked an RBI ground-rule double to right. Drew followed by drilling an RBI single.
Following a single to right by Saltalamacchia, Phillies manager Charlie Manuel took Cloyd out of the game. Michael Stutes came on and got Jose Iglesias on a popout, but Ellsbury ripped a double down the line in left to make it a 6-1 game. The Phillies at least got out of the inning on that hit, as left fielder Domonic Brown relayed to shortstop Jimmy Rollins, who fired home to nail Saltalamacchia.
The Sox again rallied in the fifth, as Saltalamacchia drilled a single that brought two runs home, the second of which came courtesy of a fielding effort by right fielder Mayberry.
"In this ballpark, you can get behind by four or five runs, and if you hold them, you still have a chance," said Manuel. "When you get to 8-1, that got a little tough. They kind of moved it into another zone."
Aceves gave the Red Sox as good as performance as they could have hoped. The righty got into a two-on, nobody-out jam in the sixth. Mayberry walked to load the bases with two outs. But on a Freddy Galvis liner to the gap in right-center, Ellsbury raced over to make a fine catch to end the threat.
"We were playing him oppo and he pulled it to right-center, and fortunately I was able to track it down," Ellsbury said. "We had him in left-center. That's just the scouting report we had on him with Ace on the mound. He pulled it hard in the right-center gap and I got a good break on it and fortunately brought it in with the bases loaded, so it saved a few runs."
Ian Browne is a reporter for MLB.com. Read his blog, Brownie Points, and follow him on Twitter @IanMBrowne. This story was not subject to the approval of Major League Baseball or its clubs.